Love Berbatov but love Spurs winning away more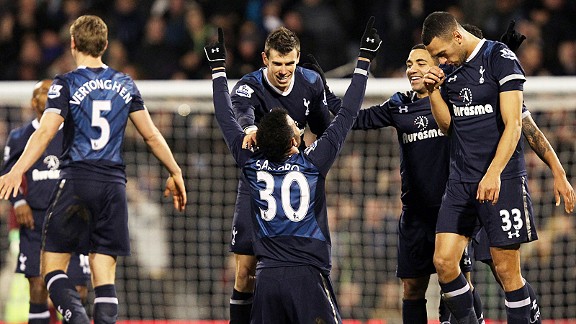 GettyImagesSpurs celebrate after Sandro scored to put his side in front at Fulham
A lot of Spurs fans' love for Dimitar Berbatov turned to hatred when he left Tottenham for Manchester United in acrimonious circumstances back in 2008.

- Spurs run riot at Fulham
- Villas-Boas defends Bale

Me? I couldn't bring myself to hate him, or even to be that miffed with the sulky Bulgarian. It was true that he behaved pretty abysmally in order to get his move to United - reputedly refusing to play in the club's opening games of the season - but to get himself in my bad books he would have done something really serious. Like murdering my mother.

Berbatov is like a woman who treats you like crap but is so sexy that you can't bring yourself to either hate her, or get her out of your head.

Because Berbatov was a true 'Spurs player'. By that I mean he fitted into the tradition of players like Glenn Hoddle, Chris Waddle, Paul Gascoigne and David Ginola, who played the game with such levels of skill and flair that it would be worth paying the entrance fee to merely watch them warm up.

We've always liked a bit of artistry at the Lane and Berbatov certainly provided it during his time at Tottenham. I remember in his first season watching him in a game against Bolton, in which Robbie Keane managed to get himself sent off with Spurs 3-0 up. It left Berbatov to play on his own up front and although he didn't score that day, as we eventually won 4-1, I maintain that it was the best display I have ever seen from a Spurs striker.

Berbatov gave a masterclass that day. His hold up play was amazing. Marooned on his own high up the pitch, with our midfielders struggling to support him, Berbatov nevertheless kept the ball from Bolton's bamboozled defenders and always seemed to find a team-mate with a pass.

At the end of the game I turned to my friend and said: "He's not going to play for us very long. He could play for anyone... Barcelona even." Or as it transpired, Manchester United.

So when I travelled to Craven Cottage on Saturday, I was just as excited at the prospect of watching Berbatov again as Spurs claiming a win. Neither disappointed me. Berbatov took my breath away a couple of times with a little flick, or moment of sublime control, but mercifully didn't score. Meanwhile, Tottenham hit three goals and put in a textbook away performance.

In the first half we kept things very tight. Our back four was disciplined, with Kyle Naughton at right-back not making the sort of probing forward runs that are the trademark of Kyle Walker. We didn't create much and at times it was frankly quite dull, but at least we went into the second half with every chance of grabbing a win.

That's just what we did as Sandro got a goal out of nothing, as his long shot squirmed past Mark Schwarzer. After that Spurs were able to hit Fulham on the break as the home side pushed for an equaliser.

After a shot from Gareth Bale resulted in the winger pulling a hamstring and being substituted, we looked out of sorts for a while and I was getting a bit jittery. It was a moment of inspiration from the much-maligned (often by me) Gylfi Sigurdsson that proved to be decisive, as he swept past a Fulham defender in the box and pulled across a lovely ball for Jermain Defoe to knock home.

Our third was also provided by a player who has also had his problems settling in at Tottenham, as Clint Dempsey pushed a ball through for Defoe to once again apply a clinical finishing touch.

We're now in fourth place and that's largely been built on how well we're set up to play away from home. No one was outstanding but we were very solid and the team blend was right.

Investing in the system rather than individuals is the Villas-Boas way, which is pretty much the opposite of what we've often seen at Tottenham in the past. Hoddle, Waddle, Gascoigne, Ginola and Berbatov were great players who never really played in a great Spurs team. It takes time to build, but great team play can be just as thrilling as a great individual.