The Tao of Michael Dawson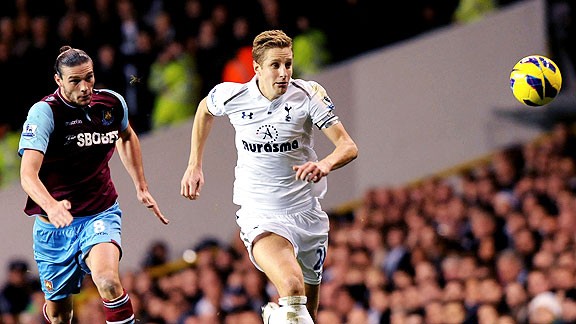 Olly Greenwood/AFP/Getty ImagesLet us all praise defensemen; Michael Dawson, right, isn't the prettiest of defenders, but somehow he gets the job done.
Yesterday's game against West Ham featured some familiar sights. Tottenham scoring goals again, Alan Gilzean coming on the pitch at half-time and some sections of West Ham fans appearing to be openly racist.

- FA probes apparent anti-Semitic chants

Best of all, Michael Dawson was back in the centre of Tottenham's defence, complete with captain's armband. I for one have missed him.

That's not to say that I don't understand why Andre Villas-Boas has been reluctant to pick Dawson. After all, one of the big problems that AVB had at Chelsea was implementing a high defensive line with John Terry at the heart of the back four. Dawson shares many characteristics with Terry, the key one being that they both turn slower than the Titanic when faced with a giant iceberg (thankfully their personalities seem diametrically opposed).

Despite his reservations, Villas-Boas has eventually conceded that Dawson is a safer bet these days than William Gallas, who has become increasingly hopeless as the season has progressed.

It was great to see him back in action, especially as I believe that his return to the team will be short-lived. There is much to enjoy about Dawson's game. In an era when defenders are supposed to play their way out from the back, I take pleasure in the novelty value of watching a central defender who doesn't always try to be pretty.

There was an example yesterday that was classic Dawson. The ball was played forward by West Ham and went straight towards our hero. There was no Hammers' forward in sight and Dawson had all the time in the world to control the ball and pass it to a teammate.

Instead, he chose to swing his right foot at the ball as hard as he could, whacking it first time without a thought for where ball would land and as instinctively as a pinball player flicking away trouble. It made me laugh out loud. Dawson is a pure defender. The ball comes near the danger area. He clears it away from the danger area. It is primitive but you can't deny the logic.

Not that Dawson can't pass a ball when he's in the mood. A feature of his game is the right-to-left long-range balls that he pings over to the wings. Sometimes they result in a spectator in the West Stand having to duck out of the way, but just as often they find their target and you think, 'Was that Michael Dawson or Glenn Hoddle who just did that?'

As I alluded to earlier, I am sad to say that I think Dawson's days at Spurs are coming to an end. When Younes Kaboul and Benoit Assou-Ekotto return from injury, you have to put Dawson as fourth choice centre back behind Kaboul, Jan Vertonghen and Steven Caulker.

QPR tried to sign Dawson in the last window and with Harry Redknapp now at helm, I think they will turn to him to shore up their defence. Redknapp has a very small frame of reference when it comes to buying players and will probably be aiming a few bids in our direction come January.

Dawson wasn't the only player to put in a good performance in our defence. Kyle Walker has been in shaky form this season but played very well on Sunday. Hugo Lloris was commanding and more importantly realises that one easy way to get the Park Lane on your side is to give them a wave. Brad Friedel never did figure that one out...

In midfield, Sandro was in typical domineering form, while Clint Dempsey had one of his better games for Spurs. He played in a great pass for Bale's goal and was unlucky not to get on the scoresheet himself, having rattled the West Ham crossbar.

Jermain Defoe was the star of the show, which was particularly pleasing when you consider how much West Ham hate him. His first goal was stunning and straight out of the Lionel Messi handbook.

One of the great things about football is how things can quickly change. Another win against Liverpool and we will be knocking on the door of the top four again. With a more solid looking defence and inspiration up front, White Hart Lane is becoming a happier place to be.