Finding the positives in Spurs' Europa defeat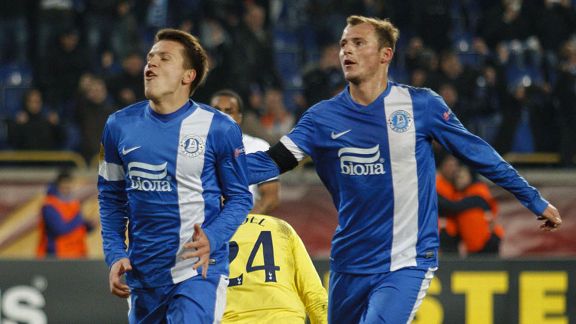 AllsportDnipro deserved the victory but it could have been worse for Spurs.
First, the excuses. Dnipropetrovsk is a long way away. Dnipro were rather better than anyone might have expected given that Ukraine is in the middle of a three-month winter break and they hadn't played any competitive football for two months. The pitch was als terrible.

Next the positives. The one-goal deficit can easily be pulled back next Thursday -- and it could well have been a two-goal deficit. Paulinho looks back to match fitness and impressed with his desire to get stuck in on a tricky night when others went missing. Etienne Capoue is also developing into a reliable defensive midfielder. Brad Friedel is still a more than decent number two choice goalkeeper to Hugo Lloris.

Now to the heart of the matter. Roberto Soldado. Take away the penalties and he's barely hit the target. His performance against Dnipro summed up his season so far: some nice touches away from goal, but hopeless in front of it.

Unfortunately, it was his finishing that Spurs paid Valencia the best part of 30 million pounds for. His miss from inside the six-yard box with an open goal at his mercy was just horrible.

- Report: Dnipro 1-0 Spurs
- Watch: Top 5 Europa League goals (U.S. only)
- Goal: Konoplyanka's penalty (U.S. only)

You can argue that he will probably come good next season. You can probably argue that Spurs have never played to his strengths. These are both now academic arguments.

What matters is that the season is now getting down to the business end and Spurs have no reliable back up for Emmanuel Adebayor. The Togolese striker will surely start every remaining Premiership game -- and possibly even the return leg against Dnipro, if Tim Sherwood really wants Spurs to progress in the Europa League. But if Adebayor should get injured, then Spurs have a striker problem.

It's equally possible that Soldado might regain form and confidence before the end of the season, but there are no visible signs and no-one should count on it. Spurs looked more potent during the 10 minutes that Harry Kane was on the pitch, but expecting the youngster to consistently threaten canny Premier League defences is asking too much.

But Spurs need goals. Not to put too fine a point on it then, but Spurs' hopes of finishing in the top four depend on the fitness and enthusiasm of Adebayor.

That's a high-risk strategy. So too is continuing to play Michael Dawson.

No-one can fault Dawson's enthusiasm and commitment. He's still also a strong aerial presence. But his pace and reading of the game are now letting him and the team down.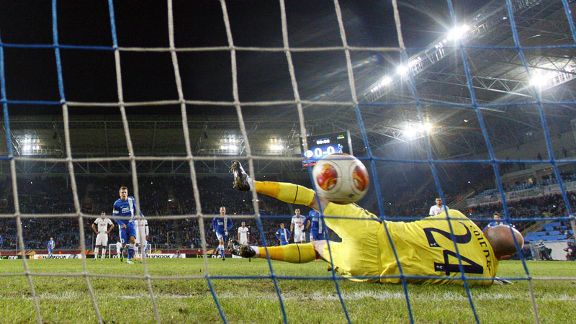 APYevhen Konoplyanka converts his penalty past Brad Friedel.

It is no coincidence that every time Spurs have had a defensive horror-show this season, Dawson has been at the centre of the defence. His presence unsettles those alongside him because no-one quite knows where to position themselves. When Jan Vertonghen plays along side Dawson, it's almost as if he is trying to play in both central positions at once -- his own and to cover for Dawson's mistakes.

It was Vertonghen who brought down Matheus for Dnipro's penalty, but it was Dawson being easily bypassed further up the pitch that created the opportunity.

Finally there's the question of width. Spurs have been at their best in recent years when they've played at pace down both flanks: opposition defences may be able to double up on one winger but they can't on two without leaving gaps through the middle. In Andros Townsend and Aaron Lennon, Spurs have the wingers to take full advantage of this but both have been out of sorts of late.

Against Dnipro, Townsend looked short of confidence and resorted to shooting hopefully further and further away from goal, the longer the game progressed. Sherwood took him off moments before he had a pop from the halfway line.

Lennon has also been quiet since the New Year. In his time at Spurs, the winger has often threatened to become world-class only to retreat back into his shell. He's now a senior member of the team and it's time for him to deliver. Hit and hope crosses and powder-puff shots have had their day. He needs to show some real venom. It's time for Sherwood to get into the ear of both Townsend and Lennon, starting with Norwich on Sunday.

Norwich can be relied on to scrap but this is a game Spurs should expect to win -- especially given their away form. Hugo Lloris, Younes Kaboul, Mousa Dembele, Lennon and Adebayor should all be fit and fresh after their 10-day break. Now is the time for them to show they have the desire to go with their class.