Chaotic Spurs slump to first leg defeat in Ukraine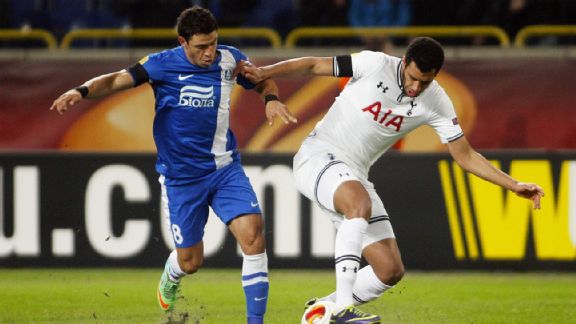 Anatolii Stepanov/AFP/Getty ImagesTottenham were upset on the road vs. Dnipro after a late penalty conceded resulted in a 1-0 loss.
Let's look on the bright side. After many dismally boring Europa League games this season, Dnipro's 1-0 win leaves this tie finely poised. Next week's return tie at White Hart Lane promises to be a cracker.

Tonight's game was also much more entertaining than what we've witnessed in this competition, though the excitement levels were more often raised by instances of poor defending than great attacking.

The pattern of the game quickly emerged, with Spurs controlling the bulk of the possession but Dnipro always looking dangerous on the counter-attack. The Ukrainians are still enjoying the mid-winter break at domestic level, yet hardly looked sluggish, as they troubled Tottenham with their pace whenever they broke.

This was not a textbook European away game performance, in which the visitors look to keep it tight and hope for an away goal. Tim Sherwood's side looked very open as they pressed forward, searching for a win.

His approach is somewhat reminiscent of Juande Ramos' time at Spurs, which served up such crackpot results as a 6-4 home win over Reading. With Ramos now in charge at Dnipro, it's perhaps no surprise then that the game developed into an end-to-end affair, in which only profligacy kept the score decent.

It was Roberto Soldado who had the first close chance for Tottenham, as he got his head on the end of a Nacer Chadli cross, only to fail to make enough contact to convert.

It wasn't a bad miss but that's more than can be said for a second-half chance to give Spurs the lead, that was truly shocking. Paulinho got down the right and put the ball across the six-yard box. Soldado found himself alone and with an invitingly empty goal gaping, yet somehow contrived to knock the ball over the bar.

Yes, it bobbled a little just as he went to strike it but its not a chance that you could imagine Soldado missing a year ago when he was scoring for fun at Valencia. His confidence in front of goal is absolutely shot, though outside the box his class remains.

One deft first-half touch put Paulinho through, before the Brazilian was upended by the chasing defender. It was deemed to be just outside the box and Andros Townsend came close with the resulting free-kick.

At the other end the first-half chances that came Dnipro's way were often the result of Danny Rose's poor positioning. Finding himself stranded too far up the pitch on several occasions, the home side's best chance in the opening 45 minutes saw Matheus take advantage of the space, only to shoot straight at Friedel.

It was Yevhen Konoplyanka -- a player linked with a move to Tottenham during the January window -- that would prove to be the match winner. The left-sided forward was a menace throughout and got the chance to put Dnipro ahead after more dopey Spurs defending.

With ten minutes remaining, Jan Vertonghen reacted casually to danger and pulled back the on-running Matheus. A penalty was awarded and Konoplyanka stuck it away confidently.

Tottenham pressed for an equaliser and went close twice as Paulinho's shot was deflected onto the outside of the post, before the resulting corner saw Harry Kane flick the ball across goal with a little too much pace for Chadli to convert.

Yet, it was Dnipro that had the best chances of the closing minutes, going close three times within a minute, with the final opportunity rattling the woodwork.

A 2-0 deficit would be very tough to come back from so Sherwood can count himself lucky that his side lives to fight another day. After a chaotic first-leg, Spurs need to stamp their authority on the second with a more composed performance.