No right result for Spurs in Europa League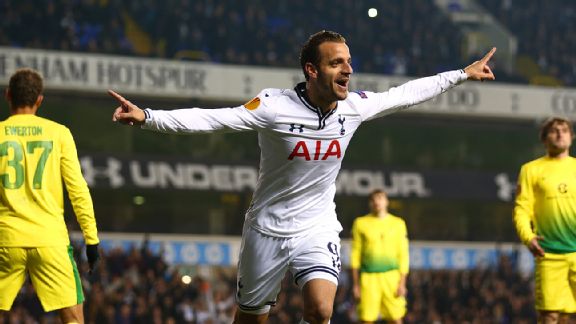 Paul Gilham/Getty ImagesRoberto Soldado and Tottenham return to Europa League action on Thursday versus Dnipro.
As the evenings grow longer, so the focus on the business end of the season narrows -- as does the focus on some of its contradictions for Spurs. The most immediate of which is the Europa League, which resumes for Tottenham with a fixture against Dnipro this week. Throughout the week, the club has been issuing guidance for supporters on the advisability of travelling to the Ukraine, a country that has been suffering from great unrest; it might also be reflecting on the advisability of its players making the trip.

- Fitch: Is no Europe at all better than Europa League?
- Report: Bentaleb to play for Algeria

It's an absurdity that can't have escaped anyone in recent years that Spurs have invested a huge amount of money, time, players and heartache in repeatedly qualifying for a European competition in which they aren't sure they even want to take part.

Only once have Spurs made their intentions toward the Europa League plain: in the 2011-12 season when manager Harry Redknapp repeatedly picked a team of youngsters and the club was knocked out of the competition before Christmas. Redknapp's lack of interest in the Europa League didn't go down well with the fans, who enjoy a decent cup run and don't like being overcharged to watch the reserves, but it did, at least, have the stamp of firm decision-making.

Both before and since the 2011-12 season, Spurs' attitude toward the competition has been one of total ambivalence. They'd quite like to do well but don't mind too much if they don't. This has to be the worst of both worlds, one that ensures the club depletes its players' resources but almost guarantees the campaign will end in failure with an exit in the last 16 or the last eight. It would be a huge surprise if Spurs didn't see off Dnipro over the two legs, despite the club being managed by a man with something to prove, ex-Spurs boss Juande Ramos.

But it would be even more of a surprise if Spurs didn't pay some kind of price for that victory. The round trip to Ukraine is more than 3,000 miles and Spurs don't have a great record of following up an overseas European Thursday night football with a convincing display in the Premiership the next weekend.

On Sunday, Spurs travel to Carrow Road to play a Norwich team scrapping for survival. It's likely to be a physically tough game and Spurs could use some fresh legs, yet Tim Sherwood has insisted on travelling with an almost full first-team squad to the Ukraine. Even those who don't play will be tired by the journey.

It's impossible not to feel some kind of sympathy with Sherwood. He wants to maintain momentum, he wants to keep supporters happy and he wants to keep first-team unity. But it's a decision that could cost dearly in the end because everyone knows that all that really counts is the race for a top-four finish in the Premiership. And what everyone also knows is that winning the Europa League -- thereby bagging a trophy and securing automatic qualification for the Champions League -- and finishing in the top four are almost certainly mutually exclusive.

The mental and physical demands of so many matches in such a short space of time invariably take their toll. With Liverpool having nothing but the Premiership to think of, with Manchester City all but out of the Champions League already and with Arsenal unfancied to beat Bayern Munich, most of the clubs above Spurs may well have a much less congested fixture list over the next few months.

The anxiety for Spurs is that it's hard to take any option other than the "let's take each game as it comes and see what happens" approach. Sherwood can hardly do anything else without receiving a large amount of flak from all sides, and that's something he can do without. But it's also an approach that becomes steadily more high risk the longer it appears to be successful. Because the later it comes unstuck, the less chance there is of doing anything about it.

Coming fifth in the Premiership and being knocked out in the semifinals or -- heaven forbid, losing the final -- of the Europa League would be a disaster. Not just in terms of the immediate disappointment, but in the long-term effects on the club. Sherwood will almost certainly be gone at the end of the season, but so too will players like Jan Vertonghen and Hugo Lloris should Spurs have no Champions League football next fall. Yet again, Spurs will then find themselves in a state of renewal and rebuilding for the following season -- and this time next year may well find themselves in exactly the same position as they're in now.

It's an unpalatable truth, but Spurs need to be totally clear about their objectives. They either need to say that they are utterly committed to winning the Europa League and field the strongest team possible in all circumstances, and that finishing fourth in the Premiership is a secondary objective. Or they need to declare that the Europa League is a sideshow and their prime aim is a top-four Premiership place. But it's a declaration no club, least of all Spurs who have long since mastered the art of prevarication, is likely to make. Which is why, however the game ends against Dnipro on Thursday, the result is almost certainly going to be the wrong one.