Is no European football better than the Europa League?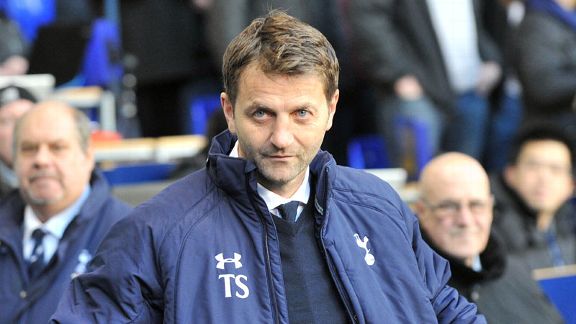 PA PhotosTim Sherwood has some planning to do.
This week, Spurs are back in Europa League action, and it will be another test of Tim Sherwood's management nous.

The test does not come in the form of FC Dnipro; you would expect even a second-string Tottenham side to progress over two legs against Juande Ramos' team. No, the test will be to juggle Spurs' Europa League commitments with their Premier League campaign. This week sees Tottenham embark on a draining trip to the Ukraine before an away game at Norwich on Sunday.

Sherwood's attitude to the Europa League will be interesting. There are plenty of squad players, such as Nacer Chadli, Roberto Soldado and Andros Townsend, who need a game on Thursday, but will he pick others whom he might expect to play on Sunday?

No one knows Spurs' young players better than Sherwood, so he is well-placed to decide which ones could handle this level of football. Personally, I'd be disappointed to see the likes of Hugo Lloris, Jan Vertonghen and Emmanuel Adebayor travelling to Dnipropetrovsk. Give the kids and fringe players a chance instead.

As I've said, a second-string side should be good enough to beat this sort of opposition, yet if they do progress, a sterner test surely awaits. The winner of this tie will meet the victor of PAOK's match against Benfica, and you would expect the Portuguese giants to be waiting for Tottenham, having reached last year's final.

Those games take place on March 13 and 20. The first leg is sandwiched between Spurs' games against Chelsea and Arsenal, with the second between the North London derby and a home game against Southampton.

That looks like a tough schedule to me. Meanwhile, Tottenham's main rivals for a Champions League spot have only the Premier League to concentrate on.

Liverpool's Premier League performances have been made all the easier for not being involved in European competition. Having been knocked out of the FA Cup at the weekend, their season comes down to one competition. Brendan Rodgers has had the luxury of frequent weeklong rests between league games and, as well as keeping his squad fresh, has also had fewer injuries to cope with than he otherwise would.

It throws up the question as to whether Tottenham would be better off out of Europe completely if they miss out on the Champions League. It's likely to prove to be a rhetorical poser, considering that if the Capital One and FA Cups are won by the usual suspects, then Spurs could end up qualifying for the Europa League even if they finish as low as seventh.

At least next season the Europa League will offer the same prize as finishing fourth in the Premier League -- a place in the Champions League -- but that doesn't mean Tottenham will have doubled their chance of qualification.

Battling on dual fronts is never easy, and teams will take the Europa League more seriously with Champions League qualification at stake.

This season, there is still a debate as to how seriously the competition should be taken. Thursday night should give us some pointers toward Sherwood's opinion.