Get your money on fifth place; Spurs are no better than that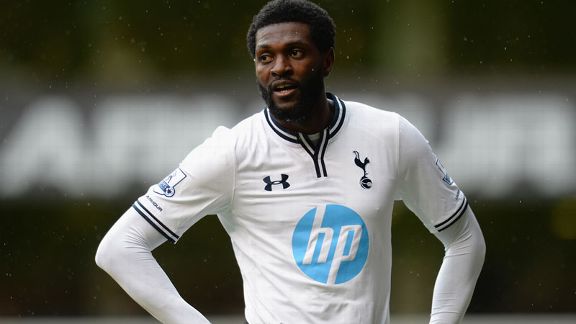 GettyImagesTottenham are being dragged through the second half of the season almost single-handedly by Emmanuel Adebayor.
Minutes before Spurs' one moment of quick thinking and creativity delivered the goal that gave them a win they scarcely deserved, Tim Sherwood could be seen pacing the touchline, shouting at his players to move forward and kicking a water bottle in frustration. It was the one moment of light relief in an otherwise drab afternoon. It was also extremely telling. If the manager can't get his team to play the way he wants, who can.

There are times when I fear I am turning into a broken record. For months now, there has been a glaring problem with Tottenham's performances that has nothing to do with the shape or formation of the team. For almost every game this season, whether under Andre Villas Boas or Sherwood, they have played for most of the first half as if they were on valium.

- Delaney: Spurs still in the hunt
- Fitch: Three points but flaws remain

Every week, I think the next game must be the one when something changes; when the team hits the ground running from the opening whistle, playing with tempo, urgency, intensity, a desire to be first to the ball and to put the opposition under pressure. Every week nothing changes. Whatever has been said in mid-week or in the changing room before kickoff, clearly gets forgotten the second the team walk out on to the pitch.

It was the same against Everton on Sunday. Everton started crisper, stronger and with more intent. If they had played a proper striker rather than Steven Naismith, they could have been a goal or two to the good by the break. Time and again, Everton surged forward with Michael Dawson's vulnerability exposed. The Spurs skipper may still be a presence in the air but on the ground he is now a liability. Jan Vertonghen spends as much time trying to cover his partner as he does watching the opponent he's marking. In the course of the first 45 minutes the sum total of Spurs' creativity was a long-range free kick from Christian Eriksen that went over the bar, and a cross from Danny Rose that eluded everyone in the six-yard box.

Here you must decide if your glass is half full or half empty. The half-full crowd can point to another three points won. An ability to hang on and win ugly. The team bubbling under in fifth place and the prospect of a Champions League place not yet reduced to a pipe dream. It is all true but doesn't hide the fact that something is seriously wrong at White Hart Lane. You can wait and wait and wait and say that things are going to click soon, or you can say that you have waited long enough and that things are what they are. Spurs are a decent team but not a good one. With a fair wind, a team good enough to grab fifth place yet again, but nowhere near the level of the four clubs above them.

This may sound pessimistic, but there are good grounds for expecting little from the rest of the season. That Spurs have remained as high in the league under Sherwood can be put down largely to the efforts of one man: Emmanuel Adebayor. Backing the Togolese striker so heavily reflects well on Sherwood, but it's a high-risk strategy putting all your eggs in one basket. If Adebayor were to get injured over the next three months -- by no means an impossibility -- who is going to get the goals for Spurs? Jermain Defoe is off to Toronto at the beginning of March, leaving an out-of-form Roberto Soldado and an unproven Harry Kane to lead the line.

There are other areas for concern. Dawson's problems are well known, but Spurs are misfiring elsewhere. Mousa Dembele may be strong but his distribution has been poor in recent games. Paulinho doesn't yet look match fit. Aaron Lennon has had a run of games in which he has been completely anonymous. Eriksen has been played out of position on the left, rather than allowed to play just behind Adebayor. Rose is a threat going forward but frequently gets caught out of position in defence. The same goes for Kyle Walker.

Throughout the team there has been little consistency or self-belief. Fortunately for them, on Wednesday they play Newcastle, a team with even less consistency and self-belief. Another away win should be on the cards for Spurs, but if there is, no one should be fooled into thinking a corner has been turned. Last year, I did well by putting money on Spurs to finish fifth with a month of the season to go. I'm sorely tempted to make the same bet again two months earlier.