Five steps to create the Tottenham I want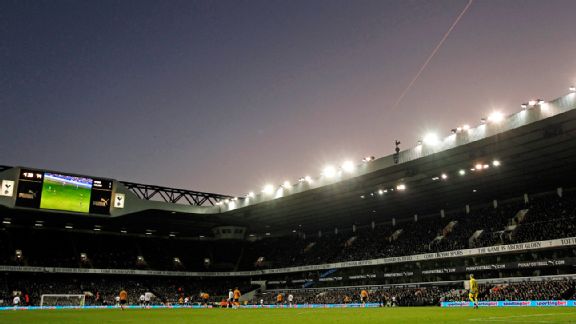 IAN KINGTON/AFP/Getty ImagesA few changes to the seating arrangements at White Hart Lane could go a long way to making Tottenham's ground a more daunting place to play for visiting sides.
Earlier this week I wrote about how Spurs are stuck in a cycle of near-misses and seem destined to finish fifth yet again.

The rationale behind the article was that any type of progress is slow going, so we fans should get used to the idea of further disappointment. This is a depressing viewpoint, if like me, you plan on supporting Tottenham till death do us part.

- Crace: Tottenham can't afford to be "60 minute team"
- Report: Coin throwers wanted by police

Yet meeting pre-season goals is only one way that a football club is defined. At a time when many Spurs fans seem as if they feel alienated from the club, I have been thinking about what I want it to represent.

It would matter less if Tottenham failed on the pitch if they failed in the right way and did the right things off the pitch. Then Spurs fans could have a club that they were truly proud of, regardless of results.

This is what I want from my club in five easy steps:

5. A team that plays the right way

There has been a lot of debate about the fabled "Spurs way". What does it mean? Andre Villas-Boas' side fell short of the aesthetic standards that Tottenham's traditions supposedly dictate, but plenty of people rightly argued that there have been many eras -- hello George Graham -- when the football was less than thrilling.

Do you know what? History isn't important. If it was, then Arsenal fans would be campaigning for Arsene Wenger to live up to their traditions of "Boring, boring Arsenal" by winning 1-0 every week.

What matters is now and if Spurs can compete at the very top of the Premier League, they can at least try to give their fans the most entertaining team. When the likes of Gareth Bale, Luka Modric and Rafael van der Vaart were playing together for the club, you could argue that they were just that.

Those players, along with David Ginola, Teddy Sheringham, Paul Gascoigne, Chris Waddle, Glenn Hoddle and Ossie Ardiles, could give the crowd something to go home with even if the team lost. Put faith in young players like Christian Eriksen and Erik Lamela to put the smile back on the faces of Tottenham fans.

4. A board that supports the manager

What does Daniel Levy and ENIC want from a manager? Besides results, no one knows. With every sacking and subsequent appointment, they seem to totally switch strategies, swapping between the hottest new European coaches, to English reliability.

If, as I suspect, Tottenham find themselves looking for yet another new manager in the summer, then this time they have to get the right man. They have to be so sure that they have the right man, that when results go pear-shaped, they remain unwavered in their support.

A football manager needs to be able to plan for the future, but how can he be expected to do that if he knows that he'll only be judged in the short-term? No one is saying that Spurs should be handing out Alan Pardew-length contracts, but three full seasons should be the least amount of time with which a coach is given to prove himself.

3. A club that doesn't rip off their fans

It is illegal for me to sell a ticket to a Tottenham match on the street, but touting is encouraged at Spurs these days. Welcome to StubHub -- a eBay subsidiary where I am free to sell my seat at White Hart Lane for individual matches, for as much money as I see fit. Naturally the club trousers a cut of my profits.

And mark my words there are profits to be made. The most expensive seat currently listed for the home game against Arsenal is available at 460 pounds -- over half the price of my season ticket which allows me entry to 21 games in total.

This initiative isn't for the good of the fans; it's a device for Spurs to make as much money as possible from match-day tickets that have already been paid for. It would be kind of ingenious if it wasn't so despicable.

Just because football fans are they most loyal customer base that a business could be lucky enough to have at their disposal doesn't mean that you have to rip them off for every last cent.

2. A team with an identity, that brings through its own

When you see Jan Vertonghen or Eriksen playing, you know that they have been given the very best football education.

Ajax have a football philosophy that permeates through its youngest youth teams to the starting XI. They wouldn't appoint Graham or Villas-Boas to be their manager because successful or not, they don't share the same ideas about the game.

Such cohesion is imperative when trying to bring young players into the first-team. A youngster needs to be able to make the daunting switch from U-21 to the Premier League without the added pressure of having to play in a completely different tactical style.

The club's academy seems to be doing a very good job at producing young players right now. Define a strategy that ensures that there will be a constant stream of fresh talent, ready and able to mix it with the big boys.

1. A stadium with the best atmosphere in the league

When White Hart Lane rocks, it really rocks. For a London derby or a big midweek European night, there are few better places to watch football.

Yet the atmosphere at the stadium can very often be limp. Back in the days of the terraces, like-minded fans could easily congregate together and sing their hearts out. Now they are separated by the lottery of a seating system. Rich middle-aged men occupy those spaces and sit on their hands, as younger, more raucous fans are priced out of the stands.

If the terrace atmosphere can't come about organically, then engineer it. Find out which season ticket holders want to sing at games and lump them together. Make some affordable tickets available around them and you have a recipe to get White Hart Lane singing each and every week.