Tottenham can't afford to be a '60-minute team'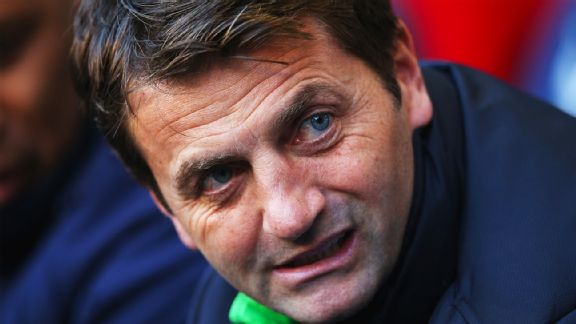 Julian Finney/Getty ImagesWhatever the cause of Tottenham's slow start troubles, it's imperative that Tim Sherwood fixes it while there's still a top four spot up for grabs.
There are any number of questions for Spurs fans to mull over right now. Some, such as, "How much are Daniel Levy and the Spurs' board to blame for the club's inability to progress to regular Champions League football?" Others, such as, "If Michael Laudrup isn't good enough for Swansea, how come so many thought he was good enough for White Hart Lane?" are more recent.

The most pressing question, though, is this. Why have Spurs become a 60-minute team under both Andre Villas-Boas and Tim Sherwood?

Anyone who has watched Spurs closely this season will be aware of the all-too-familiar scenario of the team playing the first 30 minutes in a state of near narcolepsy, with passes regularly going astray, even when the game is barely above walking-pace. It started under AVB, but Sherwood has done nothing to halt it.

Against the better teams, Spurs have almost always been punished by going a goal behind. Against the weaker sides, the damage has been limited to being held to a draw for the first half-hour and Spurs have, more often than not, been able to make up enough ground in the last two-thirds of the game to grind out a result.

But why do they seem incapable of not giving themselves such a big handicap? You would have thought that the first 10 minutes of any game might be the time for maximum effort. An adrenaline rush, reserves of energy and a chance to impose yourself on the opposition should combine to make sure the team hits the ground running. Hard. Yet this season, Spurs have been doing precisely the opposite. They start the game as if on tranquilisers and then have to play catch-up.

It can't be as if anyone at the club is unaware of the phenomenon. After all, it's hardly a secret. It's screamingly obvious to everyone, and it's become clear that opposition teams now expect a slow start from Spurs and are themselves looking to take advantage. So why aren't Spurs able to up their game? They must have been told to go out and play hard from the off. They must also have been given a game plan for how to deal with different opposition players on the training ground in midweek. So why does everything they've been told and practised seem to go out the window the moment the referee blows his whistle for kickoff?

This is what Sherwood's back-room team should have at the front of their minds if they genuinely think fourth place is a legitimate target. It can't be that the players are unhappy with the formation. Under AVB and Sherwood, the team has played everything from 4-5-1 to 4-4-1-1 to 4-3-2-1 to 4-4-2 and nothing has made any difference to the lethargy in the first 30 minutes. Nor is it likely to be that the team just isn't fit enough to play 90 minutes at the necessary pace.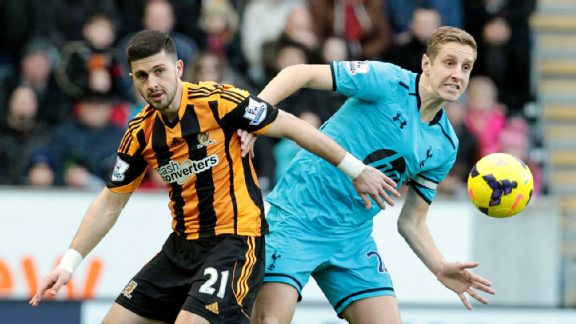 LINDSEY PARNABY/AFP/Getty ImagesSpurs allowed Hull to control the game before Michael Dawson and Co. eventually fought back to earn a point. Why?

So here are the main possibilities that are left. The players didn't believe in AVB and they still don't believe in AVB. They don't have the willpower or the hunger to raise their game from the off, and it's only when their professional pride eventually kicks in that they begin to match opposing teams stride-for-stride.

The other possibility is more troublesome, that perhaps the players don't really trust one another's ability, so they are holding something back; better to play within oneself than to risk being the one to look a fool. This is something that any change of manager won't put right.

Neither theory lends itself to an easy solution. A heart-to-heart, clearing-of-the-air discussion with team and players is unlikely to bring about change. That level of honesty is rarely found in any football club. Few players would be willing to put their head above the parapet and say they don't think the manager or their colleagues are good enough.

The only hope is for Sherwood to impose himself on the team. It's asking a lot of an untried manager to portray the belief of a Fergie, Mourinho or a Wenger. But that's what Sherwood needs to do. Or, at the least, give an illusion of a man with self-belief.

It may actually be easier than he thinks, because he really doesn't have an option. If his team continues to sleepwalk through the first 30 minutes of every game, then Spurs' chances of Champions League football -- already small -- are doomed. And Sherwood's career as Spurs manager is toast.