Tottenham are trapped in cycle of near-failure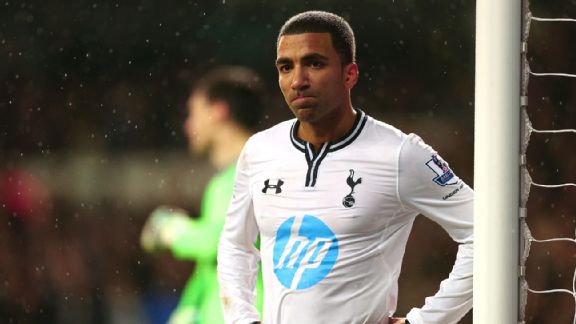 Paul Gilham/Getty ImagesAaron Lennon and Spurs appear destined for another fifth-place finish in the Prem.
This season was meant to represent a "chance" of Tottenham winning the Premier League, at least according to owner Joe Lewis, who reputedly authorised this summer's massive spending spree in response to so many top clubs starting the season with a new manager.

- Crace: Muted celebration in draw

The flaw in that rationale is that having a team half-full of new players is probably more disruptive than having a new man in charge of them. Throw in the fact that Spurs also ended up with a new manager midway through the season and you have a recipe for a familiar scenario.

Instead of challenging for the title, Tottenham battle for the arbitrary line in the sand that is fourth place. On the evidence of Saturday's game with Hull, it is a battle that Spurs will once again lose.

In many ways the result was not disastrous. Liverpool also dropped points on the road, while Manchester United are still losing to hopeless sides, even when Juan Mata, Wayne Rooney and Robin van Persie all start.

Yet these are the sort of opportunities that must be grasped if Tottenham are to prevail. Spurs' record against the top teams this season has been poor. What's kept them in the hunt has been their ability to beat the opponents that they're expected to, especially away from home.

There are still plenty of games remaining for Tottenham to overhaul Liverpool, who are essentially four points ahead in light of the goal difference of 30 that exists between the two sides.

But that gulf demonstrates how tough qualifying for the Champions League will prove for Spurs. Liverpool have serious scoring power in their team. Luis Suarez and Daniel Sturridge are in the type of form that can make the difference for them.

If Tottenham miss out, the doom and gloom merchants among their support will be in full voice, but the fact is that it will always be tough for the club to qualify for the Champions League while they play in a smaller stadium than their rivals and the owners remain financially pragmatic. It may be frustrating and somewhat boring, but that is the truth.

In the past four seasons Tottenham have finished fourth, fifth, fourth and fifth -- qualifying for the Champions League only once, with Chelsea's still fairly unbelievable victory in 2011-12 to blame for one of those absences. Those finishes demonstrate consistency and for Spurs, consistency also equals progress. Admittedly it's a slow, painful form of progress but it's progress nonetheless.

To finish in the top four every season with fewer resources than those around you is a near-impossible mission. You can argue that ENIC should have taken a financial gamble to guarantee success, but the problem with that approach is that you risk financial Armageddon if you fall short. Just ask Leeds United supporters.

Ultimately, sustained success is not going to come without sustained spending. Such spending is only going to come when the club moves to a new stadium and/or is bought out by a billionaire owner who -- unlike Lewis -- is willing to pump his personal finance into improving the squad.

Building a stadium is a complicated, expensive and lengthy business. Even when Spurs do eventually move into their new home, they aren't going to be on immediate financial parity with their rivals. It will take many more years to pay for it.

Tottenham are stuck in a cycle where their ambitions are destined to remain elusive. They can't buy the best players available so they fail to make the top four. They sack the manager in disgust and their best players leave in search for Champions League football, medals and money. Repeat to fade.

Amid constant change, making the next leap from being a contender to the establishment is a pipe dream without the money to hasten the process. Only a genius of a manager is going to make the difference, though knowing Spurs, they'd sack him before he got the chance to prove he was a genius.

Is Tim Sherwood a genius? I don't know for sure, but my guess right now is that he's not. I'd also guess that Tottenham will miss out on the top four again this season, and as a result Sherwood will be sacked and a new manager will be appointed. I don't even want to speculate as to which players will leave, as it's simply too depressing.

Nothing is going to change fast for Spurs so the best thing to do is to get used to it and enjoy it for what it is. Finishing fifth every season is at least preferable to always finishing mid-table, which not so long ago was also the apparent never-ending reality for Tottenham. Unless you take a shortcut, change is slow.