Levy should look at himself before swinging AVB axe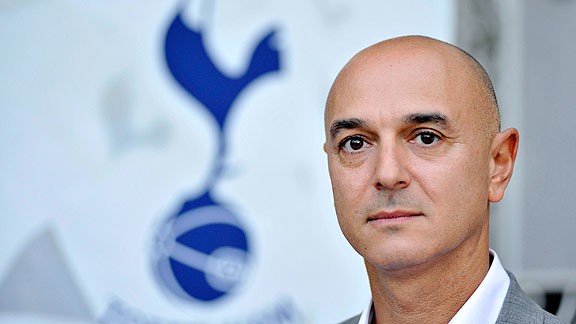 Toby Canham/Getty ImagesRumors are swirling that Tottenham chairman Daniel Levy is ready to make a managerial change.
It took Chelsea until March to sack Andre Villas-Boas last season, but if you believe the internet rumours, then Daniel Levy could be wielding the axe even quicker than that.

So is AVB really under pressure? They've suffered three defeats on the bounce, in very different circumstances. They were abject against Wigan, suffered a perhaps unsurprising away defeat to the reigning Premier League champions and then were the victim of one player's moment of madness at Arsenal.

Yet despite the mitigating circumstances, you sense that the pressure would be really cranked up a notch should they fail to beat West Ham on Sunday, especially with fixtures against an improving Liverpool and a free-scoring Fulham on the horizon.

It would be folly to suggest that the young Portuguese has not made mistakes and lots of them. The chief issue has been negative tactics and substitutions, which on a few occasions have backfired and cost them points.

However, against Arsenal, it looked as if someone might have had a word with AVB and reminded him what the club motto is. They went 4-4-2 from the start, and then even when reduced to ten men, changed things round and gave it a go.

Tactical negativity hasn't been Villas-Boas' only issue during his time in England though. He also has a tendency to rub both his players and the media the wrong way. When it comes to the squad at Spurs, it's perhaps only the noses of Hugo Lloris and Michael Dawson who have their noses he's put slightly askew, with no real harm done.

The media is a different story. Whether it's because they don't like him -- they're still mourning the loss of the walking soundbite that was Harry Redknapp -- or because it would just make a fantastic story, you sense that AVB doesn't have much goodwill in the bank when it comes to the press.

ESPNFC's very own Iain Macintosh neatly summed up how AVB is often the architect of his own misery in this area. After our gutsy show against Arsenal, the assembled journalists at the press conference were for once willing to cut him some slack, only for Villas-Boas to stubbornly defend Emmanuel Adebayor and bizarrely claim that they controlled the entire game.

The media in the UK are experts in whipping up the sort of frenzy that translates to grumblings on Twitter and booing from the terraces. Equally, they can talk up a manager to the point where he's the people's choice to become the new England boss, even if they couldn't quite convince the FA.

Villas-Boas might be something of a master at making things tough for himself, but his boss, Levy, hasn't made things easier for him either. The squad that they have this season is undoubtedly weaker than last. Aside from Gareth Bale, it's fair to say that they lost their three best players in the shape of Ledley King, Luka Modric and Rafael van der Vaart.

AVB wanted Joao Moutinho and Willian but the deals weren't done. He's been criticised for playing with one striker, ignoring the fact that they have only two senior strikers at the club and have failed over several seasons to truly address their problems up front.

The squad not only lacks quality, but numbers. Who made the decision to let Danny Rose go out on loan? He's no Ashley Cole, but he plays left-back more naturally than Kyle Naughton and they would have been able to keep Jan Vertonghen in the middle.

For that matter, who has sent Harry Kane off to Norwich to sit on their bench, when he could be sitting on theirs at a time when one of our two strikers has just picked up a three-match ban? I don't know. The problem with a complicated management structure is that it's not always clear who makes the decisions.

Levy certainly made the decision to get Villas-Boas and now he has to back him. We all do, because believe it or not, Pep Guardiola isn't hanging round the new training ground waiving his CV.

There are some decisions you have to stick with. Especially when your own reflection is looking back at you from the axe you're holding.