Motivated Spurs robbed by referee
Spurs probably wouldn't have won tonight's game with Manchester City, no matter what happened. Before the game, I would have ripped your arm off if I'd been offered so much as a draw.

Yet, what the side didn't deserve was to lose 5-1.

I was there when the team lost to City by the same scoreline under Harry Redknapp -- with a central midfield duo of Niko Kranjcar and Luka Modric pleading for a transfer. That team deserved what they got. This side deserved better.

City started the game on fire, hitting the post in the opening minutes before quickly taking the lead via Sergio Aguero. They looked terrifying every time they attacked.

Manuel Pellegrini's team could have built an unassailable lead in the early minutes , with Eden Dzeko responsible for a number of missed chances.

Instead, they left Tottenham off the hook and slowly the home side grew in confidence.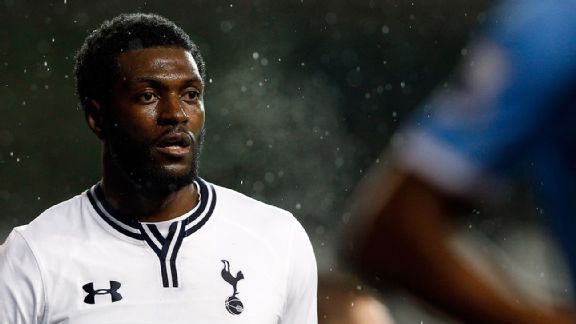 Adrian Dennis/AFP/Getty Images
Spurs dominated the last 20 minutes of the first-half. Real chances were scarce but they upped the tempo and unsettled City.

Emmanuel Adebayor headed home an equaliser, only to be ruled out for offside. Tim Sherwood's side were knocking on the door and playing some good football.

Probably the biggest attacking threat was the much maligned Danny Rose. It's true that he's not the best defensive player and nor is his delivery as good as it could be, but this kid has something. His pace and energy alone make him a constant menace down the flank.

Sadly, it was to be Rose that would unfairly prove to be the player that would give the game to City.

Early in the second-half Rose slid in to perform a perfect sliding tackle, only for Dzeko to prove uneasy on his spoon-feet and convince Andre Marriner to give a penalty. If that wasn't bad enough, Rose was subsequently sent off. Yaya Toure put the spot kick away and the game was all over.

Some four more goals were scored, as City went 3-0 up, Tottenham pulled one back and then the away side scored twice more to make it 5-1. By this time, the game had long ceased to be a proper contest after Marriner's poor decision.

As I've said, City would probably have won this match, regardless of the referee's performance. They are the best team in the league and I dearly hope they win the title ahead of Arsenal and Chelsea.

Yet, I am sick of watching results fall into doubt due to poor refereeing. In this age of instant replays, there is no need for it.

People say that these sort of things equal themselves out over the course of the season. It's certainly true that Spurs have also won games due to some poor referring decisions.

Buy why should team's fortune be subject to such a lottery in an age when there is a definite way to avoid such uncertainty? It was never a penalty and as such no one will ever know what the true result would have been.

Normally, when a team is beaten 5-1 there are few positives to take from it. Today's first-half performance threw up plenty. As such, Tottenham can move towards the weekend with their heads still held high.