After charmed start, decision time for Tim Sherwood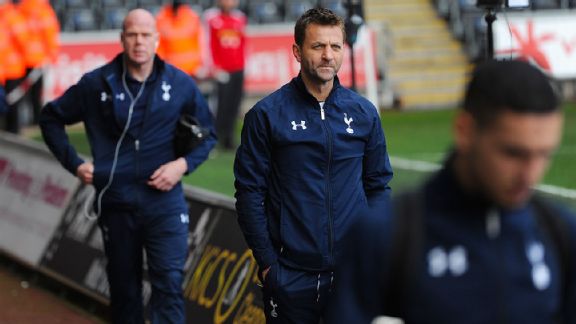 Stu Forster/Getty ImagesTim Sherwood has decisions to make with his squad as Tottenham enters a tough run with players returning from injury.
Six games in charge in the Premier League and 15 points out of a possible 18. Life doesn't get much sweeter for any football manager, let alone one in his first job.

By any normal standards, Tim Sherwood should be feeling confident in his job. Whatever points he needed to prove should have been considered proved. And yet no one is really much the wiser -- not even Sherwood, himself, one suspects -- about his talent for management. Is he a tactical genius who somehow slipped under the radar, just very lucky or something in between? The jury is still very much out.

It's not even entirely clear what kind of man Sherwood is. At press conferences he has a tendency to present himself as Mr Nice-But-Tim, but that could just be an invented Harry Redknapp-lite persona -- a way of deflecting attention and ensuring that he isn't asked any really awkward questions. Many football journalists and TV pundits have a long track record of giving an easy ride to wise-cracking managers who provide good quotes.

Part of the confusion lies in the fact that no-one has much faith Sherwood will still be Tottenham's manager at the beginning of next season. Regardless of whether he edges the team into fourth spot in the Premiership of has a good run in the Europa League, Sherwood is likely to be moved on in the summer. The 18 months on his contract is mainly for show and financial security. If the Spurs board can attract a big name manager like Louis Van Gaal to come to White Hart Lane, then Sherwood will be expendable.

Sherwood, himself, is under no illusions about the precarious nature of his position; one of the reasons he appears to be enjoying himself so much at the moment is because he knows he has comparatively little to lose.

As for Sherwood's managerial skills, it's very much a case of everyone seeing exactly what they want to see. There's plenty of evidence for a whole range of opinions. Sherwood had one very big advantage when he took over the job in December: he wasn't Andre Villas Boas. This may be a statement of the bleeding obvious, but it's valid nonetheless.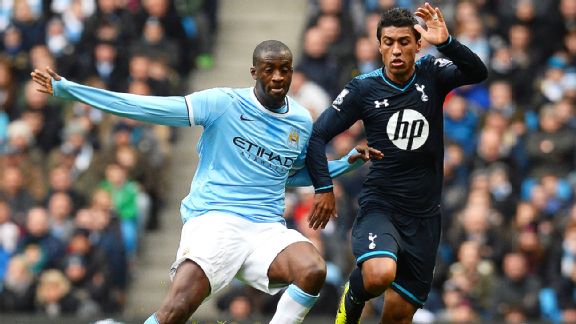 Andrew Yates/AFP/Getty ImagesWhen Sandro returns to full fitness, where will Paulinho fit in midfield? How about Nabil Bentaleb? Or Mousa Dembele?

Most of the players had come to the end of the line with AVB; they didn't like the way he was trying to make them play and they had lost faith in his judgement. Any new manager who came into the dressing-room and promised to do things differently was going to have their ear. And Sherwood was never going to do anything but to revert to a more traditional, predominantly 4-4-2, system. Not least because that's what the Spurs' chairman, Daniel Levy, had publicly said he wanted.

It was also something of a no-brainer for Sherwood to start playing Emmanuel Adebayor, as Levy had also questioned why AVB had given the cold shoulder to a striker whom the club was paying 90,000 pounds a week at a time when the other two strikers, Roberto Soldado and Jermain Defoe, were failing to score with any consistency.

More experienced managers than Sherwood have failed to get the best out of Adebayor, so Sherwood's man management skills shouldn't be entirely dismissed. There again, there is a body of opinion that says the Togolese striker is a law unto himself. A man who does what he wants when he wants, who turns it on when he feels like it if he has something to prove. And it could just be that it was Sherwood's good fortune to take over at a moment when Adebayor had something to prove.

There's also conflicting evidence for Spurs' style of play. Though he has almost always played a familiar 4-4-2 system, Sherwood did try a 4-5-1 formation against Swansea last weekend, so he's more than a one-trick tactical pony. Yet it also has to be said that despite the run of one draw and five Premiership wins, Spurs have, at times, played some football that was every bit as lacklustre and low on confidence, as it was under AVB. The home draw against West Brom was a truly dismal display, as were the first half performances against Crystal Palace and Swansea.

Better teams than these would have taken full advantage. Has Sherwood had all the luck that eluded AVB? Or has Sherwood made his own luck? It really is anyone's guess.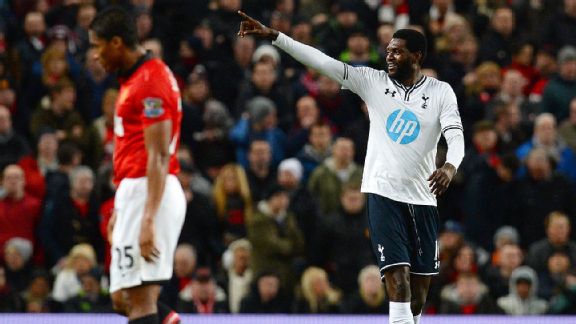 Andrew Yates/AFP/Getty ImagesEmmanuel Adebayor's resurgence is proof of Tim Sherwood's good fortune. But will it continue as Man City await in midweek?

It's also far from clear if Sherwood has any more of an idea than AVB of what his best starting XI is. He has shown flair by bringing Nabil Bentaleb, a player whom AVB had largely overlooked, into the line-up but, due to injuries, the team has all but picked itself in recent weeks, with Sherwood left to tinker around the edges with Soldado, Capoue and Chadli -- none of whom he appears to rate particularly highly. However, Jan Vertonghen, Paulinho, Andros Townsend, Sandro, Erik Lamela and Younes Kaboul are now all back in first-team training and may even be fit for next Wednesday's key fixture against Manchester City.

When all these players are available, Sherwood will have some difficult choices. Vertonghen will surely come back into the centre of defence to replace Michael Dawson, but who will play in midfield? If Sherwood wants to play Dembele in a more forward role, then where does Paulinho fit in? And does Bentaleb go back to the bench in favour of Sandro? On the left, does he play Townsend, Lamela or Chadli?

Choices, choices. Spurs' season will be defined by the choices Sherwood makes. Regardless of whether he makes the right ones next week, he'll almost certainly need a bit of luck to get a result against Manchester City. Still, as Eisenhower once said, "I would rather have a lucky general than a smart general."

The problem for Sherwood is that Levy would almost certainly prefer a smart general to a lucky one.