Mata deal could be bad news for Tottenham's top-four hopes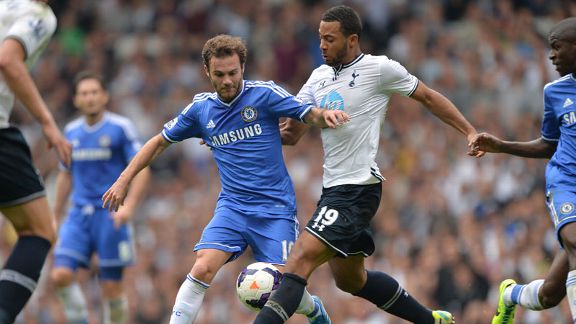 AssociatedJuan Mata had an excellent game against Spurs this season.
At the start of the season, Spurs may have had aspirations of mounting a title challenge, but as they approach the last 16 games of the Premier League season, they will have to console themselves with their now-annual battle for fourth place.

It promises to be a tight one. Tottenham are currently the sandwich filling in fifth -- between Everton, one point below, and a Liverpool side that occupy the fourth Champions League qualifying spot.

Languishing some six points behind Spurs and Liverpool are Manchester United. I'd pretty much written them off, based on the fact that they would not just have to put a great run together, but also hope that the three teams above them would all suffer a collapse.

- Okwonga: Sunderland, Mata and metaphors
- Juan Mata close to Man United move

Of course, Tottenham and the two Merseyside clubs will drop points before the season's end, but it was impossible to imagine that Manchester United wouldn't do likewise. They've looked so fragile this season and capable of being defeated by just about anyone.

But could the signing of Juan Mata could give them half a chance? Anyone who saw United's abject performance against Sunderland in the League Cup semifinal will tell you that they have too many problems for just one player to solve.

Mata though, is of sufficient quality to give a major boost to David Moyes' side. This is a player that scored 20 goals and assisted 35 (THIRTY FIVE!) last season.

At the end of that campaign I was asked by ESPN to argue Gareth Bale's case to be named as footballer of the year, which my Liverpool and Manchester United colleagues also did for Luis Suarez and Robin van Persie, respectively. A number of readers suggested that Mata deserved to be included on this shortlist, and it was difficult to disagree.

Now Manchester United look set to have two of those four players within their ranks. Amid the Moyes bashing it's been surprising that there's been few mentions of the fact that he's largely had to do without Van Persie -- the man whose goals were the major factor in their title win last season.

RVP plundered 30 goals from 48 games last term. This season he has the exact same ratio of goals -- 10 from 16 games -- but just hasn't been in action enough to cover up the side's weaknesses.

If they can get Van Persie back on the pitch alongside Mata and Wayne Rooney, then opposing defences will be left quaking. Forget the dilemma as to where Mata will play. He and Rooney are exceptionally intelligent players and will make it work.

The signing of Mata won't give United the muscle they require in midfield, or shore up their defence, but it will surely result in them creating better chances and increase their goalscoring power.

In Mata, United will be signing one of the best players in the league. Spurs fans only have to remember his second-half performance at White Hart Lane this season as evidence of how he is able to grab a game by the scruff of the neck.

It's a signing that turns United from a side with too much to do, into a contender. A three-way battle becomes four and though Tottenham have regularly finished above Liverpool and Everton in recent seasons, they haven't bested Manchester United since 1990. That's the sort of statistic that can play on the mind towards the season's end.

Looking on the bright side, Spurs have already faced Manchester United twice pre-Mata and plundered their now annual four points. Liverpool and Everton must still face them.

Whoever ultimately triumphs, it promises to be yet another tight, nerve-racking contest for football's most lucrative booby prize. Do your best, boys -- just don't finish fifth.