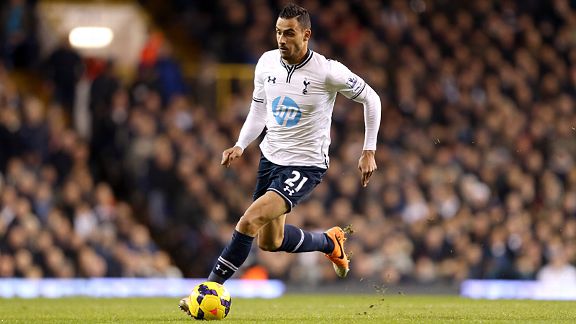 PA PhotosNacer Chadli has yet to make a positive impression at Spurs.
In recent years, the hallmark of Spurs' January transfer window has been the players that never arrived. The fevered speculation of possible big-name acquisitions that ended with the signing of... Ryan Nelsen. The distinctive feature of this year's window looks set to be the exact opposite. The big name players who were tipped to leave the club but stayed. Erik Lamela, Etienne Capoue and Nacer Chadli have all been linked with moves less than six months after their arrival; all appear set to stay.

Lamela's transfer back to Italy always appeared a non-starter. However unhappy at White Hart Lane the player may have been and however underwhelmed the Spurs hierarchy may have been with its acquisition, it would have been too embarrassing to have offloaded a club-record signing in under a season. Given both the fragility of the defence and a long injury list of defenders and defensive midfielders, Capoue was always more likely to represent better value to the club on the pay-roll than off it. Chadli, though, is much more of an enigma.

- Spurs 'want crazy money for Capoue'

In recent weeks, either Chadli or his agent has been doing a lot of talking to the press: "He's not happy at the limited number of chances he's been given," or "in World Cup year he needs to be playing regularly to make sure of his place in the Belgian side," and "he needs a move." But either Spurs weren't willing to cash Chadli in -- almost certainly at a loss -- or there weren't any serious offers from serious clubs for him. Then the mood music changed. Chadli -- or his agent -- began to sweet-talk Spurs in the media. "He had never really wanted to leave," and "it had all been a load of media nonsense."

Maybe. Or just maybe, Chadli's media flirtation got him just what he wanted. For Chadli was named in the starting line-up against Swansea on Sunday. Not to put too fine a point on it, though, his contributions to the game were limited. He doesn't have the pace to create any real threat as a left winger. His crossing and distribution skills are no better than average. All he appears to have going for him is his strength; he can hold the ball up well and stop opposition right-backs from getting too far forward.

Some might feel these are rather negative qualities to be looking for in someone whose primary role is meant to be more attacking. They certainly aren't ones Spurs require or expect from their other wingers -- Aaron Lennon, Andros Townsend or even Erik Lamela.

Chadli remains something of an enigma. Lamela may not have been the player everyone hoped for, but he has given flashes of his talent and ability. He looks like a class player. The same goes for Roberto Soldado. His touch has been heavy and he is low on confidence, but he is someone you would put money on to come good eventually. If not for Spurs, then another club.

Capoue has also had his share of good days when you can see what the scouts saw in him. But Chadli has yet to do anything that marks him out as anything special. He certainly looks no better or worse than Jake Livermore, whom Spurs sent out on a season-long loan to Hull, while forking out £7 million for the Belgian international.

So far this season, Chadli's main function seems to have been to shore up Spurs' shortcomings at left-back. Danny Rose is a threat going forward, but he's far from the real deal defensively. And he's the pick of the bunch. When he was injured, neither Zeke Fryers nor Kyle Naughton proved to be adequate replacements and Jan Vertonghen -- much against his will -- was forced to fill in until he too had been played out of form and injured. Chadlhi's role in all this was to add some muscle to the left-hand side which, at times, he has performed competently.

Yet it does seem a perverse -- albeit typically Spurs -- way of going about things. Surely, the best way of dealing with a problem in the left-back position is to get a specialist left-back rather than to co-opt a defensive winger into covering up the deficiencies. As far as anyone knows, Spurs have made no enquiries about getting a replacement left-back in the transfer window. Go figure.

With Townsend and Lamela possibly due back from injury in time for the Manchester City game -- though one can never put too much trust in bulletins from the Spurs' physio room -- Chadli's position in the squad pecking order makes even less sense. Manager Tim Sherwood has clearly decided that Spurs' main attacking threat comes from breaking quickly on the flanks and Chadli is not the man to fulfil that role. It wasn't a coincidence that Spurs' third goal against Swansea came from a fast counter-attack on the left -- after Chadli had been substituted.

Bringing seven new players into the squad during the summer was always a potentially high-risk and disruptive strategy. It was, perhaps, inevitable that one or two of the signings would struggle to fit in. It's no fault of Chadli's that he is that one. He is the collateral damage in Spurs' transfer policy. Professional footballers understand that as one of the risks of the game and they are more than adequately financially compensated for it. But the time has come for both Chadli and Spurs to admit that the situation hasn't worked out as either had anticipated.