Sherwood's Spurs march on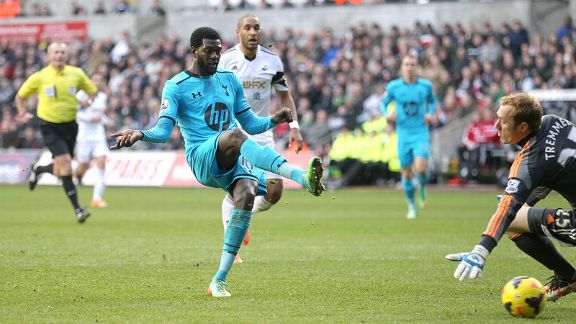 PA PhotosEmmanuel Adebayor scores his second, and Spurs' third, against Swansea.
Winning is getting to be a bit of a habit. As is the manner of winning. The formula goes like this: Start by playing careless, low-intensity football and giving your opponents plenty of control of midfield; then hope that opponents will fail to take advantage; score a classy goal against the run of play and only then remember you're a team closing in on a top-four place.

Having played 4-4-2 in every other match for which he has been in charge, Tottenham boss Tim Sherwood showed he does have some tactical variations by replacing the out-of-form Roberto Soldado with Nacer Chadli, and playing 4-5-1. The team that beat Swansea 3-1 on Sunday was otherwise unchanged from the one that beat Crystal Palace the previous weekend.

- Sherwood: Spurs need top-four finish

If the aim of the changing formation was to give Spurs more bodies in midfield and to prevent Moussa Dembele and Nabil Bentaleb from being overrun, it wasn't one that was initially successful. Spurs started slowly and carelessly, and Swansea's Jonjo Shelvey controlled the opening exchanges, shooting narrowly wide himself and creating several good chances for the Welsh side's target man Wilfried Bony. Bony hit one fierce shot that Hugo Lloris did well to parry and another that crashed against the bar with the Spurs' keeper beaten. Only the heroics of Lloris and the defending of Vlad Chiriches, Spurs' Man of the Match, kept the scores level during the first half hour.

Against the run of play, in the 35th minute, Spurs created an opening on the right and Christian Eriksen's pinpoint, whipped cross allowed Emmanuel Adebayor to head home from close range. Picking the ball out of his net was almost the first action Swansea keeper Gerhard Tremmel had had all game.

The goal kick started Spurs into life and thereafter they began to play with confidence and class. Eriksen was constantly inventive and Dembele and Bentaleb began to make their presence felt in midfield. Bentaleb's 11 tackles during the course of the 90 minutes was the most made by any Spurs player in a match all season. Spurs might even have doubled their lead just before halftime when a reinvigorated Adebayor hit a crisp snapshot that Tremmel did well to keep out.

Having gone into the interval with a slightly fortunate lead, Spurs got lucky again a few minutes into the second half when Shelvey had to be substituted with what appeared to be a hamstring injury. The loss to Swansea's creativity in midfield was immediately apparent and Spurs took full advantage. A rare foray forward, and an even rarer cleverly weighted pass by Michael Dawson left Kyle Walker free in the Swansea penalty area; his powerful cross was turned by Swansea's Chico Flores into his own net.

At 2-0 up Spurs were in total control and time and again they created chances as Swansea lost their shape and their discipline at the back. Dembele, in particular, was guilty of a bad miss having ghosted his way into a position from which it seemed easier to score. Missed chances as glaring as this have deflated Spurs teams in the past, but fortunately Spurs got their third two minutes later when Danny Rose was given far too much time to pick out Adebayor in the Swansea box. The Togolese striker had even more time to control the ball and steer the ball past Tremmel.

Swansea did get a late goal back when Bony exploited a lapse in concentration in the Spurs defence, but the goal served more as a wake-up call to the away side than as a spark of a serious revival from the Welsh side. By the end, Spurs were knocking the ball about with confidence as thousands of Swansea fans left the grounds before the final whistle. Spurs fans celebrated by chanting the name of Roger Lloyd Pack, aka Trigger from "Only Fools and Horses," a lifelong Tottenham supporter who died last week. That's how comfortable it was.

Spurs have now taken 25 points from their travels this season, the highest of any Premier league club. If they can sort out their home league form then a top-four place is there for the taking. Tottenham's next game is at home to Manchester City in 10 days; what better time for the club to recover its mojo at White Hart Lane. If Spurs do beat City, they will have won all four of their league fixtures in January and Sherwood would be a genuine contender for Manager of the Month. Quite what Spurs chairman Daniel Levy would make of that is anyone's guess.