Tottenham's Beatles look set for an early break up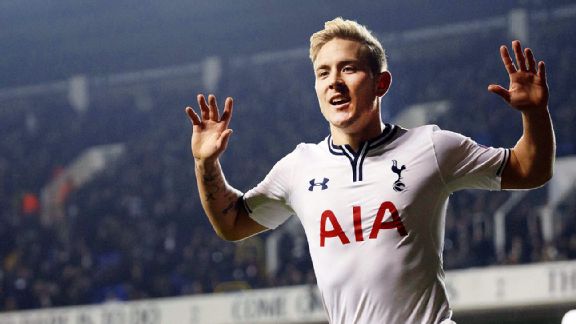 AllsportLewis Holtby has been linked with a move away from White Hart Lane.
Do you remember when Spurs sold Elvis this summer and bought The Beatles? Well just like the real Beatles, it looks like they are going to split up. Unlike the real Beatles, it's not taken anywhere near ten years to happen.

While it's true that Tottenham's summer signings have so far closer resembled Pete Best and Stuart Sutcliffe than John Lennon and Paul McCartney, it's hard not to find this news alarming. None of Spurs' new players have been so bad that it's not worth persevering with them until the end of the season, at least.

- Crace: Spurs' Bentaleb dilemma

Erik Lamela has been linked with a loan move and today's press is full of reports that Etienne Capoue could join Napoli and that Nacer Chadli wants to leave. Throw in the fact that Lewis Holtby -- who was only signed last January -- is looking to find regular football elsewhere, along with the transfer of Jermain Defoe and you have another hectic transfer window for Spurs.

That players grow frustrated at not playing regularly in a World Cup year should not come as fresh news to anyone. The opportunity to play in a World Cup has to be taken while it can. Clubs are ten a penny in comparison.

In retrospect, it was perhaps foolish to invest the Gareth Bale money in buying so many players from outside the Premier League. They are all taking their time to adapt and five of them have the added pressure of trying to secure a place in their international side's World Cup squad.

So with a big squad and only eleven starting places available, it's understandable that some of the summer signings and other fringe players are getting jittery, but the management at Tottenham have to do what's best for the club.

Of the players rumoured to leave, it's only Chadli's possible departure that makes me shrug my shoulders and release a "meh". I'm not convinced that he'll ever make it at Spurs and the squad wouldn't be significantly weakened if he left. If the club does have faith in him, then a loan -- especially to another Premier League club -- would make sense for all parties.

Other departures would be more regrettable. Holtby plays as if he actually cares what the end result will be, which sadly has marked him out at times this season. Trying hard isn't enough if you can't actually play -- which is why I'm not one of the fans at Spurs that sings the Steffan Freund song -- but Holtby has talent as well.

He's never really had a run-in what I consider to be his best position of central midfield. In the current formation he could play there alongside a more defensive player, while also providing competition for Christian Eriksen's spot on the left.

That said; it's true that there's intense competition for a midfield spot at Tottenham, especially since their switch from five midfielders to four. There's too many at the club and something has to give, but I'd rather see Gylfi Sigurdsson, or even Mousa Dembele leave before Holtby.

Another midfielder rumoured to be close to a transfer is Capoue. The rumour is that the management are not happy with his attitude in training and are ready to take a loss on a player that they only signed in the summer.

This potential transfer worries me the most of all. Capoue looked good before his early season injury, and even with the rise of Nabil Bentaleb, it would be a gamble to sell him considering Sandro is somewhat injury-prone. If his attitude is not good enough, is it impossible for the coaches to work to get Capoue to change his ways? That's kind of their job after all.

Of course, it might just be the case that manager Tim Sherwood doesn't fancy Capoue and the likes of Holtby and Chadli. Normally, that would be fine. You have to back your manager and there's no point keeping players around that he doesn't have in his plans.

Yet what's different in Sherwood's case is that the players in question have more time left on their contracts than he does. It would surprise no one if he was replaced in the summer, so should he get to make the decisions as to which young talents leave?

As is often the case at Spurs, it's a mess, largely caused by uncertainty and poor decisions. The only plan in place seems to be to one that is made up as they go along.