World's worst penalty spares Spurs' blushes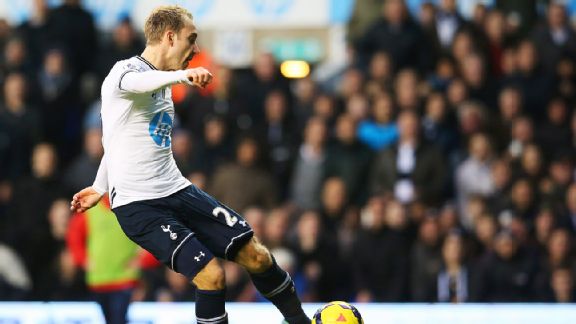 Julian Finney/Getty ImagesChristian Eriksen smashed in the opener early in the second half in Tottenham's 2-0 win over Crystal Palace.
It says a lot that Saturday's game was most notable for the fact that it contained the worst penalty that I have ever seen in the flesh, and quite possibly on TV as well. Crystal Palace deserved to go in ahead at halftime, but fluffed their best chance to take the lead.

Spurs played atrociously in the first half and can count themselves fortunate not to have been behind at the break. Jason Puncheon's penalty inspired howls of laughter in the home crowd when it should have brought cries of anguish.

When your team concedes a penalty, you essentially assume that it means a goal. Instead, Puncheon sliced the ball off the outside of his left boot, sending the ball on an impossibly high and wide trajectory, inspiring incredulous laughter from the crowd.

- Report: Tottenham 2-0 Crystal Palace
- Brewin: Three things: Tottenham vs. Crystal Palace

Having been let off the hook early on, Tottenham were unable to make Crystal Palace pay for their profligacy. The closest that they came to a first-half goal was a speculative long shot from Nabil Bentaleb that struck the post and bounced agonisingly across the goal-line.

The second-half was to prove less stressful, thanks to an early Spurs goal that took the pressure off the team. In the 50th minute Emmanuel Adebayor flicked down a long ball in a manner that Tony Pulis would be proud of and Christian Eriksen came in off the left and put the chance away.

I missed the actual goal because I was in the bathroom... such breaks can often be the catalyst for a goal and it says much for the desperateness of the first half that I did not care a jot that I had not witnessed the joyous event.

Regrettably, I did witness the rest of the second half, which a lack of tension aside, was not much better than the first. Palace never looked like they would score, while Tottenham laboured in their efforts to put the game to bed.

Eventually, it was the substitute Jermaine Defoe that finished the game off. In a week in which Defoe sealed a transfer to Toronto and a massive transfer of cash to his pocket, the England striker's quick feet put Spurs 2-0 up.

Unkind folk like myself might describe Palace's defence as sub-MLS, but Defoe's ability to punish the weak shouldn't be dismissed. If it was that easy, everyone would be at it. Tottenham will not be missing a first-choice striker when he leaves, but they will be one short of a super sub.

The eventual scoreline looks more comfortable than it actually proved. It was a laboured victory and against a better team than Palace -- now at the bottom of the Premier League -- then the three points might not have been forthcoming.

It's fair to say that Tim Sherwood's Spurs team struggle if Adebayor is not at his best. He looked no better than the substituted Roberto Soldado and history suggests that there will be as many off days as on days.

The central midfield duo and Danny Rose also had poor games. At home, against the league's bottom side, such obstacles can be overcome, but with Manchester City next to arrive at White Hart Lane, there will be no room for such weakness.