Loaning out Lamela makes zero sense for Spurs
Had Erik Lamela stayed at Roma, he might now be playing for a side that are challenging Juventus for the Serie A title.

Instead, Lamela was on Tuesday involved in a training-ground friendly with a young Charlton side that Spurs won by the fairly ludicrous scoreline of 10-6. The Argentine was on the score sheet in a game in which Tottenham youth product Jon Obika netted six times. Perhaps Tim Sherwood was experimenting with a 2-4-4 formation.

- Crace: Lack of ambition a worry

Lamela wouldn't be human if the thought hadn't crossed his mind as to what he was doing at Tottenham. He's had few chances in the first team and hasn't been afforded a consecutive run of games to build some form.

That's in no small part to the fact that when Lamela has played, he generally hasn't been that good. Yet when you pay 30 million pounds for a player, you need to get the best out of him, and the only way that's going to happen is if Lamela is given an extended opportunity.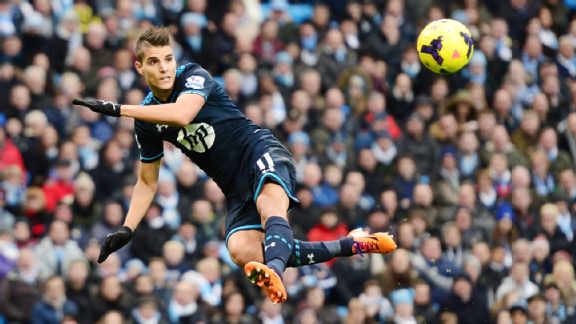 Jamie McDonald/Getty ImagesTottenham's Erik Lamela has been linked with a loan move to Inter Milan.
Sherwood picked Lamela for the 3-2 away win at Southampton in which he was substituted. That was one of just three Premier League starts that he's made, of which one was away at Manchester City -- probably the hardest assignment that any new player can undertake these days.

You'd think that it would make more sense to introduce Lamela to English football by playing him in home games against the type of sides Spurs should be looking to dominate. With no disrespect to Saturday's opponents Crystal Palace, they fall firmly into that category.

Whether Lamela is fit enough to play after his recent injury is another matter. But if he is, then this is the sort of game where Sherwood should be giving the youngster a chance. Back when Andre Villas-Boas was in charge, I suggested that Lamela should be played just behind the striker and with Aaron Lennon and Christian Eriksen playing well on the flanks; that position might be his best option right now.

With Roberto Soldado and Jermain Defoe injured, Lamela certainly has to be in the frame for a central role just behind Emmanuel Adebayor. If nothing else, I'm hoping that Lamela plays soon so that I don't have to spend the entirety of January reading about how he's moving back to Italy.

Except this week Lamela was linked with a loan move to Inter Milan, which makes zero sense on many levels. Who spends the sort of money that Tottenham paid for Lamela and then loans the player out? In other circumstances you might suspect that it could be a loan move with a transfer to follow in the summer, but no Italian club has paid this sort of fee for a player for a decade or so.

Lamela's exit would surely also signal the death knell for Franco Baldini's spell at Spurs as technical director. That would be a shame. Stability is needed at the club, when it comes to both players and staff.

I've seen the suggestion that Lamela should be loaned out to a Premier League club. That makes more sense than a loan to Serie A, but it's still not the perfect scenario. Yes, it would help Lamela to adapt to the English game, yet I suspect that half the battle with a young player coming into a very different environment is to help him feel settled. How is sending him packing to live in Birmingham or Newcastle for four months going to help that?

No, Lamela needs to stay put, and if Tottenham want him to do just that, they have to make him feel wanted. That means playing him regularly and showing faith in the talent that they have invested in.

Gareth Bale was not an instant success at Spurs. Neither was Luka Modric, and I could go on with this list to include the likes of Teddy Sheringham, Chris Waddle and many more.

Lamela's transfer obviously seemed a very good idea just a few months ago. It would say a lot about the transient thinking at Tottenham if they gave up on him so soon.