Five things we learned from Arsenal 5, Tottenham 2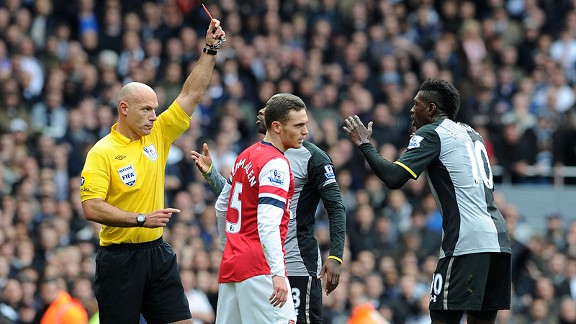 David Price/Getty ImagesSeven minutes after scoring, Tottenham's Emmanuel Adebayor, far right, was sent off for a vicious tackle on Arsenal's Santi Cazorla.
1. A player can be too hyped up

I read a fair amount before the game about how Emmanuel Adebayor would be motivated to put in a good display against his former club. Today we saw a bit of that with his goal and then the flip side of the coin, as he needlessly lunged in for a tackle and was quite correctly sent off.

Sometimes players can get too caught up in the occasion and lose their heads. Adebayor's sending off was reminiscent of Peter Crouch's moment of madness in Madrid, getting himself recklessly dismissed, and in doing so, effectively ending the game as a fair contest.

Arsenal were there for the taking today but when Adebayor walked off the pitch our chance of winning went with him.

- Martin: AVB's up-and-down ride

2. AVB can do positive

Much of the criticism during Andre Villas-Boas' time as Tottenham manager has stemmed from the fact that his tactics have been somewhat negative.

Today we saw that he can be positive too. We started with Adebayor and Jermain Defoe together up front in a 4-4-2 formation. Before long, the duo combined to give Spurs the lead, with Defoe's use of movement to find space and his shot being palmed into the path of Adebayor.

It was in the second half, though, that I was really impressed with AVB's attitude. 3-1 down and reduced to 10 men, a lot of managers would have been content to park the bus and keep the score down. Instead, we went to three at the back and brought on Clint Dempsey to provide a link between the midfield and Defoe.

We might have lost the second half by two goals to one, but it was a spirited display. Better to do down fighting than waving a white flag.

3. Gallas has to be dropped

Having caused himself plenty of problems with his treatment of influential elder players at Chelsea, I wonder if AVB is worried as to the repercussions of leaving William Gallas on the sidelines?

He'd certainly have the support of the Spurs fans right now if he did put Gallas out of his misery. He followed up his poor performance at Manchester City with another display in which he looked like he didn't really want to be there.

Gallas basically gave up during our 5-1 FA Cup semi-final defeat to Chelsea last season, which should have been the last game that he played for us. AVB clearly has reservations about playing Michael Dawson, but the one area where he is streets ahead of Gallas is his attitude.

4. Lloris has served his apprenticeship

I was pleased to see Hugo Lloris start today's game. Both he and Brad Friedel are fine goalkeepers but the difference is that Lloris is the future while Friedel's time is sadly coming to an end.

Lloris showed a glimpse of his ability with a brilliant first half save, and despite conceding five goals, he deserves to keep his place in the team. It will be interesting to see how AVB handles the goalkeeper situation from now on. Does Friedel start in the Europa League games, or will Lloris be the undisputed number one and play in every game?

5. It is possible to dislike Sol Campbell more than I already do

How does a former Tottenham favourite, who walked out of the club for nothing to join our most hated rivals, having denied that he would do such a thing, make himself even less popular with Spurs supporters?

Why, by acting as Arsenal's new official cheerleader of course. There he was, laughing it up alongside Thierry Henry at the Emirates, and every time the camera panned to him, it made my blood boil roughly 25% warmer.

At least I am safe in the knowledge that he wouldn't dare make the trip to Spurs for the return fixture.