Spurs' lack of ambition at Arsenal a worry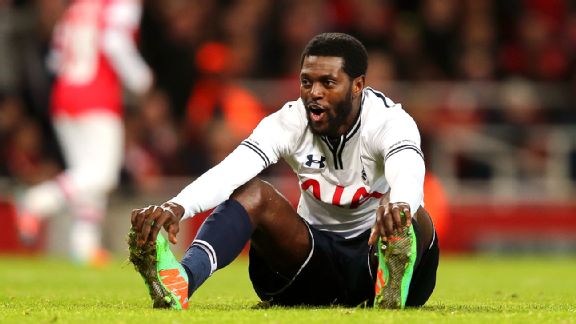 Clive Rose/Getty ImagesEmmanuel Adebayor and Tottenham were flat all match long in Saturday's FA Cup loss to Arsenal.
Tim Sherwood talked a good pre-match game: He understood the importance of a derby FA Cup tie. His team were ready and willing to do battle. But it was Arsenal who saved their powder for the match itself.

Their 2-0 win was as comfortable as it was deserved. Spurs were outplayed in every department for much of the match and once Danny Rose had needlessly lost possession on the halfway line to gift Tomas Rosicky a second goal for Arsenal, they never looked like they were finding a way back into the game.

- Fitch: Sherwood on AVB mistake path?
- Delaney: Three things: Arsenal vs. Tottenham

After the game, Sherwood was questioned about his inflexibility in playing a 4-4-2 formation that left Mousa Dembele and Nabil Bentaleb outnumbered in midfield. His reply that, "A lot is made of systems -- 4-4-2, 4-3-3 or whatever you want to call it..." seemed to reinforce the notion that the new manager still has a bit to learn about tactics and had been out-thought by his opposite number, Arsene Wenger.

It's true that Sherwood appears old school and Spurs could certainly benefit from a manager with a more subtle grasp of finessing the shape of the team to counteract opponents. But he did also have a point. Spurs didn't lose merely because they doggedly maintained a 4-4-2 formation when the situation was crying out for something different. Tactics were only part of it and to focus on them alone is to lose sight of the bigger picture.

Spurs actually started the game playing the better football, retaining possession and for the first 15 minutes they threatened to take control of the game. They should have even taken the lead when Christian Eriksen found himself with just goalkeeper Lukasz Fabianski to beat from close range. At this stage of the game, no one was wondering if Sherwood had made a huge tactical blunder. Those thoughts only started to creep in when Arsenal shifted up a gear and began to dictate the pace of the game.

What killed Spurs wasn't just being outnumbered in midfield, it was their sluggishness, lack of creativity with the ball and inability to exploit the spaces out wide where they outnumbered Arsenal. Much of the last 70 minutes of this game felt like deja vu of Andre Villas-Boas' Spurs earlier in the season. The build-up was slow and ponderous, with more passes going sideways rather than forward, and Arsenal had no trouble in getting defenders behind the ball. Aaron Lennon was given little opportunity to use his pace and, after Eriksen's early effort, the only saves Fabianski was required to make was one long-range effort from Dembele that came straight to him, and a miscued shot from Emmanuel Adebayor that bounced gently into his arms.

It didn't help that Adebayor, Eriksen and Roberto Soldado all chose to have their poorest games for some time. Soldado's lack of goals from open play is clearly getting to him. On two occasions he had decent chances and hit both wide. To not even get the ball on target is the mark of an anxious man. But the overall fault lay with the team as a unit. Energy levels were poor and there was a worrying lack of passion, considering this was a key derby game for the fans. If the players don't understand the history of Spurs v. Arsenal, someone should tell them. Preferably before the home league game in March.

Nor is it any great defence to claim that the Spurs team have been badly hit by injuries and are tired after playing two games a week over the Christmas period. Arsenal, too, are without key players and have had a similar fixture list, yet they were able to rise to the occasion. Spurs crumpled before it. No doubt at some point, someone will chime in with the old canard about the loss being a blessing in disguise and that Spurs can now concentrate on their league position and the Europa League. Some of us would rather have concentrated on them and the FA Cup.

Perhaps the most disturbing of Sherwood's post-match remarks was his observation that, "We showed we belong on the same field and in the same company as Arsenal." Is that really the extent of his ambition? Spurs now have some time off to regroup and start getting players out of the injury room and back into training. Let's hope come Saturday, the team shows it has rather more ambition against Crystal Palace.