January transfer window ins and out at Tottenham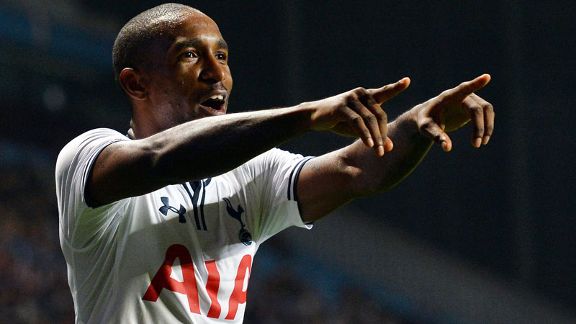 AllsportThe biggest move at Spurs could be Jermain Defoe on the way out.
It's usual at this time of year for Spurs to be linked with any number of players; some dreamed up from a fantasy wish list, others pushed forward by agents sensing a quick buck. After which, nothing generally happens until the final day of the transfer window, when Spurs buy three players who have never previously been in the frame.

HIT LIST
This year, the transfer rumours have been eerily silent. The only name semi-seriously mentioned has been West Brom's Shane Long, as a backup striker for Emmanuel Adebayor and Roberto Soldado. But, as it appears that Tim Sherwood rates Harry Kane extremely highly -- the striker came on as a late substitute for Soldado at Old Trafford on Jan. 1 and was highly effective in holding up the ball and getting physical with the Manchester United defence -- it's hard to see what the value of the move would be for Long or for Spurs.
There are other good reasons, though, for Spurs to have a quiet January transfer window. First and foremost is that Spurs already have a strong squad, having signed seven new players in the summer. The need is to maximise the potential of the current players rather than to add to the sense of instability, not least as there have been encouraging signs in recent weeks that the team is beginning to find its form and spirit. To risk demotivating the current players by bringing in new blood just for the hell of it would be pointless.

The one caveat is injuries. Jan Vertonghen, Younes Kaboul, Andros Townsend, Sandro and Paulinho are big losses to the current squad, and, if their injuries are more serious than has been revealed so far -- something never to be discounted at Spurs -- and they won't be fit by the end of January, Daniel Levy and Sherwood might be thinking of getting some backup.

But here, too, they need to be careful. While Danny Rose was out with an injury, the absence of a specialist left-back was a glaring defect in every Spurs lineup. Yet Zeki Fryers did show against Stoke that he might just be settling into the demands of Premier League football, and Spurs might find it hard to get anyone much better.

The best players tend to wait until the close season before switching clubs -- so we can forget about Leighton Baines -- besides which, most canny footballers probably will want to wait to see just how permanent Sherwood's position really is before committing their futures to White Hart Lane.

EXIT LIST
There had been suggestions that Benoit Assou-Ekotto might be recalled from his loan spell at QPR, but his recent Twitter exploits and the club's subsequent froideur towards him have probably put paid towards him. Otherwise, the only expected transfer movements are likely to be outward. Jermain Defoe hasn't even been on the bench for the past three games, and the suspicion must be that the club, with Defoe's assent, has been keeping him wrapped up and injury-free in advance of a move. West Ham or Toronto is the most likely destination.