Spurs should go 4-4-2 to attack fragile United
Tim Sherwood has got off to a good start as Tottenham manager, with a respectable haul of seven points from nine over the Christmas period.

Yet those results, over an out-of-form Southampton and struggling West Brom and Stoke, are arguably ones that could have been obtained with Andre Villas-Boas in charge -- though probably with far less goals and entertainment.

West Ham aside, AVB's Spurs were getting results against the Premier League's poorer sides. The Portuguese was sacked for his side's capitulation against their supposed rivals and Sherwood now has an early chance to prove that he can do a better job in this regard.

Consecutive away trips to Manchester United and Arsenal in four days will be a test of Sherwood's tactical acumen. So far, he's been able to throw caution to the wind in the belief that his attacking lineup would simply outscore the opposition. The next two games will need more consideration.

I wouldn't be very confident of Tottenham taking on Arsenal's midfield with a 4-4-2. Painful memories of Harry Redknapp sending out the same formation at the Emirates and getting spanked 5-2 come flooding back.

- Strike duo could be out for United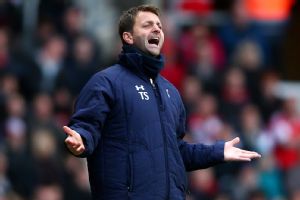 Paul Gilham/Getty ImagesTim Sherwood's tactical acumen will be tested at Manchester United and Arsenal.
That's not to say that I think Sherwood needs to entirely change his strategy for the trip to United. They have been vulnerable at home this season and there is no reason why Spurs should not go there and try to win.

United also play a 4-4-2. While it's true that Wayne Rooney frequently drops back to form a midfield five, Christian Eriksen will drift off from the left to also give Tottenham a central midfield trio.

The left side of a four-man midfield might be the perfect role for Eriksen to adapt to the English game. It certainly worked for Luka Modric when he first joined the club and initially struggled to make an impact in a central position.

With Paulinho injured, Sherwood will probably go with a central midfield duo of Etienne Capoue and Mousa Dembele, though Lewis Holtby is another option. That would give Spurs a powerful unit to defend themselves against Rooney, with Eriksen cutting in to provide the attacking guile.

It could be the remaining member of the midfield quartet that proves the difference, though. Aaron Lennon enjoys playing against Patrice Evra and had a good game in the recent 2-2 draw between the sides.

Tottenham need Lennon, along with Dembele, Danny Rose and Kyle Walker, to hurt United with their pace when they break. Such swift attacks were the key to the 3-2 win at Old Trafford last season.

Like that game, this one promises plenty of goals between sides that will play openly and attack each other. It could be the type of match the neutrals love, but the respective fans have to watch through their fingers.

A win would give Sherwood a major boost in his bid to last in the job longer than the summer. Spurs are yet to beat any of the current top eight this season and if they are to have any chance of finishing in the top four, then now would be a good time to start.