Four Four Tim's Spurs fail to click into gear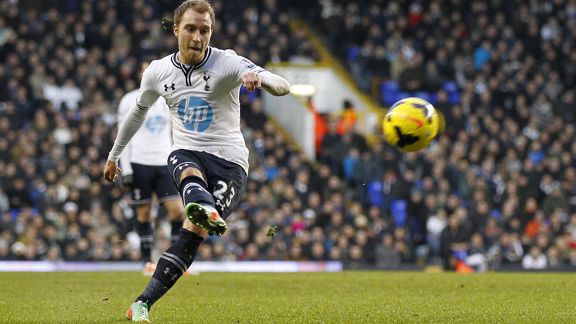 GettyImagesChristian Erkisen's free-kick gave Tottenham the lead against West Brom.
For a man who, as a player, operated as a fairly defensively-minded midfielder, Tim Sherwood doesn't seem very inclined to play with one.

Sherwood's first team selection since officially becoming Tottenham Hotspur manager saw him pick Lewis Holtby to play alongside Christian Eriksen in central midfield.

Somewhat predictably this decision resulted in Tottenham posing a real threat when going forward, while looking very open at the back in a 1-1 draw at White Hart Lane. Centre-back Vlad Chiriches probably had his worst game since joining the club and that was in no small part down to how little protection the back four received from the midfield.

West Brom carved out enough chances in the first-half to have taken the lead but Spurs were lucky enough to go in all square. It was Tottenham that took an undeserved lead through a moment of inspiration when Christian Eriksen scored with a perfectly placed free kick.

The lead lasted only a matter of seconds, as Eriksen gave away a free kick and poor marking from Chiriches allowed Martin Olsson the space to equalise.

It was to prove a costly mistake as Spurs failed to take the lead again. Emmanuel Adebayor wasn't as effective as in the previous game against Southampton and generally the side struggled to create clear cut chances, with the ball never seeming to fall Tottenham's way in the box.

Spurs finished as the stronger side, but West Brom created enough chances during the game for a draw to be the fairest result. At least the football was more entertaining than what we witnessed under Andre Villas-Boas, in the final months of his time at the club.

It is refreshing to see multiple numbers of players getting into the box and with that mentality Tottenham will have more success in front of goal than they did on Boxing Day.

The worry is that they will also continue to give the opposition chances. If Sherwood picks this sort of side against better teams, then Spurs could well get ripped apart.

There's no reason to think that he won't pick a more sensible side though. As manager of the reserve side Sherwood would play 4-2-3-1 and his selection on Thursday was dictated by several absentees.

Sherwood claims that it was his decision to sign Sandro and if that's true then you'd expect him to return to the side. His selection of Aaron Lennon on the right and Andros Townsend on the left in his first match against West Ham also suggests that he might want to play with genuine width when he has the opportunity.

The defence lacked pace in the middle and that's another area that Sherwood could change when Jan Vertonghen and Younes Kaboul are available to him.

With a manager that people know so little about, it's very difficult to judge him and put this performance into any perspective. What is already clear is that he's more of a manager in the Harry Redknapp mould than a tactics obsessive like AVB. His sides so far have been set up as a platform to give individuals an opportunity to express themselves.

The good news is that Tottenham do have a number of outstanding individual attackers in their ranks. Eriksen was the only player to produce a moment of magic against West Brom and the team dropped two points as a result.

Only time will tell as to whether this approach will win Spurs as many points as Villas-Boas' more pragmatic tactics, but it does seem likely to be more fun. That's a blessing and right now every Tottenham fan needs to take every positive they can.