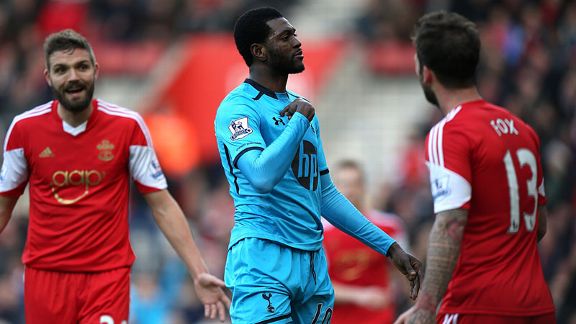 PA PhotosEmmanuel Adebayor celebrates scoring an equalising goal to make it 1-1.
Tottenham's caretaker manager, Tim Sherwood, was never going to be left wondering. His team selection of Roberto Soldado, Emmanuel Adebayor, Christian Eriksen, Erik Lamela, Gylfi Sigurdsson and Mousa Dembele was loaded with attacking options. Dembele was the closest to a defensive midfielder on show. It was win or bust. And for the first 20 minutes or so against Southampton, it looked like bust.

Southampton may have been down to the bare bones of their squad with Artur Boruc, Kelvin Davis, Danny Fox, Guly do Prado, Dani Osvaldo, Nathaniel Clyne and Victor Wanyama all out injured, but in the initial exchanges Adam Lallana, in particular, dominated a Spurs side that was itself without Jan Vertonghen, Paulinho, Sandro, Younes Kaboul, Andros Townsend and Aaron Lennon. It was Lallana who put the home side ahead in the 11th minute, when he was given far too much time on the ball and beat Hugo Lloris from distance.

- Carter: Three Things - Southampton vs. Spurs
- Southampton 1-3 Spurs: Adebayor at the double
- Sherwood hopeful of Tottenham job

The home side should have gone 2-0 up inside 20 minutes when Jay Rodriguez missed a simple chance, after Danny Rose had been far too easily beaten by Rickie Lambert. Had that gone in, Spurs might have been in for another big defeat, and Sherwood's dreams of being given the manager's job would have been over before they had started.

Spurs could barely string two passes together, and when they did get the ball, they were all too often dispossessed: You could almost see the confidence flowing out of the Tottenham players. Southampton were stronger, quicker and sharper, and there looked to be only one winner.

In the 24th minute, though, Spurs unexpectedly found a way back into the game. Adebayor -- the man of the match in his first Premier League start of the season -- won the ball in the centre circle and sent out a long pass wide to the left. Soldado fired in a fast cross for Adebayor to finish the move he had started with a fierce volley. More by luck than by judgment, Spurs went into the break all square.

Within 10 minutes of the restart, Spurs were ahead. A neat interchange between 19-year-old Nabil Bentaleb -- unfamiliar to most Spurs fans but well known to Sherwood from his time in charge of the youth team, who had come on for the injured, and largely ineffective, Dembele -- and Rose found the left-back with space in the Saints' box. His cross was bundled over the line by the Southampton full-back, Jos Hooiveld, for an own goal. Beggars can't be choosers, and right now Spurs will take any gifts they are given.

However, it looked as though Spurs were in no mood to take advantage, as Michael Dawson and Lloris managed a horrible mix-up of their own to donate Lambert his own easy equaliser. Christmas was coming early at St. Mary's this year. Nor was that the end of the seasonal generosity, as the Southampton defence just looked on as Adebayor received a throw-in from Kyle Walker and shot past a surprised Paulo Gazzaniga to restore Spurs' advantage.

The goal was no more than the Togolese deserved. He worked hard throughout the 90 minutes, created chances, took his own and gave the Southampton defender, Dejan Lovren, an afternoon he would rather forget. Adebayor often seems to have a love-hate relationship with football. When he's on song, he's almost unstoppable. When he's not, he looks utterly bored. Right now, with his career resurrected after Andre Villas-Boas's departure, he has something to prove again. And he's proving it.

It was stubbornness, as much as anything else, that cost AVB his job, but even he must now be wondering if he made the right call to freeze Adebayor out of his Spurs side.

Spurs should have made certain of the points long before the end: Soldado, Nacer Chadli and Sigurdsson all had clear-cut chances to extend the lead. But Tottenham hung on without too many alarms, and Sherwood's attacking formation had been vindicated. It was a win that not many had seen coming and was all the more welcome for that. As was Spurs' scoring three goals in the Premier League for the first time this season. And if Adebayor carries on in this form, he could be club's leading scorer by the end of the year.

The win couldn't have come at a better time for Spurs. Confidence had been seeping away, and the team was beginning to look rudderless. Not that there isn't plenty of work still to do. A better team than Southampton wouldn't have let Spurs off the hook and Daniel Levy really has to make up his mind whether he really trusts Sherwood enough to do the job. In truth, he may not have much choice.

Having sacked AVB in a fit of pique with no replacement lined up, Levy has little chance of attracting a big name at midseason, and he can't let the current situation drift.

So Sherwood seems to be the man. At least for now. At least 'til the new year. Even by Spurs' standards, this has been a roller-coaster ride of a season. Things haven't been changing month by month; they've been changing game by game. One match everything is back on track; the next the wheels have fallen off. For now, Spurs fans should do no more than enjoy the day. We'll wait 'til Boxing Day to worry about West Brom.