Sherwood's Spurs audition fails to convince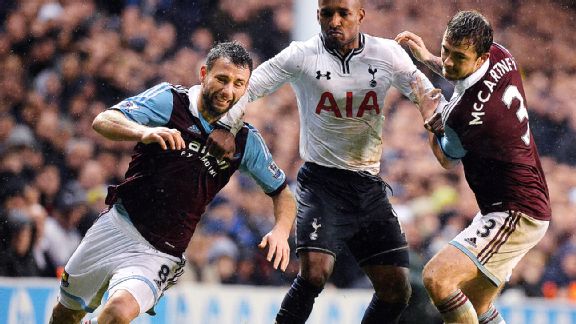 Ben Stansall/AFP/Getty ImagesJermain Defoe and Tottenham endured another home defeat to West Ham.
For the dawning of a new era, this didn't half seem familiar.

It all started so brightly. Tim Sherwood decided to take things back to basics and revert to a 4-4-2, with Emmanuel Adebayor partnering with Jermain Defoe up front.

Aaron Lennon and Andros Townsend were safely positioned on the wings from where they could cross the ball with their stronger foot. It was Lennon that almost got Tottenham off to a flyer within 90 seconds, as he bamboozled Razvan Rat and delivered a ball into the box which Defoe put past the post.

- Delaney: Three things: Tottenham vs. West Ham
- Report: Tottenham 1-2 West Ham

Just a few minutes later, Lennon again came close to creating the opener, as his cross was almost turned into the West Ham goal by their defender Joey O'Brien.

It was simple stuff from Spurs, but effective. The midfield duo of Gylfi Sigurdsson and Mousa Dembele quickly got the balls onto the wings, while Defoe played on the shoulder and Adebayor came short and wide to offer an outlet.

Within 15 minutes Tottenham had already forced five corners. Of course, they didn't actually score from any of them. Habits of a lifetime don't change that quickly.

Yet as the game drifted on and Spurs failed to take the lead that their play deserved, West Ham were able to come back into it. With a host of players unavailable, the central midfield and defence both had a makeshift air to them, with Sigurdsson and Dembele more comfortable attacking than defending, and Etienne Capoue partnering with Vlad Chiriches in central defence.

With this lineup, Tottenham were always going to be vulnerable unless they built up a healthy lead. Defoe was again wasteful and it's hard to understand why he was picked alongside the impressive Adebayor, ahead of Roberto Soldado.

To give credit to Defoe, he did deliver a lovely cross for the goal that gave Spurs the lead. Breaking down the left, he put across a perfect ball for the on-running Adebayor, who powered a volley home from just outside the six-yard box.

If the game had ended there, then Sherwood's changes would have been vindicated and he'd be one step closer to landing the job on a permanent basis. Instead, his side threw the match away.

Collectively, they began to get sloppy and needlessly gave away possession. West Ham started to get more of a foothold in the game, with Matty Taylor forcing a good save from Hugo Lloris from distance.

Injuries started to take their toll. A tired Danny Rose had gone off just before Adebayor's goal and then Townsend appeared to pull a hamstring and was replaced by Nacer Chadli.

It was the third and final substitution that will be most questioned. On 78 minutes, Sherwood brought off Adebayor. With West Ham beginning to dominate possession it made sense to introduce another midfielder, but unless Adebayor was simply too exhausted to continue it should have been Defoe that was taken off.

Having played so much of the game, Adebayor surely could have finished it and even if he was struggling he'd have offered a better outlet than Defoe, at a time when the side really needed one.

If Sherwood thought that the game was already more or less won, then he was to be proven badly wrong. Just two minutes after Adebayor was taken off, West Ham equalised through Matt Jarvis.

Worse was to come five minutes later when Modibo Maiga scored his first goal of the season when he headed home Mohamed Diame's cross. Suddenly the tie had been turned round and Spurs were out of a cup in a season where success in the league is looking increasingly unlikely.

West Ham won't beat many teams twice this season, so to lose two games to them at home is a crushing blow. Yes, there were mitigating circumstances in terms of the amount of players unavailable to Sherwood, but you should still beat West Ham. They started with Carlton Cole on his own up front, which is a mitigating circumstance in itself.

As I write, Sherwood's odds to become the next manager of Tottenham are steadily becoming longer and it looks like Glenn Hoddle could replace him as favourite before the evening is out.

It wasn't the most disastrous audition I've ever seen, but Sherwood is not operating from a position of authority. He has to prove to everyone that he can do this job in the brief opportunity available to him.

Tonight's performance won't have convinced anyone and with an away trip to Southampton to come this weekend, Sherwood looks faced with a very tough challenge.