Crafting a lineup to beat Arsenal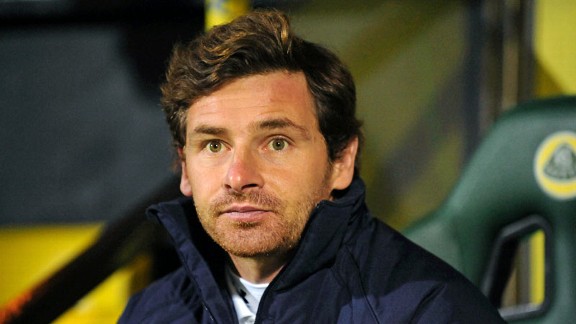 Olly Greenwood/AFP/Getty ImagesTottenham manager Andre Villas-Boas must put together the right combination to beat Arsenal.
It's the big one and you sense there is a lot more riding on this derby than North London pride. Both Spurs and Arsenal have gone three games without a win in the Premier League and another defeat for either team would really crank up the pressure.

So if Tottenham want to win (and we do) what needs to be done? Here's how I'd go about snatching three points from the home of the enemy.

In goal I'd go with Hugo Lloris but I fully expect Andre Villas-Boas to select Brad Friedel as he has done in all but one Premier League game this season. Either way Tottenham can count themselves lucky to have an experienced international goalkeeper between the posts.

Defence is a bigger worry. Against Manchester City, William Gallas looked very poor indeed. It looks as if time might be finally catching up with the veteran and I'd drop him. Unfortunately Jan Vertonghen is filling the left back spot with Benoit Assou-Ekotto injured. That means the only options are to bring in Kyle Naughton so Vertonghen can move to the centre, or to keep the Belgian at left back and bring in Michael Dawson.

I'd go for Dawson, who has a wealth of big-game experience compared to Naughton, who is coming off a bad error against Maribor. AVB doesn't seem inclined to play Dawson, so I'd say Naughton is a likelier starter on Saturday and probably likelier still is the option of starting with the same back four that faced City. Let's hope Gallas can be inspired to play another blinder at the Emirates as he did two seasons ago.

It is in midfield where the game could be won or lost. With Mousa Dembele still injured and Tom Huddlestone's lack of mobility, I fear being overrun by the Arsenal trio of Jack Wilshere, Mikel Arteta and Santi Carzola.

I'd dispense with the attacking midfielder role that has been filled either by Clint Dempsey or Glyfi Sigurdsson, to little effect. Jake Livermore would be too defensive alongside Sandro, so I'd bring in Tom Carroll. It would be a big test for the diminutive youngster but as Arsenal's midfield doesn't include a real defensive presence, he will be allowed more time to play than one might normally expect in these circumstances.

Carroll and especially Huddlestone have the passing range that could get the ball up the flanks quickly to Gareth Bale and Aaron Lennon. The wide players' pace has been key to Spurs' good away form this season and has allowed them to hit opponents on the break.

With no one playing an advanced midfield role to support the striker, it would be essential for our lone forward to hold possession, which means that Emmanuel Adebayor would keep his place in my lineup over Jermain Defoe.

While going with a 4-4-2 and pairing the two strikers is tempting, don't forget what happened last season when Spurs did. A quick 2-0 lead was established, but even in doing so Spurs didn't look comfortable -- Arsenal eventually thrashed us 5-2.

Spurs supporters calling for Harry Redknapp back should remember this tactical blunder, which was exacerbated by 'Arry picking Niko Kranjcar in midfield and effectively turning a four-man midfield into a three-man.

The only way you could squeeze two strikers into the team is to play with three at the back. With Bale and Kyle Walker, Spurs certainly have the wing backs to make the formation work. But I can't see AVB changing things so radically for such an important match. Bringing Defoe on from the bench is a great option against tiring legs, anyway.

So here's my team to face Arsenal. What would yours be?

Lloris, Walker, Dawson, Caulker, Vertonghen, Sandro, Huddlestone, Carroll, Lennon, Bale, Adebayor.