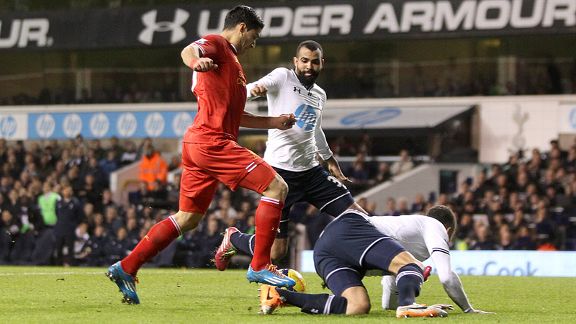 GettyImagesLuis Suarez opens the scoring for Liverpool at Tottenham.
First came the expectation. After back-to-back away wins against Fulham and Sunderland and a confident Europa League win over Anzhi, and with Liverpool missing both Steven Gerrard and Daniel Sturridge, the buzz around White Hart Lane was that Tottenham were beginning to find some real form.

Then the reality check. Spurs weren't so much defeated by Liverpool as destroyed by them. The 0-5 scoreline didn't flatter the visitors at all. The goals apart, Liverpool hit the woodwork twice and missed several chances from which it seemed easier to score. Spurs were outfought, outplayed, outpassed, outpaced. Down and out. This was a humiliation on as grand -- if not grander -- a scale than the 6-0 rout at the Etihad just a month ago. Any hook that Andre Villas-Boas and his team might have wriggled off in the past few weeks, they have now just climbed back on. The Spurs' board and fans won't take another capitulation.

- Suarez piles pressure on AVB

Spurs started the game with the same back four that had so easily contained the Sunderland attack. Up against the class of Luis Suarez, Raheem Sterling and Coutinho, they were horribly exposed. Sterling gave Kyle Naughton a first half he would rather forget and the Spurs defender must have been relieved to be taken off at halftime. Though Zeki Fryers was no more effective in the second half. Kyle Walker was run ragged by Coutinho; Michael Dawson and Etienne Capoue had no answer to the pace and creativity of Suarez.

Not that it would be right to put the entire blame on the Spurs' defence. The rest of the starting lineup was equally abject, with only Nacer Chadli posing any threat. And he faded out of the game early in the second half.

Spurs' usual game is to retain possession and seek to dominate the opposition with numbers in midfield, but Liverpool allowed Spurs no time on the ball. Mousa Dembele and Sandro were too slow and easily dispossessed and Liverpool counter-attacked with pace. Liverpool should have been a goal up through Coutinho before Suarez put the visitors ahead on 22 minutes after a neat interchange with Jordan Henderson.

Chadli and Roberto Soldado gave hints that Spurs might be able to claw their way back into the game with two half chances, but Liverpool's control was near complete. They had several chances to double their lead, during which period Dawson picked up a yellow card that keeps him out of next Wednesday's League Cup tie against West Ham (though on this showing his absence may be a blessing in disguise), before Henderson volleyed home after a double save from Hugo Lloris rebounded to his feet. Spurs did get the ball in the Liverpool net just before the break, but Soldado's effort was disallowed for a shoulder charge on Liverpool keeper Mignolet. It was a close call, but probably the right one.

The second half began with Spurs, as expected, pressing harder, but it was Liverpool who came closest with a header that hit the post. Spurs went down to 10 men on the hour when Paulinho was sent off for a high challenge on Suarez, but though Liverpool went on to score three more times, the game was over long before.

This is a game that no Spurs player will want to remember. Aaron Lennon was as poor as Sterling was good -- something that won't have escaped England boss Roy Hodgson -- and Soldado was easily contained. Lewis Holtby did his best to get sent off along with Paulinho but couldn't even manage that. That's a measure of just how bad things were.

It will be tempting for AVB to write this game off as "just another bad day at the office." That would be a mistake. No one has this many bad days at the office without there being something seriously wrong. Spurs have now taken just three points out of a possible 21 from the seven teams they are -- notionally, on this performance -- in contention with for a top-four place. That is not Champions League form. It is the form of mid-table mediocrity.

There will be arguments about whether it's the tactics or the players who are to blame. It's probably both. Some Spurs fans have been calling all season for their "old Spurs" back. On Sunday I saw the old Spurs. The Spurs of the late '90s and early 2000s. Be very careful about what you wish for. You just might get it.