Spurs shrug off crisis talk with Europa League victory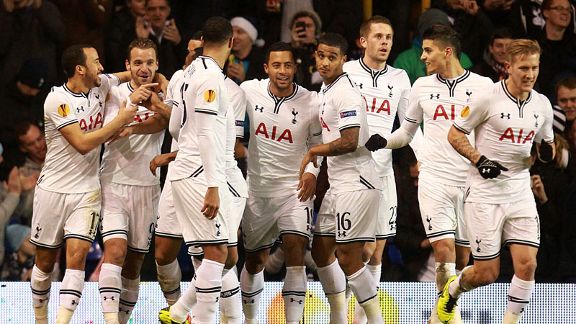 PA PhotosRoberto Soldado helped himself to a hat trick as Tottenham strolled to a 4-1 win.
The game started as an irrelevance and ended as an exhibition. In a dead fixture on which nothing depended for either side, it was the Russian side Anzhi -- who have yet to win a game in the Russian Premier League -- who started the stronger. The Spurs team that included seven changes looked lifeless as Brad Friedel was forced into an early save. Then, in the seventh minute Andros Townsend won a free kick on the edge of the box and Gylfi Sigurdsson's whipped cross was headed neatly in off the far post by Robert Soldado.

- Villas-Boas may bench Soldado in PL

Cue a surge in confidence and the opening of the floodgates. Danny Rose, starting his first game since September, quickly settled in and showed just how much the home team had missed a specialist left back; he defended with intelligence and attacked with pace, combining neatly with Townsend who began the game on the left wing. Time and again, he took on the Anzhi defence on the outside to provide an almost constant threat and it was his neat header that led up to Soldado's second from a delightfully weighted through ball from Erik Lamela with barely 15 minutes of the match gone.

Spurs could -- and should -- have gone three up before the interval after another neat, incisive interchange between Lamela and Sigurdsson had left Townsend through on goal. His chip curled just wide. Instead, the home team went into the break just the single goal ahead after Townsend failed to clear properly and Kyle Naughton and Friedel were guilty of ball-watching from the subsequent corner.

Rose came off at half-time to be replaced by Ryan Fredericks, who slipped in at right back while Naughton moved over to the left. Fredericks was nothing short of a revelation. Fast going forward, solid in defence and with a far more accurate delivery into the box than the rested Kyle Walker. It was his driving run into the box that led to the penalty from which Soldado completed his hat-trick. Before that Lewis Holtby had scored Spurs' third with an inventive spin and flick from Townsend's pass. Spurs might have scored several more before the end with Lamela and Holtby demanding reflex saves from Anzhi keeper, Evgeni Pomazan.

4-1 was a more than comfortable margin of victory, but it was the manner in which Spurs played that impressed more than the scoreline. Where for so much of the season, Spurs have been lethargic in their build-up, going sideways rather than forwards, tonight they were quick and direct. Mousa Dembele played his best game of the season, finally looking like the player Spurs had worked so hard to prise from Fulham a year and a half ago, and Holtby was his usual bundle of commitment and passion. This looked like a team that has begun to believe both in its own potential and its manager's tactics.

There is still plenty of room for improvement. Townsend played the entire second half on the right hand side and gave a perfect demonstration why he is so much more effective on the left where his inclination to cut inside on to his left foot cannot be indulged. Lamela started strongly but then faded. He will come good eventually but he looks almost over-anxious at present. He needs a goal or two to settle him down and get the crowd behind him. Holtby is far less secure in defence than he is in attack, and a better side than Anzhi could have punished Spurs for his lapses. Zeki Fryers started as the left-side central defender and he, too, is prone to the odd wobble. He has a young head on young shoulders.

Yet overall Spurs got far more out of this match than they can ever expected. Soldado got himself back among the goals, Rose and Christian Eriksen both looked sharp on their returns from injury and Etienne Capoue was, as he had been against Sunderland, hugely impressive at the heart of the defence. Nothing and no one got past him, and on more than one occasion he rescued Spurs from the lapses of others. Andre Villas Boas' decision to play him in the back four has been inspired. He could be just the man to neutralise the threat of Luis Suarez against Liverpool on Sunday.

Three wins on the bounce and some prolonged flashes of real style. Any talk of crisis at White Hart Lane has been well and truly laid to rest. For the moment, at least. This is Spurs, don't forget. Anything can happen.