Europa League must not derail Spurs' Prem campaign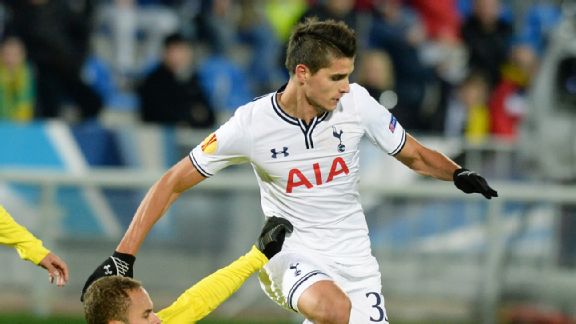 YURI KADOBNOV/AFP/Getty ImagesErik Lamela and Tottenham can close out a perfect Europa League group stage with a win on Thursday versus Anzhi.
One of the many reasons that the Europa League is a fatally flawed competition is the fact that the third-placed Champions League teams turn up halfway through like uninvited guests at a party.

Spurs have been the favourites to win the competition with the bookies all season but you'd have been daft to bet on them to do so -- and not just because they haven't been playing particularly well.

- Crace: Spurs' defensive depth an issue
- Report: AVB: Liverpool clash a litmus test

The likes of Benfica, Juventus and Shakhtar have all finished third in their Champions League groups and will be joined by four more of Europe's top teams when tonight's final qualifiers are done and dusted.

It all just adds to the general pointlessness of the group stage, which Tottenham have waltzed through without breaking a sweat. A win in tomorrow's home tie against Anzhi would see Spurs romp home with a maximum 18 points. When you consider that the side have had their struggles this season, the fact that they've gained such a tally is a revealing statistic.

With the group already comfortably won this should be an opportunity to play those that need to build up their fitness and to give some youngsters their chance. The likes of Ryan Fredericks, Zeki Fryers, Laste Dombaxe, Harry Kane and Shaquile Coulthirst are all in the squad, but there has to be a doubt as to how many will feature considering that Andre Villas-Boas opted to play an unnecessarily strong side in the last match against Tromso.

Two first-team players that everyone will be pleased to see are Christian Eriksen and Danny Rose. The latter has been particularly missed, so it will be a comfort to see Rose making a return ahead of the weekend match against Liverpool.

If the prize of a Champions League place was available for the winners of this season's Europa League, then it would undoubtedly be a tournament worth competing for. Unfortunately, this new rule doesn't come into play until the 2014-15 season, leaving a debate as to the merits of going into the latter stages.

I hate the idea that winning a trophy can be considered less important than finishing in an arbitrary league position, but having missed out so narrowly on a Champions League place for the past couple of seasons, you do sense that it is very important this season.

For one, the Premier League is wide open and the opportunity is clearly there. Secondly, Spurs have lost their best player for the past two summers now. The vultures will be circling the likes of Hugo Lloris and Jan Vertonghen should the team miss out again.

Of course, Tottenham have a deeper squad than they did last season and should be better equipped to challenge on multiple fronts, but injures can stretch even the strongest group of players -- especially towards the end of a long, hard season.

This will be a hard-fought competition, with a lot of very strong teams in it. Juventus should be particularly motivated to win it considering that the final takes place in their own stadium.

Spurs are not successful enough to turn their noses up at a trophy, but I do hope that AVB is clever enough with his team selection to not let the Europa League effect the team's Premier League form.

Tottenham have already suffered some poor league results following their Thursday night outings. As the season goes on such slip-ups will only become more costly.