Lack of defensive depth a thorn in Spurs' side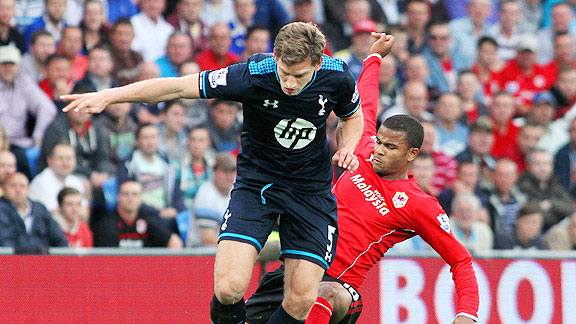 Geoff Caddick/AFP/Getty ImagesWith a slew of fixtures upcoming, the injury to defender Jan Vertonghen is a big loss for Spurs.
It's that time in the season when the games come thick and fast. A third of the way through December and Spurs have already played three matches, with another four to fit in before Christmas and another two after that. That is not even mentioning an away Premier league game against Manchester United on January 1st and an away FA Cup tie against Arsenal just three days later. There really is no let up.

It's also the time of the season when the manager starts to cast a few anxious glances towards the injury room. In particular, Andre Villas-Boas might be fretting about his back four. Not because Kyle Walker, Etienne Capoue, Michael Dawson and Kyle Naughton played badly against Sunderland; far from it. They were as solid as any other line-up AVB has put out and Walker played his game of the season.

The problem lies in the fact that these four are just about the only back four AVB has to choose from. Spurs are saying that they hope the knock that Jan Vertonghen picked up near the end of the Fulham game isn't as serious as they first thought. This is the sort of club announcement that makes most people fear the worst. They said much the same thing about Danny Rose when he injured his foot against Tromso back in the middle of September. Three months on and there's still no sign of him. So while everyone would dearly love to see the Belgian international back before Christmas, only an eternal optimist would bet on it.

- Report: Vertonghen 'may be out until New Year'
- Fitch: Why do AVB rumors persist?

There's also been worrying little news on Vlad Chiriches. He picked up a knock against Newcastle last month and reappeared a few games later wearing a rather fetching face mask. But sometime since then he has managed to get injured again and the club hasn't given many details about what injury he has, let alone a projected date for his return. Again, it may be not very much, but only a fool would make plans on that basis.

Then there's Younes Kaboul, who was injured in the first game of last season and missed the rest of it. He hasn't been the same dominant presence since he returned at the beginning of the current campaign. He keeps picking up small injuries -- we hope they are small -- but the more pressing concern is the effect his major injury has had on his mind. Many players take several years to fully recover psychologically from a bad injury: think Aaron Ramsey, who suffered a bad leg fracture against Stoke in 2010 and is only now fulfilling his potential. Some players never really do recover: think Eduardo and Roberto Pires. Who knows which category Kaboul will fall into? What can be said is that he's no longer a first choice pick even when fit.

Zeki Fryers, whom Spurs sneaked away from Standard Liege earlier this year -- much to the annoyance of the then-Manchester United manager, Sir Alex Ferguson -- doesn't look at all ready for regular first team football. He's young and raw, and experienced right wingers will take him to pieces. He's the right man to fill the left back slot in Thursday's meaningless Europa League game against Anji that Spurs can afford to lose and still top their qualifying group, but the wrong man to take on Liverpool's on-song attack on Sunday.

Which does rather leave Spurs down to the bare bones at the back. If AVB hasn't been thinking of a back-up plan if one or more of Walker, Capoue, Dawson and Naughton get injured, then he ought to be. It isn't even as if AVB can give any of them more protection by resting them -- other than for Thursday's game. Every other fixture before Christmas is a tough game: Liverpool, West Ham in the Capital One Cup and then Southampton. Dawson is already looking tired and is being given the run-around by attackers after playing so many games, but Spurs have no option but to carry on playing him.

Relief may come either with injured players returning or with the January transfer window. Most of the speculation so far has been around whether Jermain Defoe will leave and whether AVB will buy another striker or have another stab at filling the tricky Number 10 slot. If Spurs and AVB have serious ambitions to challenge for a Champions League slot, then a specialist left back and a central defender are just as big a priority.