Spurs need six points from two games to ease AVB pressure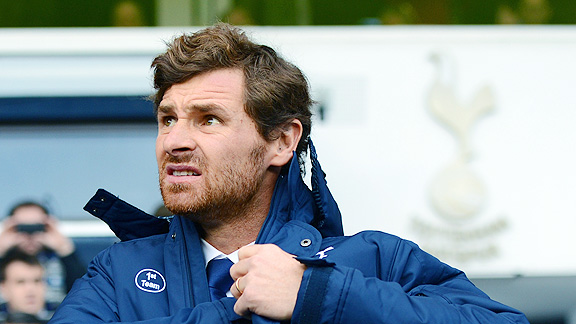 Michael Regan/Getty ImagesAndre Villas-Boas' Tottenham side have gone four matches without a Premier League win.
The draw with Manchester United was a creditable response to the 6-0 thrashing by City, but the side and Andre Villas-Boas still find themselves under pressure as they prepare to face Fulham.

- Crace: Does AVB have a point?

Spurs have now gone four games without a league win and that needs to be turned around against a side in the relegation zone. Only three points separate Tottenham from fourth place, but that won't be the case unless they start picking up wins quickly.

AVB's press conference response response to the Daily Mail's Neil Ashton and Martin Samuel after the United game won't have made him many new friends among the English press pack -- especially those at the Mail.

If Spurs fail to win you can be sure that the papers will be printing more stories regarding Villas-Boas' future and those in line to replace him. Of course, the easiest way to stop such rumour-mongering in its tracks is for the team to win.

Tottenham should do just that. Aside from the Manchester City result, Spurs have done well away from home this season, while Fulham have been simply shocking both home and away.

Martin Jol has already been given the boot and though I'll always have fond memories of the man from his time at White Hart Lane, it did seem like the right time for him to go. He's built a team at Fulham that is full of players who are past their best. What's more, their attackers aren't exactly hard workers. Darren Bent has done the impossible this season, by making Dimitar Berbatov look industrious by comparison.

Even with Rene Meulensteen having taken charge, it would be a surprise if Fulham beat Tottenham. A new manager can inspire a team, but when they're as long in the tooth and as apparently demotivated as this Fulham side, Meulensteen's task is made all the harder.

Spurs didn't put in a perfect performance against Manchester United, but they did at least look motivated. I would expect the team to remain largely unchanged, with perhaps just one or two alterations.

The obvious player that might find himself back on the sidelines is Nacer Chadli. I can see why he was picked against United but he didn't do enough to keep a place in the team. Personally, I'd try Andros Townsend on the left, though I expect AVB to go with Gylfi Sigurdsson.

The midfield trio of Sandro, Mousa Dembele and Paulinho has flaws, yet with Etienne Capoue still finding his fitness and Lewis Holtby not emphatically grabbing his chance to replace Christian Eriksen, Villas-Boas will probably keep faith.

Michael Dawson is another player that might keep his place due to circumstance, rather than form. The way he was skinned by Danny Welbeck on Sunday was quite alarming, but with Danny Rose still in the midst of the longest two-week injury known to man, Dawson will no doubt keep his spot, with Jan Vertonghen at left-back.

With another away trip to Sunderland to follow on Saturday, Spurs have to be aiming for six points. That would no doubt put the team right back into the mix, while also lifting the pressure off of AVB.

Whether they achieve this aim will tell us a lot about Tottenham's Champions League ambitions and the future of their manager.