Is Clint Dempsey good enough for Spurs?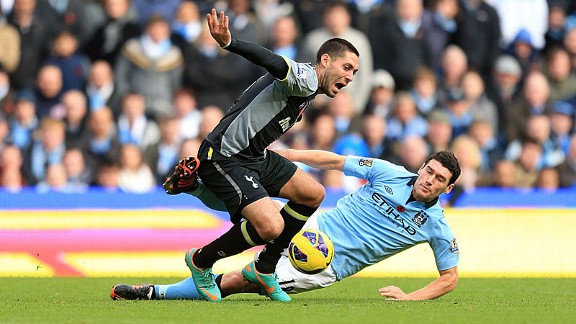 APClint Dempsey was missing in action for much of the season
Before we embark on this article proper, I should offer the following disclaimer. I'm about to single out a player for criticism but I'm not holding him solely to blame for Tottenham's 2-1 defeat to Manchester City.

- Dzeko strikes late again to down Spurs
- Dzeko: Goals a message to Mancini
- Jolly: City's Silva lining returns against Spurs
- Curtis: City exorcise ghosts of Christmas past

In fact, I actually can't bring myself to be that disappointed with the result. We played well within ourselves (as they did) and still came within a few minutes of pulling off what would have been a decent draw.

Of course it's annoying, but we shouldn't lose sight of the fact that City's goals were scored by players who cost a combined total of £65 million. I don't need to reach for a calculator to know that this is a figure far in excess to what we spent to assemble our entire team. Where it counted, in front of goal, City's strikers showed why they carry such values.

Which brings me to a player who we signed for peanuts, in comparison, and is currently struggling to justify even that fee. Clint Dempsey.

During the game, my timeline on Twitter was fit to bursting with Spurs fans slagging off Dempsey and questioning what he brings to the table. Then, almost just to prove that it wasn't just Tottenham supporters looking for a scapegoat, I received a text from a Manchester United fan asking: "Is Dempsey actually playing?"

That pretty much summed up the anonymity of Dempsey's performance. It was if he'd attended a Halloween party as the Invisible Man and had warmed to the role so much that he was still in character deep into November.

A couple of weeks ago I pointed out that the signing of Dempsey was born out of pure desperation. With minutes remaining of the transfer window Spurs still only had two strikers, before someone at the club remembered that Dempsey played up front for Fulham quite a few times last season.

He was bought to fill a gap. An afterthought after many alternative avenues were explored and abandoned. As such I reasoned that it wouldn't be surprising if Dempsey's stay at Spurs was a short one.

After that performance Tottenham will probably be asking Liverpool in January if they are still interested in him for £4 million. With any luck that might still fancy Gylfi Sigurdsson as well.

I welcomed Dempsey into the Spurs team when Jermain Defoe was struggling on his own up front. He brought aerial ability to the attack and some much needed physicality.

However, when the more robust Adebayor is leading the line, you wonder what Dempsey can bring to the table. Yes, he has industry and endeavour in spades, but those aren't qualities that traditionally make a Tottenham Hotspur fan's heart beat faster.

In that role behind the striker we want to see a player with artistry. Someone who can pull off the unexpected. Being able to run around a lot doesn't quite cut it. In time I wouldn't be surprised if the more gifted Moussa Dembele makes that role as the central attacking midfielder his own.

Every player has his level. At Fulham Clint Dempsey was a big fish in a small pond, at Spurs more is expected. Meanwhile over in Spain, Real Madrid fans are wondering what the big fuss was about Luka Modric.

Something to remember when analysing the managerial performance of Andre Villas-Boas is that he has yet to stamp his authority on the club in the transfer market. All of our summer signings were targets long before we recruited the Portuguese. The players that he really wanted were Joao Moutinho and Willian.

This isn't AVB's Tottenham side yet. If given time he will build one. I'm willing to bet that it won't include Clint Dempsey.