Defoe would light up MLS but will it cost him his international career?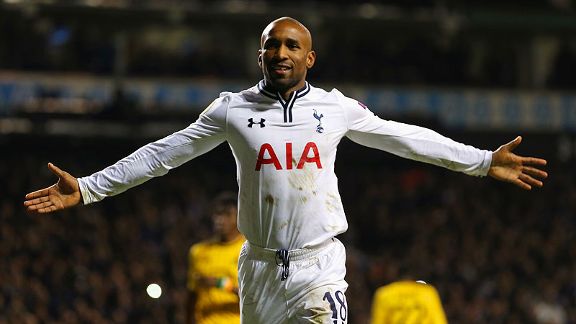 Ian Walton/Getty ImagesJermain Defoe has failed to solidify his status as a starter at Tottenham ever since his arrival in 2004.
Rare is the football story that truly surprises me, but Jermain Defoe's rumoured transfer to the MLS has done just that.

It's not the fact that Toronto have the financial resources to buy Defoe that was the shock. After all, it's only a few months since the Seattle Sounders bought Clint Dempsey for £6 million -- a figure reported to be the same amount that Toronto will pay for Defoe.

No, it's the fact that this is happening so soon before the World Cup that's surprising. Defoe has been very vocal of late as to how his lack of first-team football at Tottenham could harm his chances of appearing at the World Cup in Brazil.

- Defoe close to Toronto move -- reports

Of course, a transfer to the MLS doesn't equal the end of an international career. Robbie Keane is in great form for the Republic of Ireland right now, and David Beckham continued to play for England after joining LA Galaxy.

Yet those two players are/were talismanic for their respective countries. Defoe is far more of a fringe figure at the international level and you do wonder if it will be a case of out-of-sight-out-of-mind. You certainly can't imagine Roy Hodgson making many scouting missions to Canada.

If Defoe had joined a Premier League club and scored 10 goals between January and the end of the season, then he would have further cemented his reputation as a natural goal scorer and a great option for Hodgson to bring off the bench.

West Ham seemed to be the likeliest destination. There has been bad blood between the Hammers fans and Defoe ever since he requested a transfer just 24 hours after they'd once been relegated, but they are currently without a fit striker and Defoe has recently stated that he still loves the club.

It seemed like a PR exercise to pave the way for a transfer that would suit both club and player. Instead it looks like the money might talk.

Defoe was likely to have taken a pay cut if he joined West Ham. At Toronto he will reputedly earn £90,000 a week. It's the sort of financial offer that concentrates the mind, especially when you're 31 and approaching the last few years of a career.

So if the transfer happens what can Toronto fans expect? The answer is goals and lots of them. I would be astonished if Defoe wasn't a major success in the MLS.

The words I've typed more often than any other when describing Defoe are "flat track bully." He's always scored his goals against weak teams and it's no disrespect to the MLS to suggest that the standard is not as high as he's been used to facing during his Premier League career.

Defoe has always been a player that can create his own chances and if he joins Toronto he'll be back to being a kid in the playground, dribbling past defenders and cracking in shots from all angles. He'll love it, and the Canadian fans and MLS supporters as a whole will love him back.

The Mirror's Darren Lewis broke this story and is known to be good friends with the player, so it's probably not idle speculation. What then does it mean for Spurs?

I can only assume that it means that a deal for a new striker is already in the bag, or at the very least the club are super-confident of landing one. You'd imagine that Defoe won't be leaving the club on Jan. 1 considering that the MLS season doesn't begin until March. That at least might buy them some more time to bring in a replacement.

Just a couple of weeks ago I wrote a piece in which I stated that Defoe had reached a crossroads in his career. He could either stay at Spurs and settle for a role as an impact substitute, or join a club where he'd get regular football.

I never considered that the club he might join would be abroad -- let alone the MLS -- but the more I consider it, the more I think that it's a good move for all parties.