Spurs can no longer ignore flaws
Let's try looking for some positives. At least Tottenham didn't get beaten 2-0. I'm being serious. A 2-0 defeat provides a modicum of comfort for the vanquished. A sense that things weren't that bad. That you were in the game right up until the end. That, with the rub of the green, you might have snatched a draw. A 6-0 thrashing on Sunday at the hands of Manchester City offers no such avenues of self-delusion.

Not least when the score could just as easily have been 9-0. When Wigan were beaten 9-1 at White Hart Lane in 2009, Wigan manager Roberto Martinez gave the traveling supporters their money back. There's still time for Andre Villas-Boas to refund me the £106 I paid for two tickets. And if he doesn't make that offer, then maybe the players who collectively gave up after 30 minutes on Sunday might care to do so.

- Fitch: Spurs shoot themselves in the foot
- Jolly: City's rout of Spurs shows vast potential
- Curtis: Manchester City ram home points

The only people to show any heart were the fans, who became louder and louder the worse the team played. AVB might want to think twice about criticising the fans for fickleness in the future and start pointing the finger closer to home in the dressing room. The attitude of the players at the end of the game was equally shameful. Most just sloped off the pitch as quickly as possible. Only Michael Dawson and Aaron Lennon bothered to acknowledge the fans who made the 400-mile round trip. And even they made it only as far as the centre circle.

Credit to Manchester City. They were strong, fast and ruthless. If Spurs aren't going to win the Premier League -- which they surely aren't -- then no one in N17 could object to City taking the title. They play the way Spurs like to think Spurs do. Except Spurs don't. For months now, we've all been encouraged to give the team a bit of slack. To acknowledge that it takes time for a new group of players to fit together. The unspoken promise has always been that -- at some unspecified time in the future -- the team will jell and play like angels.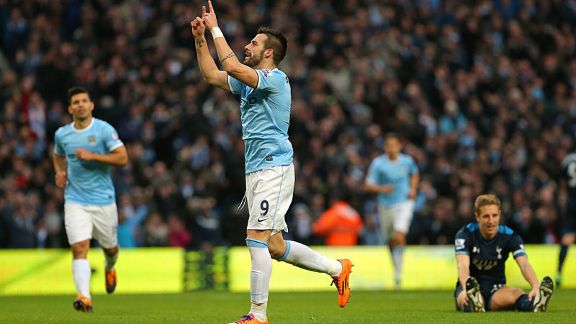 PA PhotosAlvaro Negredo celebrates his brace as Michael Dawson sits dejected.
The time for indulgence is now officially over. This isn't a call for the usual knee-jerk response of "sack the manager." Just a recognition that all is not well at White Hart Lane and that the manager and the players have to take a hard look at their attitude and tactics. Yes, it takes time for players to develop an understanding with each other. But ... the bottom line is that they are all footballers at the top of their profession. They are supposed to have acquired a few minimum skill sets. One of which is the ability to adapt to different systems. This Spurs team is beginning to look more, not less, confused with every game. How can this be?

If AVB is so sure of the system he wants to play, why aren't his players on his wavelength? The only possibilities are that (A) they don't understand what the manager wants, (B) they understand exactly what he wants but don't believe in it, or (C) they aren't technically good enough to play the way AVB wants. At the moment, the jury is wavering between B and C.

Make no mistake, Spurs do have structural problems. Having no replacement left-back for Danny Rose -- who is himself something of a makeshift left-back -- has been a huge error of management. Left-back is a specialist position, and opposition teams have begun to increasingly exploit Tottenham's weaknesses in that area. Jan Vertonghen is a centre-back, not a left-back, and no amount of wishing will make it otherwise.

The midfield is also a mess. Paulinho looks like a man who isn't sure whether he's supposed to be attacking or defending and ends up doing neither very well. Moussa Dembele's confidence is shot to pieces; his right leg now seems as if it is only there for balance, and opposition defences know that all they have to do is block him from moving left. Lewis Holtby is ineffectual. Etienne Capoue and Nacer Chadli look as if they have been bought to be transferred in the summer. Sandro is left to look on in desperation, forced into one reckless tackle after another to try to shore things up. He was lucky not to have been sent off against City.

Then there's the forward line that can't buy a goal. For a brief 10-minute period after Manchester City scored their opener, Spurs appeared more threatening than they have all season with Lennon and Erik Lamela putting pressure on the Manchester City wing-backs. But then business returned to normal, with Roberto Soldado isolated, no one to link up the play, and the wingers creeping into ever more central positions. Forget the goalkeeping problems of City's Joe Hart: I could have kept a clean sheet against Tottenham's attack on Sunday.

You also have to wonder at AVB's team choices. Andros Townsend has been annoying to watch at times, and his fondness for the cut-in and long-range shot are all too predictable, but he has been the one forward to consistently worry defences all season. To neither start with him nor use him as a substitute seemed just perverse. Not least because Lamela could have tucked inside to the No. 10 role to which Holtby is clearly unsuited. Likewise, to use Emmanuel Adebayor ahead of Jermain Defoe made no sense.

Other questions remain. Just how fit are Younes Kaboul and Sandro? Is Kyle Walker the real deal? He's good when attacking, but in defence he's frequently hopeless. With Spurs' problems at left-back only too evident, it's suicidal to leave the team exposed on both flanks. So just how long can AVB justify maintaining a high line in defence if he hasn't got the players capable of doing it?

The most immediate question, though, is whether this team has the mental resilience to bounce back for Sunday's home game against Manchester United. Some Spurs fans are counseling caution against panic, pointing out that Arsenal were beaten 8-2 at Manchester United two years ago and came back strong. They are right to do so. But equally, no one at White Hart Lane should be complacent. Arsenal showed they had the mental toughness to learn from their mistakes. Spurs need to do the same. And the only way to start the repair job is for everyone -- manager and players together -- to admit what everyone who was at the game on Sunday knows.

Spurs weren't just outplayed and outfought. That would have been depressing but in some ways OK. What made the game against Manchester City unacceptable was that so many players just gave up. They had no desire. No pride. They sneaked off the pitch like naughty schoolboys. They may not be good enough to beat Manchester United this weekend, but if they do lose, they had better at least make a show of going down fighting.