Villas-Boas could stand to tweak Spurs lineup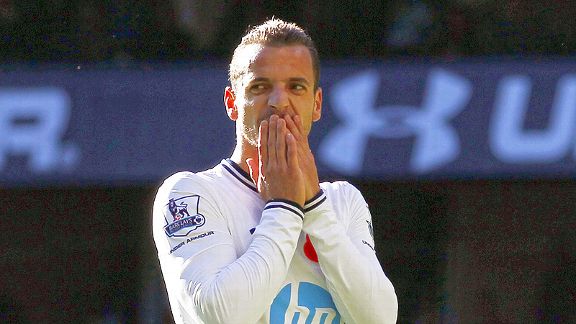 Ian Kington/AFP/Getty ImagesRoberto Soldado is one of many Spurs players hoping to somehow create an offensive spark.
The weather turns cold. The fixture list turns colder. This weekend Spurs travel to the Etihad to take on Manchester City who have been in devastating form at home, scoring goals for fun. The following Sunday, Spurs play the other Manchester club, who are just now running into a bit of form, at home. A point from each game is about as much as any Spurs fan dare hope. Anything more would be a triumph; anything less is an all-too-realistic possibility.

- Report: Soldado hoping to improve form

There's seldom an ideal time to play the Manchester clubs, but back to back after an international break that followed a disappointing home defeat to Newcastle would have to be near the bottom of any team's wish list. Not that Spurs don't have the quality to compete with the very best Premiership teams; it's just becoming increasingly hard to know whether they are a team with too much or too little confidence in their own ability.

To put it another way: Ever since the season began, the mantra of both the manager and fans has been "Be patient. It will take time for the team to really jell." We're all still waiting. We're over three months in and most of us regulars are hard-pressed to detect many signs of progress. There have been the odd flashes that things are clicking but nothing that suggests permanence. Now maybe that's just the way things work; improvement is not steady or linear. When it comes it will erupt in a sudden burst. Let's hope.

There are other possibilities, though. What if the way Spurs are now playing is as good as it is ever going to get? That's not a thought most of us would want to contemplate or accept. But surely it is something that now must be at least considered. What if the way the team has been set up to play can't actually perform much better than it already is? What if the newfound organisation and solidity at the back comes with the price tag of a blunted attacking edge? In other words, it's possible that Andre Villas-Boas reckons his side is playing pretty much the way he wants them to.

The problem then lies with the players. AVB's confidence in his system doesn't appear to be matched by his players' belief in it. The Newcastle game was a prime example. Most match reports focused on the individual brilliance of goal-keeper Tim Krul; what got missed was that far too many Spurs shots came within his grasp. When the ball appears to be magnetically attracted to a keeper, it's a sure sign of a misfiring attack. A Spurs team playing with self-belief would have converted at least three of the chances they had that day.

How then does AVB transmit his own confidence in what he is doing to his players? That's partly about charisma and empathy, both of which he has. But he also appears to be a stubborn man, and this is working against him. His insistence on playing Andros Townsend on the right and Gylfi Sigurdsson on the left is bewildering. Townsend may have gotten plaudits for his England performance against Germany in midweek, but if the winger is the answer to England's prayers on the right-hand side, he isn't the answer to Spurs'. All too often, his only ploy is to cut inside and shoot, and opposition defences are rapidly working him out. Sigurdsson just isn't a winger, so Spurs have nothing to offer on the left.

Why then does AVB not play Townsend on the left and Aaron Lennon on the right to pull defences wide? Or if Lennon isn't fit or on form, play Erik Lamela on the right instead? It surely has to be worth a go. Lamela is at least looking confident, which is more than can be said for some. Not least Moussa Dembele, who looks a shadow of himself. When a team is low on confidence, it feels like madness to leave your most confident players out.

Questions over team selection and formation do remain. The injury Christian Eriksen picked up against Norway may be less serious than feared, but he's still going out to be out for at least a month -- and probably longer -- so AVB does need to come up with a creative solution to filling the No. 10 position. Lewis Holtby is a grafter, but not the solution. It could be worth trying Lamela there. With Townsend and Lennon on the wings and Lamela as the No. 10, defences would have plenty to think about. Certainly more than they do now.

Sunday's game against City could be the moment to give it a try, as Spurs have little to lose. With Sergio Aguero and Alvaro Negredo in rampant form at the Etihad, the prospects for Spurs -- even with their new hard-won parsimony -- keeping a clean sheet are minimal. So to get anything out of the game, Spurs have to pose an attacking threat. Lamela, Townsend, Lennon and Soldado could be the men to do that, with Sandro and Paulinho to keep control of the central midfield.

Much will also depend on Soldado's sharpness in front of goal. Too often he has looked static, as if waiting for the ball to come to him rather than taking a chance and running to where it might go. This is a matter of confidence. Harry Redknapp once famously told Roman Pavlyuchenko to "f---ing run around a bit." This was hardly the most sophisticated advice, but they might just be the words Soldado needs to hear.