5 things we learned from Spurs 3, Maribor 1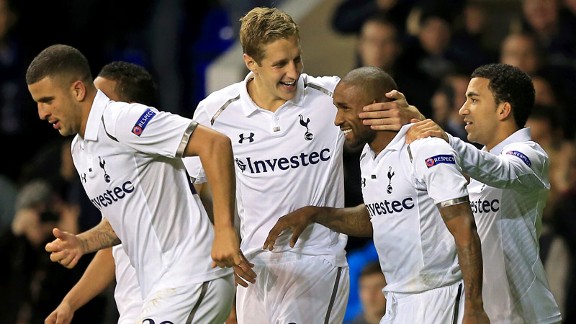 Richard Heathcote/Getty ImagesJermain Defoe was the star, but the performances of Emmanuel Adebayor and Tom Carroll both impressed in the 3-1 win over NK Maribor.
1. 4-4-2 still has its uses...

In a home game that Tottenham really needed to win, Andre Villas-Boas threw caution to the wind and lined up with two strikers. Or to put it another way, all of Spurs' strikers.

Put into that context it's perhaps not that surprising that AVB has preferred to play his strikers one at a time. Tonight saw them paired together. Jermain Defoe grabbed a superb hat-trick and the headlines but equally pleasing was the performance from Emmanuel Adebayor.

The Togolese looked a little rusty at times, but we have really missed his hold-up play. It was best demonstrated with his role in Defoe's third goal. Between them Defoe and Adebayor have all the attributes you need from a forward line.

2. ... but playing away at Manchester City isn't one of them

Defoe might have notched a hat-trick but if it were up to me he'd be starting on the bench when we travel to Manchester on Sunday.

Tottenham can and should be playing 4-4-2 against the likes of Maribor (and Wigan) but it's too open a formation to play against a side with Manchester City's attacking threat.

Adebayor's ability to retain possession is crucial to Spurs' efforts of dominating the ball, especially considering that AVB's central midfield options are limited.

Will Villas-Boas see things the same way? It's a big decision. Going for broke with two strikers could be suicidal, while playing with one means choosing between Defoe's clinical finishing and Adebayor's superior all-round game.

3. Spurs have loaned out too many full backs

I never did quite get my head around the decision to loan Danny Rose to Sunderland. In my opinion, you need to have at least two players for every position and by letting Rose go, Spurs have left themselves short.

Presumably the thought process was that with players such as Jan Vertonghen, Gareth Bale and Kyle Naughton all able to play left back, there was plenty of cover for Benoit Assou-Ekotto. The trouble is that Vertonghen in central defence, Bale is our best attacker and Naughton has no left foot.

Naughton generally does a pretty good job at left back for a right-footed player, but he is always likely to come inside or backwards onto his stronger foot, evoking some harrowing memories of a certain Maurico Taricco. It was this very tendency that saw him play a suicidal ball back to Hugo Lloris' weaker right foot, which was then compounded by the goalkeeper's decision to try and get it back onto his left rather than just stick a boot through it.

What's more, Tottenham could benefit from Naughton coming in on the right to give Kyle Walker a rest in games like this. Sadly, Spurs also loaned out the England U-21 right back Adam Smith, leaving few opportunities to give Walker the rest that he clearly needs.

4. Good things come in small packages

The diminutive Tom Carroll looks as if he'd struggle to tackle a Big Mac, let alone a snarling competitor, but looks can be deceptive.

Carroll grew in confidence and influence as Thursday's game went on, even playing a great ball through to set up Defoe's second. He scurried around, won tackles and generally did enough to suggest that he should be given more playing opportunities with Spurs this season.

Like Luka Modric, this could be another case of a small man with a big talent.

5. Gareth Bale, he plays on the left

With Adebayor and Defoe both in the centre, there were less opportunities for Bale to drift inside, leaving him to simply concentrate on what he does best out wide.

I understand that he's had to mix up his game to combat teams that double up on him, drifting centrally and popping up on the right, but it is the left where he remains the most effective.

Searing pace, dribbling ability and a cross that evokes memories of David Beckham. It might be old fashioned, but there really is no finer site in football than a winger who can beat his man on the outside.