Reasons to be cheerful for down-in-dumps Spurs fans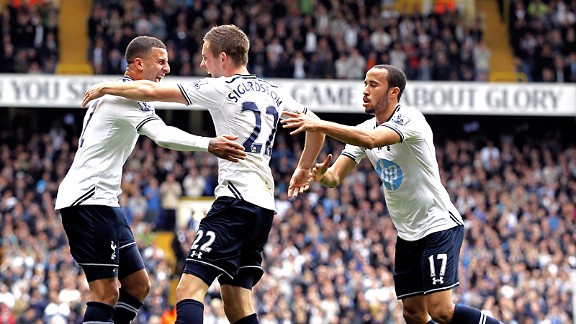 Ian Kington/AFP/Getty ImagesThere have been plenty of good time for Tottenham this season, including a win against Norwich Sept. 14.
The international break is over and we're back to business. Yet I sense that Spurs fans will be looking towards this weekend with caution rather than enthusiasm.

Had Tottenham won the last game against Newcastle -- and they certainly had the chances to do just that -- then they would now be joint second, just two points off the top of the table.

-Soldado looking to improve form

Instead they lost and sit down in seventh. With Manchester City and United to come in the next two games, Spurs could find themselves well off the pace unless they win at least one.

Just to make the international break even more upsetting, Christian Eriksen picked up an injury that, though not as serious as first feared, will certainly keep him out of action the foreseeable future.

Tottenham fans are easily depressed, and you've probably seen and heard the doom and gloom merchants moaning as if the season is already over, rather than barely begun. My job here is to show everyone that the glass is very much still half-full.

For a start, there's the fact that there is still nothing between the teams at the top of the league. Just six points separate the top eight sides and of those teams, only Everton and Southampton have lost fewer than twice.

Every week sees a shock result. In the last round, Spurs were the team to slip on a banana skin, but perhaps an even more surprising result the same day, was Manchester City's loss to Sunderland.

Only Arsenal have shown any sort of consistency, but in their next six games they will play four of the top eight. I find it hard to see any of the pack breaking away this side of Christmas.

So Tottenham really just need to stay in the mix and the signs suggest they can. The earlier defeats to Arsenal and West Ham were both followed by back-to-back victories. While that might be too much to expect when you're playing Manchester City followed by Manchester United, there's no real reason to enter those fixtures with trepidation.

Spurs beat both Manchester clubs last season in thrilling style. Now you might well say that this had a lot to do with a certain Gareth Bale and that Tottenham aren't doing much thrilling these days. But it's equally true that City and United also haven't hit the heights of last season.

Manchester City, Sunday's opponent, have lost four times. City have won all of their home games, yet Spurs' away form suggests that this should be a tight affair.

Tottenham are far more comfortable against teams that attack them rather than sit back. In the next two games they will face opposition that will provide the opportunity to counter-attack.

These are games that Tottenham fans should look forward to rather than fear. The start to the season has of course been frustrating. Goals have been few and far between, while opportunities have been missed.

Yet to still be in contention despite having not clicked, is in itself a reason to be cheerful. This side can get so much better, and with other teams also experiencing teething problems, there is breathing space for this group to develop, while making the odd mistake along the way.

Looking back at the Newcastle game from the perspective of a couple of weeks' distance, you have to be encouraged by that second-half display. Spurs would surely struggle to carve out that many chances again, without scoring.

If they can take the energy from those 45 minutes into the rest of the season, then the defeat to Newcastle might be looked upon as a turning point, rather than the disaster it seemed at the time.