Dembele transfer could make sense for all involved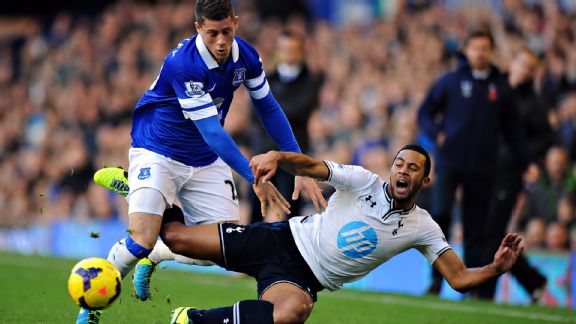 Chris Brunskill/Getty ImagesTottenham's Mousa Dembele, right, has been knocked off his stride by Andre Villas-Boas' team selections.
A peculiarity of modern football is how foreign players become so relaxed among journalists when they return to their home country for international duty. They come out with statements that they would never reveal to the English press, as if unaware that modern media outlets employ people who can translate foreign newspapers these days.

The latest player to fall into that trap is Tottenham's Mousa Dembele, who told Belgian newspaper Nieuwsblade: "The coach (Spurs' Andre Villas-Boas) has explained that he makes a tactical choice, he wants more defensive players in midfield.

"I can't be satisfied with it, of course, I just want to play as many games."

With the competition intensifying for a spot in Belgium's World Cup squad, it's perhaps not surprising that Dembele feels that playing every week is important. The problem is that the competition in Tottenham's midfield is just as fierce.

-Holtby says he's staying put

Dembele's quote has sparked rumours in the English press that Premier League clubs Aston Villa, Cardiff, Newcastle, Southampton and Swansea are queueing up to take Dembele off Spurs' hands, while Serie A's Napoli are also interested.

In recent weeks I've started to think that the sale of Dembele could become a possibility. It is plain that Tottenham's current quartet of central midfielders lack the creativity needed to unlock defences at home and Dembele looks likeliest to be the odd one out.

After all, Sandro is Spurs' best midfielder, while Paulinho and Etienne Capoue have only just joined the club. If anyone is dispensable to make a space in the squad for a more creative talent, then right now it is Dembele.

It's strange to say that, because last season the team looked utterly bereft when Dembele was unavailable. Having joined from Fulham he hit the ground running and was superb in the early stages of the 2012-13 season.

Dembele suffered with injuries as the season went on and never really looked completely fit, but he remained Villas-Boas' best midfield option.

This season he's looked out of sorts. A lot has to do with the fact that he's so often been paired with Paulinho. Neither are dedicated defensive midfielders but are both strong in the tackle. AVB's plan was for them to share the defensive workload, but it's stopped both players being able to do what they do best.

Though when it comes to Dembele, you can often find yourself wondering just what it is that he does best. The outstanding feature of his game and one that makes him a fairly unique talent is his ability to dribble with the ball in deep midfield areas.

It's not something you see very often from a midfielder and one that has prompted me to compare him to Paul Gascoigne. Unfortunately, Dembele's passing ability and effectiveness in the final third in no way resemble those of the former Tottenham great.

Dembele doesn't score goals and isn't an incisive passer. This is less of an issue away from home, where there is more space for him to drive from deep, but against opposition that sit deep he is rendered less effective and can look quite ordinary.

It might just be the case that Dembele, though clearly a very talented player, is just not what the team needs right now. If he could be sold -- and that 'if' depends on a club paying at least the £15m that Spurs paid for him -- then it could open a spot for a new midfield playmaker to be brought in. Personally I'd look no further than QPR, where Tottenham's own Tom Carroll is on loan.

This could be one of those rare occurrences of a transfer suiting all the parties involved. Spurs need a space for a more creative presence, Dembele gets games and whoever buys him gets a motivated player aiming for a World Cup place.

It seems that I've talked myself round to the fact that it sometimes does make sense to tell the press what you're really thinking.