Defoe should accept missed chances for club and country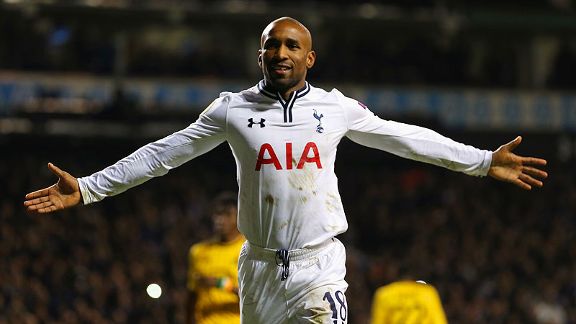 Ian Walton/Getty ImagesJermain Defoe has failed to solidify his status as a starter at Tottenham ever since his arrival in 2004.
Injuries to Daniel Sturridge, Danny Welbeck and Rickie Lambert should give Jermain Defoe an opportunity to prove that he's worth a squad place in the World Cup this summer.

- Report: Defoe not seeking exit

If Defoe impresses Friday night against Chile, he could be given a further chance against Germany in midweek, but realistically his chances of going to Brazil are surely slim, unless Roy Hodgson is very unlucky with injuries.

Players like Sturridge and Welbeck are younger and offer more than Defoe. Even Lambert is more likely to win a place because he offers an aerial threat that the others lack.

With Wayne Rooney a shoo-in, Defoe has to hope that Hodgson picks five strikers. The England manager went with only four for the European Championships in 2012. Even if he does decide to take an extra forward, Jay Rodriguez or even U21 striker Saido Berahino could oust Defoe.

I'm pointing all this out because Defoe has been outspoken recently about his frustration over a lack of chances at the Premier League level. He's correctly pointed out that he's not likely to be picked for England if he's sitting on the bench most weekends.

What Defoe seems unable to understand is that he has had chances. He first signed for Spurs in 2004. That seems like plenty of time to secure a first-team spot to me.

Forgetting the caretaker spells of David Pleat and the brief reign of Jacques Santini (believe me, I've tried), Defoe has served under four managers at Tottenham.

It surely says something that Martin Jol, Juande Ramos, Harry Redknapp or Andre Villas-Boas never considered Defoe worthy of a permanent spot in the team over his two spells at the club.

Even Redknapp couldn't find space for Defoe in his team on a regular basis, and he was the man who not only bought him from Tottenham for Portsmouth, but then brought him back to White Hart Lane when he took over for Ramos.

Media pundits often speak of Defoe's goal-scoring record as if it's right up there with legends of the Premier League like Alan Shearer and Ian Wright.

The truth is that while Defoe's scoring record is good, it's not great. He's never hit 20 league goals, which for a "natural-born goal scorer" who doesn't offer much else to the team, isn't an impressive statistic.

Of course he might have done better had he started more games, but the fact is that a succession of managers, for club and country, have decided that he wasn't good enough to warrant those starts. At 31 years old, Defoe now needs to accept that this isn't a coincidence.

He's a useful player to have in your squad but not your team. Defoe's record has always been padded with plenty of goals against weaker defences, without enough coming against better teams.

Look at his England record: His 19 goals in 54 appearances is decent if not spectacular. Yet when you examine where the goals have come, it doesn't make for particularly inspiring reading.

Defoe has scored in only 12 of those 54 matches. And nine of those games were against such international minnows as Andorra (twice), Trinidad and Tobago, Kazakhstan, Slovenia (twice), Bulgaria, Moldova and San Marino.

So Defoe is wrong to say that he won't get picked for the World Cup because he's not playing for Spurs. He hasn't been picked for either Tottenham or England consistently over the years because he hasn't made the most of the opportunities he has been given.

With that in mind, Defoe should forget any notion of trying to leave Spurs in January to give himself a chance of making the World Cup squad.

Even if Defoe did leave and scored a bundle of goals, what would it really prove to Hodgson that he doesn't already know?

Defoe might still find himself the odd man out when the World Cup is announced. Even if picked, he probably wouldn't make more than a couple of substitute appearances.

With the final seasons of his career approaching, Defoe finds himself at a crossroads.

He can either stay at the club that he loves and accept that he will never be considered anything more than a squad option, or he can move to a side where competition and expectations are less fierce. I hear West Ham are interested ...