A message to you, AVB: Cut the stubborn streak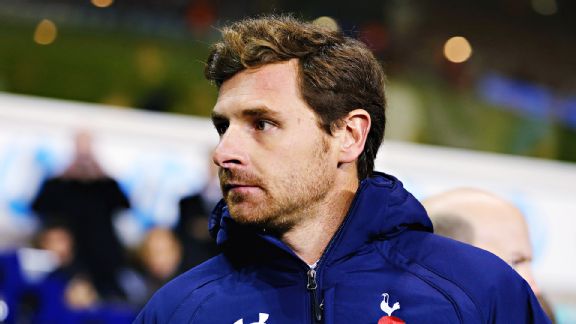 Ian Walton/Getty ImagesAndre Villas-Boas has many positive qualities, but the Spurs coach needs to learn when to bend.
Those of you who read my columns regularly will know that I am a big fan of Andre Villas-Boas. I applauded his appointment and thought that he did a terrific job last season.

He still has my support, but Sunday's 1-0 loss to Newcastle was the first time that I genuinely started having doubts about the manager. My worry is that he might just be too stubborn in his beliefs for Tottenham to capitalise on the opportunity they have this season.

Unlike many managers before him, AVB has a very clear vision as to how he wants Spurs to play. You can't imagine there's many team talks which involve him telling players to "run about a lot."

-Crace: Spurs must focus on shortcomings

So far, he has has built a team with the type of defence that wins titles. Unfortunately, it's connected to the sort of attack that gets relegated.

If the goals start to flow, then Tottenham will enjoy some success, because they have the defensive foundation to build upon. Last season also saw a patchy start before the results eventually came.

What's perhaps worrying is that the upturn was very much based on the individual form of Gareth Bale. Spurs have more potential match winners in their squad this season, but whether they will blossom in time is another matter.

You'd hope the team begins to truly function rather than Tottenham having to rely on moments of individuality. There were definitely signs of this in the second half against Newcastle. It was the best I've seen Spurs play at home this season, as chances were finally created in abundance.

The trouble was the first half was the worst I've seem them play this term. Villas-Boas has to take the blame for that because the mistakes he made with his team selection were repeat rather than first-time offences.

Let's start in goal, where Brad Friedel replaced Hugo Lloris. Friedel is still a very good shot-stopper, as he proved once again against Newcastle. Yet what he's demonstrably not is a sweeper-keeper in the style of Lloris.

That's nothing to do with age. Friedel, 42, has always been attached to the security of his line. But despite this limitation, AVB continues to play with a high defence, with Friedel behind them.

It makes no sense and contributed to the worst display from Michael Dawson I've witnessed over the past couple of seasons. He just doesn't have the pace to play in this back four unless he has Lloris to bail him out. The manager needs to either abandon the high line when Friedel is in goal, or recruit a new reserve keeper.

Of course, Dawson might not have even been in the team if Jan Vertonghen was playing at centre-back. Instead the Belgian was at left-back as we enter the second season of Villas-Boas' reign without proper cover in this position. Considering how bad Kyle Naughton looked when picked on the left last season, it's astounding that this issue wasn't dealt with in the summer.

In central midfield, there is another problem enjoying its sophomore year. Namely, the lack of creativity. I can live with that when the midfield contains the rock-solid presence of Sandro, but Paulinho and Mousa Dembele should not be played together.

Paulinho had his poorest game since coming to the club. It wouldn't be a surprise if he was tired. He's played a lot of football already, coming off a summer in which he appeared in the Confederations Cup. Throw in the traveling to Brazil's far-flung friendlies and you can understand why he looked fatigued.

Dembele hasn't looked properly fit since halfway through last season. It's easy to forget how impressive he was when he joined the club, but that spark seems to have died out.

He still cuts an elegant figure, yet you have to question what key function he can bring to the midfield. Dembele isn't a proper defensive midfielder, nor is he a threat going forward; his passing is pedestrian. Once his powerful running with the ball sparked counterattacks. All he seems to do now is to slow Tottenham's transitions from defence to the forward line.

The flanks saw the inverted-wingers running into trouble yet again. The full-backs aren't providing the width needed to make this system work and yet AVB still refuses to try playing a wide player on a flank where he could cross with his strongest foot.

In the second half there actually were a lot more balls played into the box from wide positions, and on another day the side would have capitalised, but there's still clearly an issue.

Andros Townsend is another player who had his least effective game of the season against Newcastle. It looks like he knows that he has been cutting inside and shooting too often, but what else is he meant to do when faced with a full-back like Davide Santon or Leighton Baines, who are difficult to beat on the outside? For the first time it actually looked as if Townsend was losing confidence, which is a crying shame.

On the left Gylfi Sigurdsson is fast becoming this season's Clint Dempsey. He's not skillful enough to play as a number 10 and though he can ghost in and provide a goal-scoring threat from the flanks -- like Dempsey -- you are left with a passenger on the occasions that he doesn't score.

Christian Eriksen and Roberto Soldado also had poor games, but I believe that they are players Spurs must persevere with. There's no one better in their positions at the club, so there's no other option but to give them time.

It would be nice, though, to have a Plan B from the bench when a game is being chased. Once again Villas-Boas turned to a 4-4-2 with Soldado paired with Jermain Defoe when trying to snatch an equaliser. Soldado and Emmanuel Adebayor is a Plan B. Soldado and Defoe is a suicide mission.

The fans are getting frustrated because they can recognise the issues with the team, yet the manager seems to be choosing to ignore them in the belief that things will suddenly click. If AVB had the perfect players, then this system would work. But he doesn't. So surely it would make more sense to adapt his methods to those that would better suit the players Spurs do have.

Don't for a minute think that I am one of the #AVBout brigade. The positives still outweigh the negatives and the whole season remains wide open.

Instead, think of me as a concerned friend witnessing the frustrating sight of someone he cares about repeating the same mistake over and over. Villas-Boas knows a lot more about football than me and everyone else on the Internet, so that's why I'm attributing this tunnel vision to stubbornness rather than tactical idiocy (see H. Redknapp for an example of the latter).

Do yourself a favour, AVB, and swallow your pride a little. If you don't make changes for the good of the team, then don't be surprised if the fans' goodwill rapidly evaporates.