Spurs must focus on own shortcomings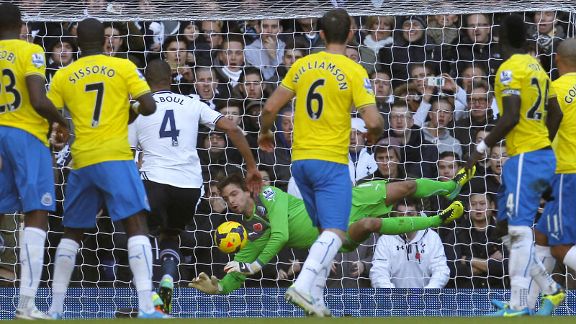 PA PhotosTim Krul stood firm with an impressive display.
Half-full or half-empty? Spurs fans have been pretty much split down the middle about their team's performances this season. And Sunday's 1-0 defeat at home to Newcastle will have done nothing to narrow the divide. The half-full crowd will point to the number of chances created and the exceptional display by the Newcastle goalkeeper Tim Krul, who kept out the Spurs strike force with a string of world-class saves. On another day, Spurs might have cruised to a comfortable win.

The half-empty supporters will say that yet again the team failed to convert possession into goals, that Spurs failed to beat the kind of team they ought to beat if they are serious about qualifying for the Champions League and that for the third time this season Tottenham go into an international break on the back of a morale-sapping defeat.

- Delaney: A tale of two keepers

The reality is probably somewhere between these two extremes. Spurs did play a great deal better against Newcastle than they have done in recent weeks. The energy levels were higher, especially in the second half, and goal-scoring opportunities were being created; given time and patience, this is a team with enough quality to come good in the end. Whether it will do so in time to secure a top-four finish is more of a concern; who knows how many players will still be wearing a Spurs shirt next season? Or even whether Andre Villas-Boas will still be manager? Success is the only partial guarantor of continuity.

Sportsmen often choose to talk of luck going against them when they lose. Not least because it means they don't have to look too closely at their own performances. But Spurs players would do well to think more about what they can do in future games to better control their destiny rather than shrugging their shoulders and saying that Sunday was just one of those days when nothing went right and the keeper played a blinder. Yes, Krul did have a day to remember, but there was no force field around the Newcastle net. Spurs had more than enough chances to have won the game; while Krul did make some great saves, the Spurs strikers should have done better from close range. Krul should never have been given the chance to make several of the saves he made.

There's also the question of intensity. Spurs played Newcastle off the pitch for the first 10 minutes or so and had complete control. Then they unaccountably backed off and let Newcastle back into the game. Nor can Spurs claim the Newcastle goal came out of the blue. Newcastle had created several clear chances before Paulinho was lazily caught in possession by Yoan Gouffran who put Loic Remy through to round Brad Friedel. Even after that, Spurs were slow to play catch-up. They came close to getting an equaliser with a good flick from Roberto Soldado and a first-time shot from Paulinho, but their work rate in the first half was generally poor. You can't expect to win games if players only put their hearts and bodies on the line in the second half.

Then there's the ongoing debate over selection and tactics. The first name on the team sheet ought to be Sandro. He's not afraid to get stuck in, his work rate is exceptional, and his drive makes opposition attackers think twice before taking him on. It was no coincidence Spurs upped their game when he replaced Moussa Dembele at half-time; Dembele has looked out of sorts for most of the season. If Sandro was fit enough to be on the bench, he was fit enough to start.

AVB's stubbornness in picking Gylfi Sigurdsson to play on the left wing continues to baffle. He doesn't have a left foot and neither does he have the pace to beat defenders. When AVB has both Aaron Lennon and Erik Lamela -- who played so well in midweek -- sitting on the bench his decision to pick the Icelander seems just perverse. Not surprisingly, Spurs barely threatened Newcastle on the left.

Hugo Lloris was left out on medical grounds, so AVB had no choice but to play Friedel. But once again, the American goalkeeper showed he is now past his best. The defence looks uncomfortable and accident-prone when he is playing behind them, and you'd have put money on Lloris being far quicker off his line to try to stop Remy scoring.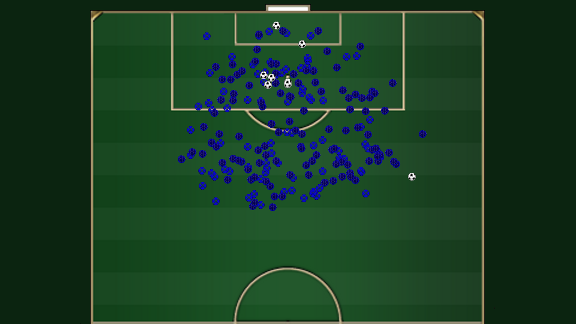 Other / ESPN StatsSpurs have taken over 200 shots and scored just nine Premier League goals.
But the biggest concern is not the team selection, but the team movement. Far too often Spurs look static in attack. Time and again, Kyle Walker takes possession of the ball and just stops; it's as if he doesn't know whether to run or pass. Or even who to pass to. Up front, Soldado and Jermain Defoe seem far too happy to wait for the ball to come to them rather than trying to outwit defenders by running into spaces behind them. Defoe also looks a yard shorter of pace than he was last season; perhaps either his age or his determination to bulk up is getting the better of him. Towards the end of the game, as Spurs became increasingly desperate for an equaliser, the most frequent tactic was to lump a hopeful long ball forward. That's just not going to work with strikers the size of Soldado and Defoe.

Spurs need to be a lot cleverer and more street-smart about the way they approach games. They have no divine right to win games against teams they ought on paper to beat. They have to go out and use their talent, guile and craft. Their next game in two weeks' time is away at the Etihad. Manchester City have been in imperious form at home, and squeezing any kind of result there will be a huge achievement. If Spurs are to have any chance they would do well to start their preparations now by thinking about their own limitations against Newcastle, rather than attributing their defeat to the brilliance of one player.