Spurs' season taking on a flatline feel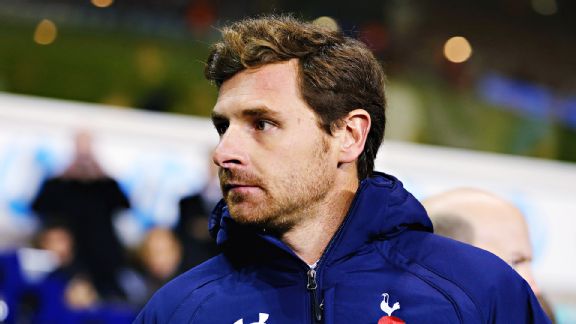 Ian Walton/Getty ImagesAndre Villas-Boas has many positive qualities, but the Spurs coach needs to learn when to bend.
So it goes on. Spurs performance against FC Sheriff in the Europa Cup was just as laboured and unconvincing as many of their previous outings this season. Yet they ground out another win and qualified for the knock-out phase of the competition with two games to spare. They haven't done that for years. They are also in the quarterfinals of the Capital One Cup and fourth in the Premiership, level on points with the teams in second and third. There isn't a fan at White Hart Lane who wouldn't have taken that at the start of the season.

- Fitch: Lamela finally lives up to YouTube hype
- Report: Defoe breaks Spurs record

Nor would there have been anyone who disagreed with the idea that the new team would take time to jell and settle in. You don't lose your talisman and bring in six new players without substantial readjustment. It's just that I doubt there are many of us who thought the jelling and settling-in period would look quite like this. I, for one, imagined something rather different. I imagined something much more volatile. I thought there would be months of fairly catastrophic, error-strewn football interspersed with as many moments of magical brilliance. The highs would be high and the lows would be very low.

It hasn't worked out like that at all. Rather than being a roller-coaster, it's been a flatline experience. There have been very few costly mistakes. Andre Villas Boas has molded the defence into a highly effective unit, a huge turn-around from what any of us are used to and an even bigger achievement given that Danny Rose has been injured for half the season and the team has had to play with makeshift left-backs. Thirteen clean sheets by mid-November is some going. Many Spurs teams of the recent past have struggled to get that many in a season.

Equally, though there have been few moments of incisive brilliance. Steadiness has come at the expense of flair. The team has yet to develop an understanding or style that allows them to attack with pace which, in turn, makes it far too easy for them to be contained by well-organised opposition defences. There have been signs of creativity: Andros Townsend has been in the form of his life; Christian Eriksen started well but has faded rather and lost confidence; and against Sheriff on Thursday, Erik Lamela showed the first signs of why Spurs paid a club-record transfer fee to acquire him.

It feels as if it's only a matter of time until things do click. That all it needs is for one killer pass to find its target rather than be deflected for a corner and the floodgates will open. Part of the frustration of watching Spurs this season has been the feeling that they are only one game away from converting possession into goals and tearing another team to pieces. A game that always continues to remain one game away, which won't stop any of us from hoping that game comes against Newcastle on Sunday. Or any of us tearing at our hair if it doesn't.

But that does not mean that AVB should not think about tinkering with the team formation. Having a small target man up front on his own is not working effectively; both Roberto Soldado and Jermain Defoe are getting little service. The two teams that seem to be scoring goals for fun this season are playing two up front. Liverpool with Luis Suarez and Daniel Sturridge, and Manchester City with Sergio Aguero and Alvaro Negredo. That surely has to be something worth considering.

Likewise, it's puzzling AVB wants to play Townsend on the right and Aaron Lennon on the left. It must be at least worth a try to switch them, so they have a chance to run wide and stretch defences rather than always cutting inside into an already congested central area. If only to give the opposition something different to think about.

The most pressing concern for Spurs fans, though, is that the team at least show up. Spurs don't have a great track record at lunch-time kick-offs, often taking until well into the second half to find their stride. Sunday's game starts even earlier than normal at 12 noon. Whichever bright spark came up with a kick-off that early clearly needs to be given a satnav. If the Spurs players are going to find it difficult enough to be awake in time, how on earth is any away supporter from Newcastle expected to make it to White Hart Lane on time?