Solving the problems as to why Spurs can't score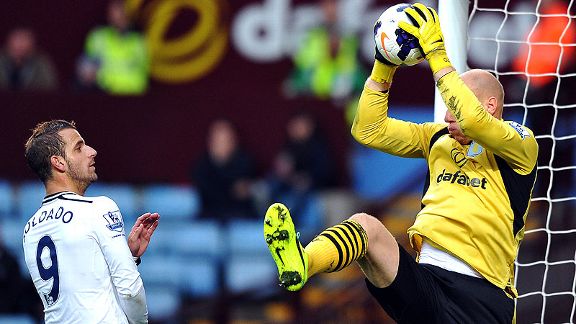 PAUL ELLIS/AFP/Getty ImagesAll too often this season Roberto Soldado and Spurs have been thwarted in attack by opponents.
You might have noticed that Tottenham aren't scoring many goals lately. In total, there have been just eight in nine games, which plainly isn't good enough. If the side are to keep picking up results then certain problems need to be addressed. These problems:

Soldado is not getting the service

Roberto Soldado hasn't made the disastrous start to his Spurs career that some people seem to think. His record of six goals in 11 games is a perfectly good one for a player settling into life at a new team and in a new country.

- Report: Spurs 'took a risk' with Lloris' health

Yes, three of those goals have come from the penalty spot, but considering that Tottenham have lacked a truly reliable penalty taker for several years, no one should be dismissive of Soldado's talent from 12 yards.

This guy can finish but he is not a player who is going to carve out his own chances. The team are not creating opportunities for him and he looks extremely isolated. He made some good runs against Everton which weren't spotted by the man in possession and you could see how this frustrated him.

To fully exploit Soldado's undoubted ability he needs crosses from the wings, quicker delivery from deep positions and someone to offer him more support. In terms of the latter, that could mean Christian Eriksen/Lewis Holtby positioning themselves nearer to him, or playing another striker alongside Soldado.

Issues with the other strikers

When I suggest that another striker could be played alongside Soldado, I don't for a minute mean Jermain Defoe. He will never form an effective partnership with the Spaniard, and indeed you could argue that he has not been part of a successful duo during his career.

He's perfectly suited to scoring against the cannon-fodder that the Europa League provides -- Defoe has always been an effective flat-track bully. However, you could argue that even playing him in those games robs Soldado of opportunities to blend into his surroundings.

It also limits the contributions from Emmanuel Adebayor or Harry Kane. These are two strikers who come with issues -- Adebayor is unreliable, Kane is inexperienced -- but who offer more of an alternative to Soldado than Defoe, and could better operate in tandem with Spurs' summer signing.

Yet it looks as if Andre Villas-Boas has no intention of giving Adebayor a chance, while Kane's are more likely to come in the Europa League and Capital One Cup.

Another striker looks likely to be the number one priority in the transfer window. I'd like to see someone who can play alongside Soldado but who also offers a stylistic alternative. Christian Benteke would be my preference.

A lack of creativity from deep

Tottenham have four very strong midfielders in the shape of Etienne Capoue, Moussa Dembele, Paulinho and Sandro. In all but one game this season, we've seen two of these four played together (and occasionally three). This offers tremendous protection to the back four and it's one of the major reasons the team have conceded so few goals.

Yet you have to question whether such caution is always required. In away matches and against dangerous opposition at home, it makes sense, but surely the side could get away with being more attacking against weaker sides.

Last season Tom Huddlestone often came on towards the end of games to add creativity to midfield. He was able to play the sort of early, accurate balls into space that Soldado was clearly looking for on Sunday.

The best option right now seems to be to play Holtby in a deeper role, with Eriksen as the No. 10. There's also the possibility of recalling Tom Carroll from his loan spell at QPR in January.

But how do you keep Capoue, Dembele, Paulinho and Sandro all happy if you're sometimes only playing one of them? I think something might have to give in this area, and though I rate him, it might be Dembele who ultimately becomes the odd man out.

Inverted wingers don't deliver

I've got nothing against the idea of an inverted winger. One of the greatest wingers I've seen at Spurs was Chris Waddle, who played on the right but could cut in on his left.

Waddle's left foot was his strongest but one of the reasons he was so good was the fact that he didn't let his preferred foot make him predictable. He was just as likely to try to go outside the full-back and deliver a cross with his right foot.

I caught some of Real Madrid's match at the weekend and was impressed by how often Gareth Bale was crossing with his right. It's clearly something his new employers are trying to instill in him to make life even tougher for those trying to stop him.

We've seen Andros Townsend get on the outside this season but he's still cutting inside too often. At the weekend both he and Aaron Lennon were moving towards central areas, onto their stronger foot. As a result very few crosses were delivered.

If you examine the goals Soldado scored at Valencia, you'll notice that a big percentage come from crosses. He's not particularly great in the air, but is very adept at peeling off into space to get on the end of low crosses.

There needs to be at least one wide player positioned on a wing where they can naturally produce crosses. Tottenham have so many options in these areas that there are many possible permutations. Lennon could play on the right with Gylfi Sigurdsson on the left, or Townsend could play on the left, with Erik Lamela cutting in from the right.

Considering the talent Spurs have on the wings, this should be one of the strongest areas of the team. Instead, it's currently one of the weakest. It's time for Villas-Boas to shake things up and try something different.