Better balance needed at Tottenham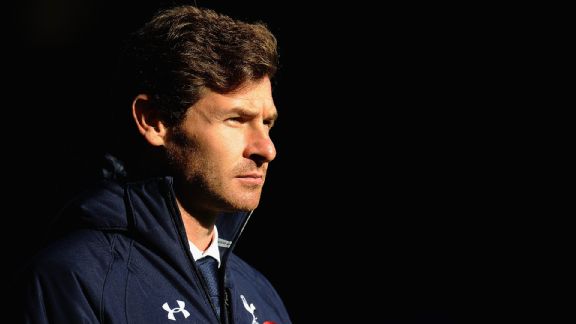 Tony Marshall/Getty ImagesDespite another paltry effort from his attack, Andre Villas-Boas still has Spurs fourth in the Premier League table.
A 0-0 draw away to Everton is never a bad result. Never more so than when Everton are breathing down your neck, just one position behind in seventh place at the beginning of the day. Nor is it bad when two of the teams above you, Chelsea and Liverpool, have both lost the previous day. The point gained puts Spurs back in fourth, with only goal difference separating them from second. I will come back to goal difference later.

- Jolly: Lack of firepower hinders Spurs
- Report: Everton 0-0 Tottenham

So Andre Villas-Boas won't be too disappointed on his return to London. An always tricky away game done and dusted for another season. And if he wants to look for positives, there are others to be found. With Hugo Lloris back in goal after Brad Friedel's midweek outing, the Spurs' back four regained their assured parsimony with yet another clean sheet. It wasn't so long ago that Spurs fans knew their side needed at least two -- if not three -- goals to be relatively sure of a win.

It's rare for a goalkeeper to be the best player in a team that's in contention for a top-four place, but Lloris has been exceptional all season. He gives the back four confidence, not just with his shot-stopping, but with his positional play. He isn't afraid to use his area, and his commitment and bravery are unquestioned. Everton's best chance of getting a late winner all but disappeared when Lloris chose to stay on the pitch after being knocked unconscious in a clash with Romelu Lukaku. The introduction of Friedel could have set a few nerves jangling among the centre-backs.

As it was, Vlad Chiriches and Michael Dawson stood firm, with the Romanian again showing why he is likely to remain AVB's first choice. While other summer imports have struggled to adjust to the Premiership, Chiriches has always looked at home. One goal-denying tackle on Kevin Mirallas was world-class. Jan Vertonghen still gives off the impression that he would rather not be filling in at left-back, though he may have to grin and bear it for a while as there is no sign of Danny Rose emerging from the treatment room, and Spurs might well have been awarded a penalty when he was tripped in the first half. There again, he might have conceded one in the second, so swings and roundabouts. Vertonghen might have the look of a man studying for a Ph.D. in Copernican models of the solar system, but he's not someone to mess with on the pitch.

That Spurs' most effective players were all to be found in defence was no great surprise. That has been a feature of the club's season so far. From his postmatch comments -- "I think we had the better opportunities, but I would say it is a fair result and a good point" -- you might think AVB was quite relaxed about the situation. But if he is, he shouldn't be. It has now become obvious to everyone that Spurs are misfiring in attack. For whatever reason, they are unable to convert possession and pressure into goals. They can't find the killer pass or clinical finish with any regularity.

Spurs did have the better opportunities in the first half. At times, a goal seemed inevitable. But it never came. And the chances were all much nearer to half-chances: a Kyle Walker free kick and a Roberto Soldado header. Then, as so often has happened this season, Spurs allowed Everton back into the game in the second half. It can't be just the fans who are wondering why. AVB must be asking himself the same question. Does the side lose heart when it can't make headway and subconsciously start playing for a draw? Better not to lose than to take a chance on winning? Or does this side have no aces up its sleeves when the opposition appears to have its measure?

It's hard to say. These are the questions most fans have been asking themselves all season. Of course, one has to accept that a new squad takes time to settle in and that fourth place for a team playing well below its best is untold riches compared to many seasons past.

And yet concern remains that there are still no visible signs of improvement in attacking fluency. The players still look hesitant and indecisive in the final third of the pitch. Maybe this is something that doesn't gradually right itself. Maybe it's something that either clicks or it doesn't. If so, there are a lot of us out there who can't wait for the moment it does.