Spurs advance, but tactical curiosities abound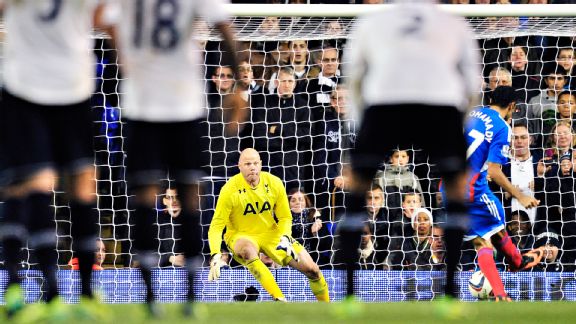 Glynn Kirk/AFP/Getty ImagesBrad Friedel recovered from an earlier own goal to save the decisive penalty against Hull City.
At the death, it was Brad Friedel who was the hero. With the penalty shootout at 8-7 to Spurs, Friedel got his legs in the way of a strike from Hull's Ahmed Elmohamady to take the home team into a quarterfinal Capital One Cup match against West Ham in December.

It was redemption of a sort for Friedel, as more than an hour previously, early in the second half of normal time, he had managed to steer the ball into his own net to give Hull their equaliser. His manager and teammates won't have thanked him for the extra exertion he caused them -- Kyle Walker and Jan Vertonghen looked dead on their feet by the end of the shootout -- but these things happen. When the goalkeeper makes a mistake, it tends to be costly.

- Report: Spurs sneak past Tigers

The question that Andre Villas-Boas might be asking himself Thursday is whether Friedel should have been playing at all. The benefits of squad rotation for cup games are well-rehearsed; it gives key players a break and keeps the fringe players interested. But switching goalkeepers of such different styles as Hugo Lloris and Friedel is an accident waiting to happen. And Wednesday night it did. Friedel is still an excellent shot-stopper, but now, late in his career, he has become reluctant to leave his 6-yard box; Lloris, in the form of his life, dominates the entire penalty area and makes sense of AVB's determination to play a high line in defence.

In Walker, Younes Kaboul, Vertonghen and Kyle Naughton, Spurs fielded an experienced starting back four against Hull on Wednesday, and yet at times they were all at sea against a tenacious, but far from brilliant, Hull strike force. Every time Hull took the ball wide and crossed it into the box, Spurs were caught momentarily out of place.

It was as though the back four were expecting Friedel to compete for the ball and were taken by surprise to discover he hadn't moved from his goal line. On the two occasions they were unable to readjust, Hull scored. Friedel's own goal was only the last straw in a catalog of errors for Hull's first. For their second, Paul McShane had a free close-range header from a corner that Lloris would normally have claimed. If Spurs have serious intentions of progressing further in this competition, their No. 1 goalkeeper has to play.

Friedel's inclusion wasn't the only tactical curiosity. Gylfi Sigurdsson scored a sublime goal early which should have put Spurs on track for a comfortable victory, but playing him as Spurs' left-sided attacker makes no sense. He doesn't have the pace to worry any full-back, so opponents know they have little to fear from Spurs' left flank. More importantly, Sigurdsson also knows that, so he spends more time cutting into an already congested central area. Hull were set up to contain the middle of the pitch and did so with little fuss as the Spurs' forward line repeatedly kept getting tangled up among themselves.

Though the performance and the crowd noise were a marked improvement on the dour 1-0 win at the weekend, there are still causes for concern in the Spurs' lineup. After a wonderfully creative start in his first two games, Christian Eriksen has lost his way; Erik Lamela has yet to find his. Moussa Dembele, too, looks a shadow of the player we know he can be: he's brilliant at retaining possession but seldom seems to make a killer pass. He's so left-sided in his play that opponents know they have little chance of being wrong-footed. And Jermain Defoe looked totally out of sorts. Perhaps the rumours that he's been offered a 5 million pound deal to play in MLS in January are true.

But a win is a win is a win. Spurs fans will have had to pinch themselves -- I did -- that we actually won a shootout and there were some positives. Harry Kane finally hinted he might be the real deal and Vlad Chiriches, who came on for the injured Naughton, most definitely is. Steaua Bucharest fans were heartbroken when he left and they say we have yet to see the best of him. If so, we are in for a treat and he will be a permanent first-team fixture. For now, though, the emphasis is on rest.

Wednesday night's game will have taken it out of the team and Sunday's fixture against Everton will be tough. A win at Goodison Park would be the result of the season so far.