19 goals not enough to make Spurs look convincing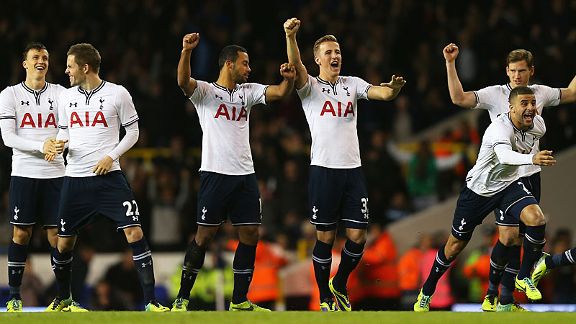 GettyImagesTottenham players celebrate their shootout win over Hull City in the Capital One Cup.
There's been a lot of Spurs fans moaning this week, so sick are they of the team grinding out 1-0 victories at home. Presumably they will have been delighted tonight, as the ball found the back of the net a total of 19 times (not including disallowed efforts) and Tottenham eventually won.

Andre Villas-Boas criticised the White Hart Lane crowd after Sunday's match against Hull for their negativity and lack of support. I hadn't seen his comments when I wrote my match report after the game but have to say that I broadly agree with him. Even for a Spurs crowd it was a more moan-laden affair than normal.

- Tottenham (8) 2-2 (7) Hull
- Villas-Boas praises Spurs fans

Tonight the atmosphere was much better, though it always was going to be a noisy night. The 1882 movement -- a group of vocal supporters who target certain games to try and create a raucous atmosphere -- had already planned to meet for this Capital One Cup tie.

Hull were back for a rematch that no-one was demanding to see and what's more they were doing so in their mismatched blue and red away kit, that again there was absolutely no reason for them to wear.

The roof was certainly raised when Gylfi Sigurdsson pulled off a moment worthy of a standing ovation. Kyle Naughton played a ball into him and he dragged the ball back and spun in one deft movement, before hitting an unstoppable drive into the top corner from distance.

Earlier on this season I wrote about the importance of Gylfi grabbing the opportunities that came his way, amidst such stiff competition for a place. This is the sort of thing I meant. You can't drop a player for the next game when they score a goal like that.

The opener came after 16 minutes but unsurprisingly it didn't signal a comfortable win. Tottenham struggled to create chances and as the half went on, Hull slowly started to get back into the game.

It wasn't long after half-time that Hull equalised with a goal that was as ridiculous as Sigurdsson's was sublime. The ball was crossed into Spurs' six-yard box and Curtis Davies had an open goal at his mercy. Somehow he conspired to kick the ball away from the line, as if his defensive instincts had kicked in and tricked his body into making a clearance. Unluckily, the ball struck Brad Friedel and entered the net for an own goal.

So would this injustice signal a response from Tottenham? Not really. Once again chances were hard to come by. Erik Lamela had another difficult game, though he was no worse than Christian Eriksen, who was substituted.

Nacer Chadli replaced the Dane only to be substituted himself within ten minutes for Harry Kane. That enforced change would prove to be a vital one.

Kane looked lively straight away and proved a much bigger threat in attack than Jermain Defoe who was utterly anonymous. In the closing seconds of the match Kane struck the crossbar with a long-range effort. It would have been a worthy winner.

The game drifted into extra time and it was Hull who took the lead. Paul McShane found space within a packed Spurs defence and headed home from a corner.

Had Hull won you couldn't really say it was deserved, yet nor could you say that Tottenham were unfortunate. There were eight changes tonight but the problems remained the same as on Sunday.

Harry Kane made all that a moot point with a well-taken equaliser in the opening moments of the second-half of extra time. Defoe -- in essentially his only useful moment of the game -- played the ball to Kane, who turned his marker, found a yard of space and then drilled the ball in from outside the area.

Kane has needed a moment like this to come. He's clearly got some talent and hopefully this will present him with more opportunities.

He might get another one in this competition, though there couldn't have been many Spurs fans confident of that when the game went to penalties. The last time they won a shoot-out was 1994 in an FA Cup match against Peterborough United.

We shouldn't have worried. There was none of the nervousness that accompanied the last penalty shoot-out against Basel. Only Lamela missed, which won't do anything for his confidence. Given the potential for this set-back to occur, I'm surprised that he was chosen within the first five takers.

In the end it didn't matter as Friedel saved twice to give Tottenham an 8-7 win and a place in the quarter-finals. That game will provide an early chance to gain some revenge on West Ham. Something tells me that Villas-Boas won't have any complaints about the atmosphere for that one.