No need for Villas-Boas to lecture Spurs fans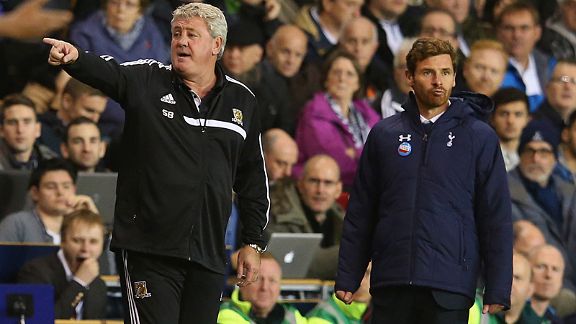 GettyImagesVillas-Boas (r) had some words of advice for Spurs fans after Hull match.
Andre Villas-Boas can't have been surprised by the reaction he got after calling out Spurs fans for not getting behind the team during the scratchy and, in the end, fortuitous 1-0 victory against Hull. Most fans were outraged. How dare AVB tell them how they should support their club? Others were right behind the manager. The team has equalled its best start ever to a Premier League season and, in any case, the prime duty of any fan in all circumstances is blind loyalty and vocal support.

Perhaps the argument also got a little heated because Spurs fans are very sensitive to being accused of fickleness; it's a label that's been used against them many times in the past. Wrongly. I've followed Spurs to countless away games over the years and the home team support at other grounds has been just as muted when their team aren't playing well. Old Trafford was like the Marie Celeste when Spurs went 2-0 up against Manchester United last season. And Arsenal fans abused their side mercilessly when Spurs snatched a late winner at the Emirates a few seasons ago.

- Fitch: Home is the new away for Spurs
- AVB bemoans 'negative' atmosphere

But what was most interesting about AVB's outburst and its reaction was just how unnuanced it was. The inference of AVB's statement was that Spurs fans had been heckling and booing the home team right up until the award of the dubious penalty in the 80th minute. That's not the way it was. There was a small amount of booing when the teams went off at half-time, which was more an expression of frustration than hostility; other than that, nothing much beyond a great deal of anxiety, a few moments of annoyance when yet another long spell of possession amounted to nothing very much and the very occasional roar when something positive threatened to happen.

Yes, White Hart Lane was relatively quiet. But there was a lot to be quiet about. Every Spurs fan may have gone home happy with three points in the bag but it didn't mean we enjoyed it a great deal at the time. Why should we? The players didn't look like they were enjoying it that much, either. Which brings us to the most curious element of AVB's remarks: that home team support is a vital component in the team's tactics.

I can see that a wall of noise might help, but to factor that into a game plan seems to have got things rather out of kilter. Surely the way it should work is that the team play well and the crowd respond, rather than the onus being on the crowd to get the team motivated. That sounds very much like an abdication of responsibility.

There are games when crowd and team click. The home game against Inter Milan in the Champions League was a case in point. Crowd and players were up for it from the start, the noise levels never dropped and everyone at the ground had one of their best nights of football ever. But that was a one-off. You can't operate at that level of intensity for every game. Not least a home game against Hull in late October. The home crowd may not have been up for it that much, but then neither were the home team. For much of the game, Spurs looked like a team that was hoping and waiting for something to happen, rather than trying to make something happen.

I'm not an advocate of abusing the players on a regular basis. That achieves nothing. But I do believe in my right to voice my displeasure from time to time. I pay the best part of 1,000 pounds for a season ticket and travel to at least two-thirds of the away games and for that I earn a few rights. Not to win every game, nor even necessarily to play with any fluency. But certainly to try, and keep trying. That's the very least a team of professional footballers should manage, but the effort is not always on show from some players. And that's when I get angry and sound off the odd half-time boo. It's not an act of disloyalty. I've been following the club since 1966 -- long before AVB or any of his players were born -- and will still be going to White Hart Lane long after they have all moved on to other clubs or have retired. So a lecture on how to support my team is really not required.

What AVB's comments also highlight is the different ways in which a crowd can view a game. Some Spurs fans I go to games with believe the ends always justify the means. A win is a win is a win. As long as Spurs finish above Arsenal anything is forgiven. And I do have some sympathy for that view. But it is a very binary one; not least because it implies the reverse mental engineering of believing that everything that happened in the previous 80 minutes of the game had been leading to the inevitability of the penalty. If that had really been the case, there would have been a great deal less anxiety at White Hart Lane on Sunday.

The reality is more complicated. I like AVB, I think he does know what he's doing and there's a great deal to admire about the way he has strengthened the defence. But creatively Spurs are misfiring. Tottenham aren't translating possession into goal-scoring opportunities. Opposition defences are finding it quite easy to contain them. To me, it feels still very much as if AVB has a single, fixed plan about the way he wants the side to play. I would like to see more flexibility; partly for variation, but also to give the players confidence that they have something else up their sleeve when Plan A isn't working.

On Wednesday, Hull return to White Hart Lane for the Capital One Cup tie. I can't see them putting up such strong resistance again; the League Cup is far less of a priority for them than it is for Spurs. AVB is anxious to mark his second season with a trophy and this competition makes far less demands than the others. So Spurs will start as strong favourites again, as they did on Sunday. You won't find me complaining if Tottenham win 1-0 again, but it would be good to win with rather more style and conviction. This game is the ideal opportunity for AVB to give his players a slightly freer rein. If Spurs play with flair and passion and go in at half-time 2-0 ahead, I can guarantee there won't be a boo to be heard in N17.