Home is the new away for Spurs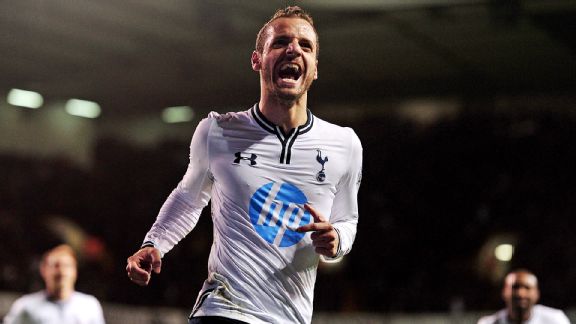 Carl Court/AFP/Getty ImagesRoberto Soldado returned to the scoresheet in Tottenham's 1-0 win over Hull City.
Away is the new home. Spurs look a fairly formidable outfit on the road, but at home they look all at sea.

This has been the case ever since Luka Modric left the club. Playing against teams that attack is not an issue, but when teams sit back, Tottenham struggle to break them down.

- Report: Tottenham 1-0 Hull City

Sunday saw a performance no better or worse than the one against West Ham. In both games it was luck that proved to be the deciding factor. Spurs lacked creativity and produced few chances. Luckily Hull were even more hopeless than the home side.

It goes without saying that Tom Huddlestone had a fine game. This is always the case when it comes to former players. Today he had many Tottenham fans sighing: Why couldn't he have turned in this sort of performance when he was in a Spurs shirt? The fact is that he did. Sometimes you fail to notice a talent until they're gone.

Thankfully, Huddlestone is still vainly searching for a goal. He would probably be better off putting in 20 grand of his own money into his charity fund, rather than banking on the fact he'll score in the not too distant future. His hair seems destined to grow to Hair Bear Bunch proportions.

While we're talking about Hull, it seems an appropriate point to complain about their kit. Despite the fact that there was no obvious clash between the two traditional strips, Hull decided to wear something that was two-thirds Chelsea and one-third Liverpool, with calamitous stylistic results.

Hull are a team with a genuinely unique strip. They should not shed their skin unless they have no other option.

Other than paranoia, there seemed no reason to believe that Hull would score in this match, even in their flamboyant blue/red strip. Tottenham defended well, though of course this did nothing to settle the home nerves.

The home side looked no closer to scoring. In this stinker of a match it was perhaps appropriate that a set piece should prove the decider. I half expected Roberto Soldado to miss his penalty when given the chance. Early on in the season that was not the case, but the pressure levels on the Spanish striker have ramped themselves up since then.

Soldado converted the penalty to ease my fears. He had a poor game, but when he it counts, he can be relied upon. This is not the case with Jermain Defoe, no matter how much the fans tend to chant his name in the second half.

Have they no memory? This is a player that no Spurs manager has decided to make their first choice pick. That's not a coincidence, it's a trend.

Soldado's winner kept Tottenham within three points of the top of the table. In a season in which even the likes of Everton and Southampton are winning with regularity, it was a vital win.

Yet it is true that the performances have to improve. This was no better or worse a display than the 3-0 loss to West Ham. Everything went wrong that day. This afternoon the referee's decisions went in Spurs' favour. It was a disturbing display. At home, the side lacks the attacking thrust from midfield that comes so readily on the break when Tottenham play away.

If there are further games like this at home, then there will be further losses. White Hart Lane needs to become a fortress. At the moment, it seems like somewhere to hide.