Spurs can face Sheriff with one eye aimed at Hull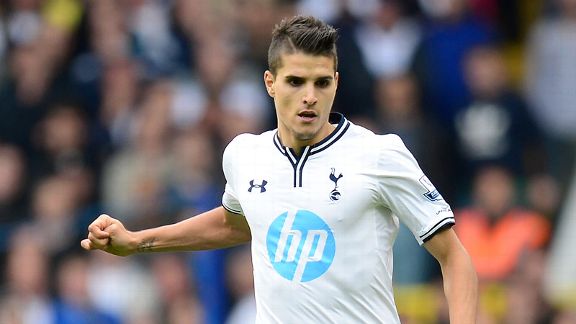 Jamie McDonald/Getty ImagesErik Lamela is expected to feature for Spurs against Moldovan champions Sheriff.
Never mind this Real Madrid versus Juventus rubbish, the real action takes place on Thursday night when Spurs face ... (checks Internet) FC Sheriff Tiraspol.

It's not being overtly facetious to make bad gags in which I pretend I don't know who Tottenham are playing in the Europa League on Thursday, considering their opponents are a club that were only founded in 1997.

- Report: Adebayor set for return

To be fair to them, they have won the Moldovan league 12 times in the past 13 seasons. More importantly, they have also proved that sometimes the obvious can be genius, by having the courage to use a sheriff's badge as the official club emblem. If a Stetson isn't part of their kit, then they've missed a trick.

Yet for all their achievements back in the old USSR, it's a fair bet that Spurs will win at a canter Thursday. The bigger question is whether the trip to Moldova will prevent the team winning at a canter against Hull on Sunday.

You can't help but feel that a contributing factor to the lame performance against West Ham was the fact Tottenham faced an away game against Anzhi that previous Thursday.

Yes, there were a lot of changes made between the two games, but it's also true that a lot of players traveled to Russia who didn't need to. Thankfully, this is a shorter trip. I've never had the pleasure of flying to Moldova but I'm reliably informed that it takes less than three hours.

It's also good to see that the likes of Kyle Walker, Paulinho and Andros Townsend have been rested for this one. This is a game which presents an opportunity to give some sharpness to those who haven't had much action of late.

Erik Lamela has sat on the bench for the past two Premier League games and should be ready and eager to go. Aaron Lennon and Nacer Chadli should also feature. All need time on the pitch and will be trying to prove that they should replace Gylfi Sigurdsson for the real action.

Up front I'd expect Jermain Defoe to start and continue his fine record in the Europa League this season. These are the sort of teams that he loves to punish.

Emmanuel Adebayor has also traveled and this game looks the perfect opportunity to give him his first chance of the season. He will probably come off the bench rather than start, but it's nonetheless important that he sees some minutes.

Having won the first two games, another victory will pretty much guarantee that Spurs qualify (not that this is really in doubt). It would be nice to be in a position with a couple of games to go where we didn't have to take risks with important players like Jan Vertonghen -- who is with the squad and could feature.

Until the knockout stages start, all you can really hope is that these games pass without anyone picking up an injury and that the on-field events aren't so boring that you slip into a mild coma.

There's no point in anyone directing more than one of their eyes toward the game Thursday. The other should be squarely aimed at the rather more important match that takes place on Sunday.